News > Washington
Avista Stadium, WSU, local projects could all get funding in proposed capital budget
Sat., March 25, 2023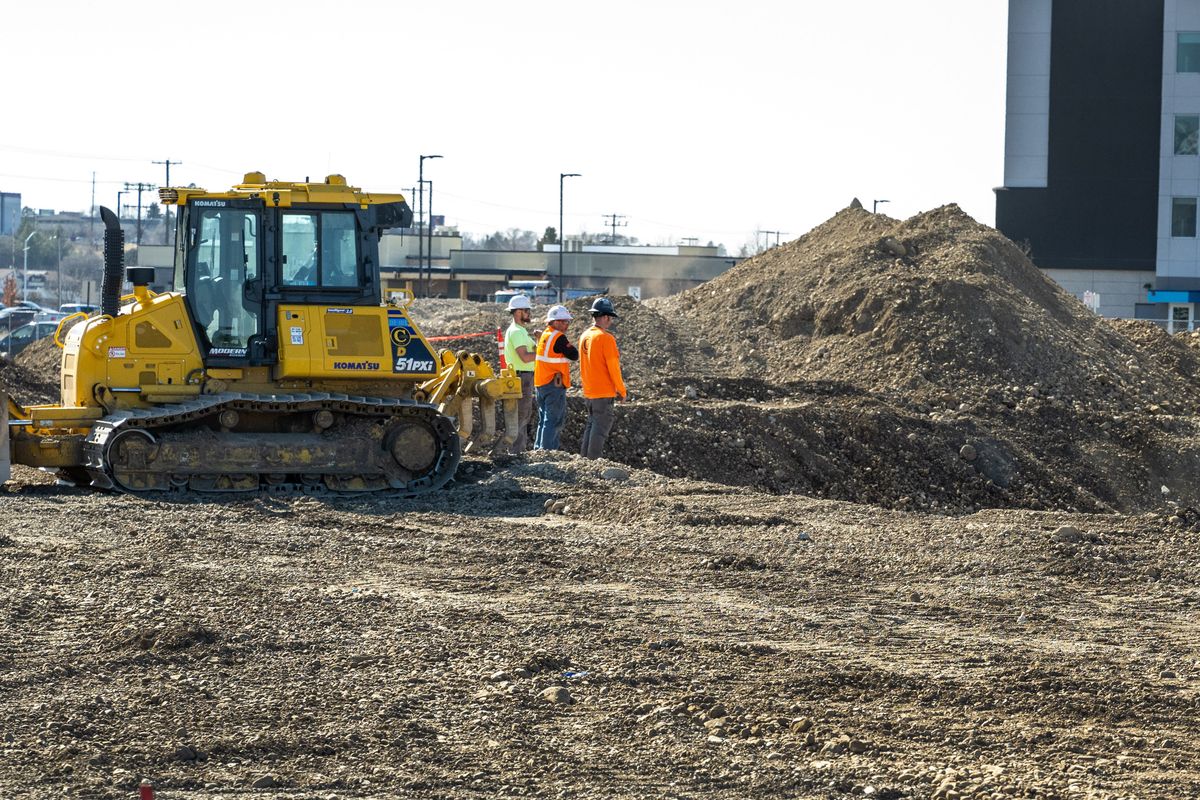 The new Spokane Valley Performing Arts Center is currently under construction at 13609 E. Mansfield Ave. (COLIN MULVANY/THE SPOKESMAN-REVI)
OLYMPIA – Funding for renovations at Avista Stadium, a new engineering building at Washington State University, expansion of Spokane's criminal justice training academy and a new theater in Spokane Valley are included in a state Senate proposal for construction projects across Washington.
The $7.9 billion capital budget would fund construction and infrastructure across the state. It passed the state Senate unanimously on Friday.
"None of our challenges are going to be solved overnight, but this budget takes the steps necessary to meet our pressing needs while creating jobs and spurring economic growth," Ways and Means Committee Vice Chair Sen. Mark Mullet, D-Issaquah, said in a statement.
The proposal includes $5.8 million for stadium renovations at the Spokane Indians' ballpark following a decision from Major League Baseball to raise the standard for minor league stadiums throughout the country. Avista Stadium needs $23 million in renovations by 2025 to meet the new standards.
Spokane County and the team have agreed to share the cost of the project, which will add new locker rooms, training facilities and dugouts, as well as new field-level seats.
The state Senate's proposal states the money set aside for projects required to meet Major League Baseball professional development standards could only be used to fund renovations necessary to meet those standards.
The proposal would make $860 million of investments to address behavioral health needs across the state, including $4 million for Spokane Treatment and Recovery Service.
A number of local projects in Spokane and Eastern Washington are funded in this proposal.
As part of a statewide expansion of law enforcement training centers, the Criminal Justice Training Commission is receiving more than $2.7 million, including $1.4 million to expand Spokane's academy.
The proposal would invest more than $1.2 billion in higher education facilities.
Under this proposal, Washington State University would get $40 million to construct an engineering student services building in Pullman, $22 million for a new science building in Pullman and $10 million to renovate the Knott Dairy Center. Under the proposal, the Spokane campus would get $7 million to design a simulation and clinical research space for the medicine, nursing and pharmacy colleges.
Eastern Washington University would get $57 million for renovation of its science building.
The Spokane Valley Performing Arts Center would receive $1.2 million with another $1.8 million going specifically to the Summer Theatre at the center. The HUB sports fields in Liberty Lake would get about $1 million.
Local journalism is essential.
Give directly to The Spokesman-Review's Northwest Passages community forums series -- which helps to offset the costs of several reporter and editor positions at the newspaper -- by using the easy options below. Gifts processed in this system are not tax deductible, but are predominately used to help meet the local financial requirements needed to receive national matching-grant funds.
Subscribe now to get breaking news alerts in your email inbox
Get breaking news delivered to your inbox as it happens.
---