Sports > WSU football
Edge rushers shine as Washington State conducts first fully padded practice of spring camp
March 25, 2023 Updated Sat., March 25, 2023 at 9:25 p.m.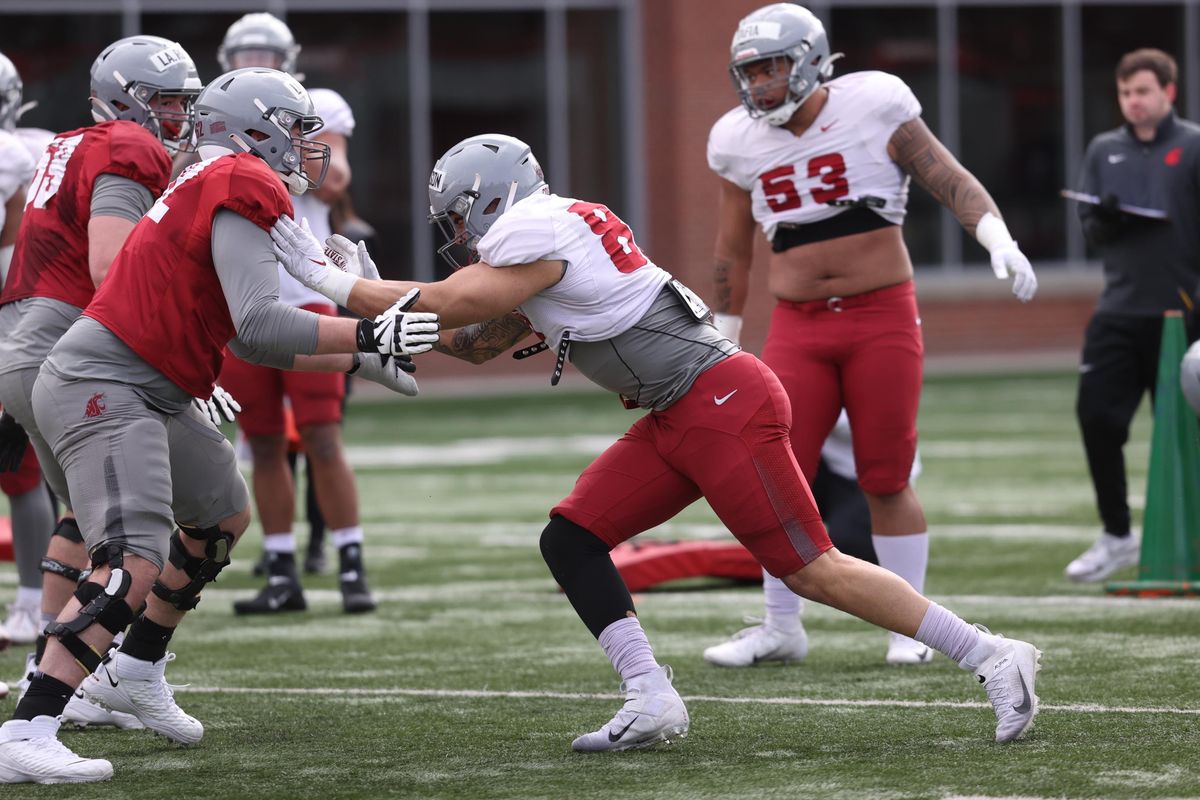 Washington State edge rusher Brennan Jackson, right, competes in one-on-one linemen drills during a spring camp practice Saturday at Rogers Field in Pullman. (WSU Athletics)
PULLMAN – Linemen squared off in an intense round of 1-on-1 drills. Tailbacks received a healthy workload during a full-team period of practice, which emphasized inside-running plays. Linebackers laid a couple of loud hits on receivers in the middle of the field.
"First day in pads, there's nothing like it," Washington State coach Jake Dickert said.
The Cougars staged their first fully padded practice of spring camp on Saturday morning at Rogers Field. WSU will wait until its first scrimmage – scheduled for Saturday – to go full speed and tackle to the ground. Still, the 3-hour session on Day 3 of camp included plenty of contact.
"I don't think you can get away from it – shying away from contact," said center Konner Gomness, whose pads were stained with blood. "It's always there."
WSU's most experienced position group set the pace.
Edges impress
Naming his players of the day, Dickert mentioned the "edge group as a whole" and commended Quinn Roff for "standing above the rest" during a practice that was headlined by strong play on the defensive line.
The junior edge rusher had his most productive season last year, recording 5½ sacks – second on the team. Roff was a handful for WSU's offensive tackles throughout the day.
Senior Brennan Jackson, the Cougars' leading sacker last year with six, dominated individual and full-team exercises. The All-Pac-12 player went unbeaten in 1-on-1 drills, overpowering every offensive tackle he faced. Jackson logged two sacks during the full-team segments of practice.
Jackson and Ron Stone Jr., also an all-conference performer, are sixth-year seniors and the top returners for WSU's defense.
"For us, it was really simple," Jackson said of his and Stone's decision to accept a final year of eligibility. "This is the place that kind of grew us up and gave us that culture to be who we are today.
"How much I can develop in this last year is going to be huge for my NFL career potentially, and just giving back to the university … because they've given so much to me."
Behind the two seniors, the Cougars are well-stocked at the position. Roff, junior Andrew Edson, and sophomores Raam Stevenson and Lawrence Falatea were all pieces of the rotation last season. Stevenson had a sack Saturday in team drills, and Edson showed off his skills during the 1-on-1 period.
"It's huge just having a group with a lot of depth and experience," Jackson said. "Everyone knows the technique, what it should look like, what the standard is. Having those guys not be young guys anymore and really being mature competitors at this point, it's huge for the group and the development of the young guys coming in."
Several defensive tackles, linebackers vie for time
Junior Nusi Malani has established himself as the Cougars' leader at the defensive tackle position. Last season, in his first year at WSU after transferring in from Virginia, Malani totaled 12 tackles and two sacks as a rotational DT behind three seniors.
Malani broke through the line and chased down quarterback Cameron Ward for a sack during the final full-team period of practice.
Asked to name top performers from the first week of spring camp, Dickert highlighted Malani and said the DT fuels his teammates with energy.
"He's been incredible," Dickert said.
It's uncertain who will play alongside Malani. Four players appear to be in the mix. Sophomore David Gusta is the early favorite. He's been playing with the first unit this week after appearing in 10 games last year, making one start.
True freshman Ansel Din-Mbuh has played well. The 285-pounder from Texas was a force in 1-on-1s. Backup guards were quickly driven backward when up against Din-Mbuh.
"He's one of those guys that came in and already looks like he's been in college for two or three years," Jackson said of Din-Mbuh.
Other names to watch are junior Ty Garay-Harris and redshirt freshman Rashad McKenzie – a 6-foot-6, 300-pounder .
"I'm extremely happy with where that group is," Dickert said. "Ansel has been as advertised and more – the athleticism, a guy that can flip a hip and play with power. … Rashad, still waiting for him to keep coming along. There's a motor and physicality and every-down approach you need to have that he's still learning to grow with. He's got amazing talent."
Of the four linebackers taking reps with the first and second units, just one has played a game for WSU.
Junior Kyle Thornton has appeared in 28 games over the past three years. He made his first career start in the Cougars' LA Bowl loss to Fresno State on Dec. 17. Thornton has taken almost all of the first-team snaps at outside linebacker through three days.
"Kyle has zero ego," Dickert said. "He was the first one, throughout eight weeks of winter, teaching these guys the defense. … He's not worried about his spot. That's leadership."
Senior transfer Devin Richardson is settling in at middle linebacker. A sixth-year collegian, Richardson stood out at New Mexico State before serving as a backup and special-teamer over the past two years at Texas. He quickly became a vocal leader for the Cougars, according to Dickert.
"Devin is a very mature young man," Dickert said. "He knows what he wants and he's here for a reason. I thought he's done a good job through the first couple of days."
WSU coaches spoke highly of Hudson Cedarland last year during his redshirt season. The Gig Harbor, Washington, product seems to be in line for a playing role. Cedarland's finest moment came during the final full-team period. Receiver Isaiah Hamilton caught a short pass on a crossing route, but quickly lost control of the ball when Cedarland met him with a hard shoulder-to-shoulder hit.
" 'Huddy' had a really good day today," transfer linebacker Ahmad McCullough said. "Just keep looking out for the linebackers – we're going to have some real good plays.
"We got some real good competition, and I love it."
McCullough spent the past five years at Maryland. He started a handful of games over the past two seasons and finished fifth on the team last year with 45 tackles. The 220-pound Baltimore native seems to be the fastest among WSU's four best linebackers. He's been lining up mostly with the second unit at outside linebacker.
"I'm aggressive going to the ball," McCullough said. "I like to run sideline to sideline. I like to play bigger than what I actually am, so when those (offensive linemen) pulls come, I like to hit."
New O-linemen in first unit
Junior college transfer Esa Pole is stationed at left tackle. FCS transfer Christy Nkanu has taken all of the first-team snaps at right guard.
The 6-7, 320-pound Pole did not play football in high school but took up the sport at Chabot College in Northern California. In two years, he developed into a top-10 junior college OT prospect in the country, per ESPN.
"The 'want-to' is extremely high," Dickert said of Pole. "Every time you have that, combined with the talent, we're going to end up in a really good spot. It's just going to take awhile to get there."
Dickert expects Pole's growth to be expedited by the competition he's facing every day at practice – "a lot of (edge rushers) who have played a lot of football at this level," Dickert said.
Nkanu, a multiyear starter at Southern Utah, was a coveted transfer player in the 2023 recruiting cycle.
"They want to come out here every day and prove to everybody why they should be in the Power Five," Gomness said of the two new O-line starters.
Gomness returns for his third year as a starter. He was one of Dickert's top performers of the week – along with Malani and cornerbacks Chau Smith-Wade and Javan Robinson.
Sophomore Fa'alili Fa'amoe, who captured starting duties midway through the 2022 season, is lining up with the first unit at right tackle. Junior Ma'ake Fifita started eight games last season, playing both guard and tackle. He's the Cougars' No. 1 left guard so far.
Christian Hilborn saw time at both guard and tackle last year. He's one of the "best five" linemen on the Cougars' roster, according to Dickert. Hilborn has been limited recently because of a minor "soft-tissue injury," Dickert said.
WSU underperformed up front last season.
"Getting a lot of new pieces, we're trying to bring a lot of guys in together and mold an offensive line," Gomness said.
The defensive line largely outclassed its counterparts , clogging up rushing lanes and putting steady pressure on the Cougars' quarterbacks. But the O-line had its share of nice moments . Sophomore running back Jaylen Jenkins recorded three carries of more than 20 yards.
Additional stats/plays of note
Ward completed approximately 16 of 23 passes during team drills. For the most part, the junior threw short passes. But he uncorked a deep ball early in the day, tossing a 40-yard pass down the far sideline to Orion Peters, who came up with a diving reception.
Backup QB John Mateer completed approximately 15 of 19 attempts. He connected with true freshman Carlos Hernandez on an accurate screen pass late in practice. Hernandez weaved through traffic for a 30-yard gain. Mateer's favorite target was juco transfer slotback DT Sheffield, who shined on crossing routes and caught an estimated seven passes for 70 yards.
Dickert's offensive player of the day nod went to receiver Lincoln Victor. The senior team captain had three catches and threw a couple of solid blocks.
Local journalism is essential.
Give directly to The Spokesman-Review's Northwest Passages community forums series -- which helps to offset the costs of several reporter and editor positions at the newspaper -- by using the easy options below. Gifts processed in this system are not tax deductible, but are predominately used to help meet the local financial requirements needed to receive national matching-grant funds.
Subscribe to the Cougs newsletter
Get the latest Cougs headlines delivered to your inbox as they happen.
---