News > Pacific NW
'Military kid' crowned Lilac Festival queen
March 25, 2023 Updated Sat., March 25, 2023 at 9:45 p.m.
Newly crowned Lilac Festival Queen Josephine Ortega of Medical Lake High School stands at the microphone and thanks her parents on the stage at the Bing Crosby Theater on Saturday in Spokane at the annual coronation event of the Lilac Festival. (Jesse Tinsley/The Spokesman-Review)Buy a print of this photo
Josephine Ortega covered her mouth in shock.
The Medical Lake High School student was presented with a white queen sash, bouquet of flowers and a crown after she was announced as this year's Spokane Lilac Festival "Onward" queen Saturday night at the Bing Crosby Theater in downtown Spokane.
"I was really not expecting that," Ortega told the crowd.
The Lilac Festival's Royal Court consists of seven outstanding Spokane County high school students. All seven took the theater stage , delivering brief speeches and receiving thousands of dollars in scholarship money before Ortega was crowned queen.
"To my parents, I would not be here without you, literally and figuratively," Ortega said. "But your support has meant everything over the past few months. To the six girls standing behind me, I love you all so much. I have gotten the closest best friends I could ever ask for."
The other six girls were declared princesses. They are: Kaitlyn Hawker from Lewis and Clark High School; Aidyn Whitehead from Gonzaga Preparatory School; Lori Petroske from Ferris High School; Maddie Champagne from East Valley High School; Kate Spinden from West Valley High School; and Mercy Cummins from Shadle Park High School.
Ortega and the six princesses will be featured in the Lilac Festival's Armed Forces Torchlight Parade May 20 in downtown Spokane. They also will participate in other Northwest parades and community service activities.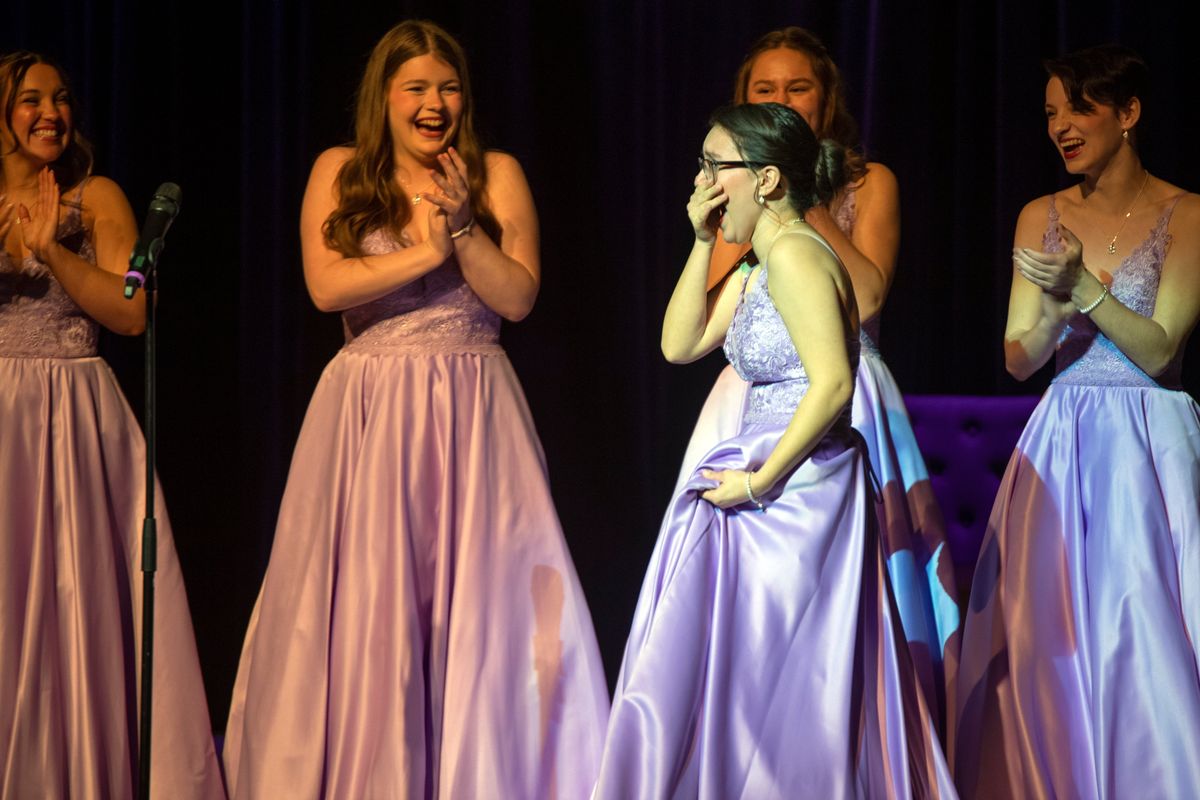 Newly-chosen Lilac Festival Queen Josephine Ortega of Medical Lake High School walks to center stage to accept her crown at the Bing Crosby Theater in Spokane Saturday, Mar. 25, 2023 at the annual coronation event of the Lilac Festival. With the seven member of the royal court already chosen, Ortega was chosen as queen and the other six designated as princesses. (Jesse Tinsley/The Spokesman-Review)Buy a print of this photo
The day was the culmination of the girls' hard work in the last couple of months. Royalty candidates worked on interview, public speaking, time management and other skills since that time.
They've also volunteered in the community, such as for Habitat for Humanity, Union Gospel Mission and Second Harvest. A month ago, 13 royalty candidates were whittled down to seven.
"Really inspiring to see the growth in the young ladies and what they've done in the few months that they've been in the training program," said Sam Snow, festival president. "And seeing it come to fruition here is just fantastic."
The girls took the stage to answer impromptu questions and deliver two-minute prepared speeches about the festival's theme, "Onward," which was inspired by the pandemic.
Each student, dressed in purple with a sash that read "Royalty," told a story about how they overcame a challenge in their lives.
Ortega's story was about the life of a "military kid" whose parents' Air Force duties often kept them away from home.
"I was born into the military lifestyle," she said. "It was just my normal."
She said she moved from Dover, Delaware, to Fairchild Air Force Base. In 2011, her father got a call that he would be deployed to Iraq.
"All I heard from this is that my Papa Bear wouldn't be able to go to Chuck E. Cheese on the weekends, or to carve jack-o'-lanterns, or to even eat Thanksgiving dinner with me," Ortega said. "I remember the long nights of my mom trying to get Skype to work just so I can see a glimpse of my dad on the other side of the world."
Ortega said this period of time shaped her.
"It was the hardest few months I've ever had to go through, and I know it was just as hard for my dad to be watching his little girl grow up in a computer screen," she said.
When her parents retired from the military, Ortega said she worried she would lose her identity as a "military kid."
"But since then, I've kept that sense of pride by working with organizations, such as the Spokane Veterans Forum and continuing to support today's troops," Ortega said.
Ortega thanked those in the audience who served.
"Without you, none of us would be moving onward," she said.
The seven girls were awarded $35,000 total in scholarships, which were sponsored by various businesses, organizations and private donors.
Ortega carries a 4.0 grade-point average and plans to attend Gonzaga University with a long-term goal of becoming a high school teacher.
Ortega told The Spokesman-Review she's been in awe of the other girls' accomplishments.
"When they called my name, all I could think about is that Medical Lake has their first queen," she said.
Local journalism is essential.
Give directly to The Spokesman-Review's Northwest Passages community forums series -- which helps to offset the costs of several reporter and editor positions at the newspaper -- by using the easy options below. Gifts processed in this system are not tax deductible, but are predominately used to help meet the local financial requirements needed to receive national matching-grant funds.
Subscribe now to get breaking news alerts in your email inbox
Get breaking news delivered to your inbox as it happens.
---