News > Nation/World
Tornadoes tear through rural Mississippi and Alabama, killing 24
March 25, 2023 Updated Sat., March 25, 2023 at 9:09 p.m.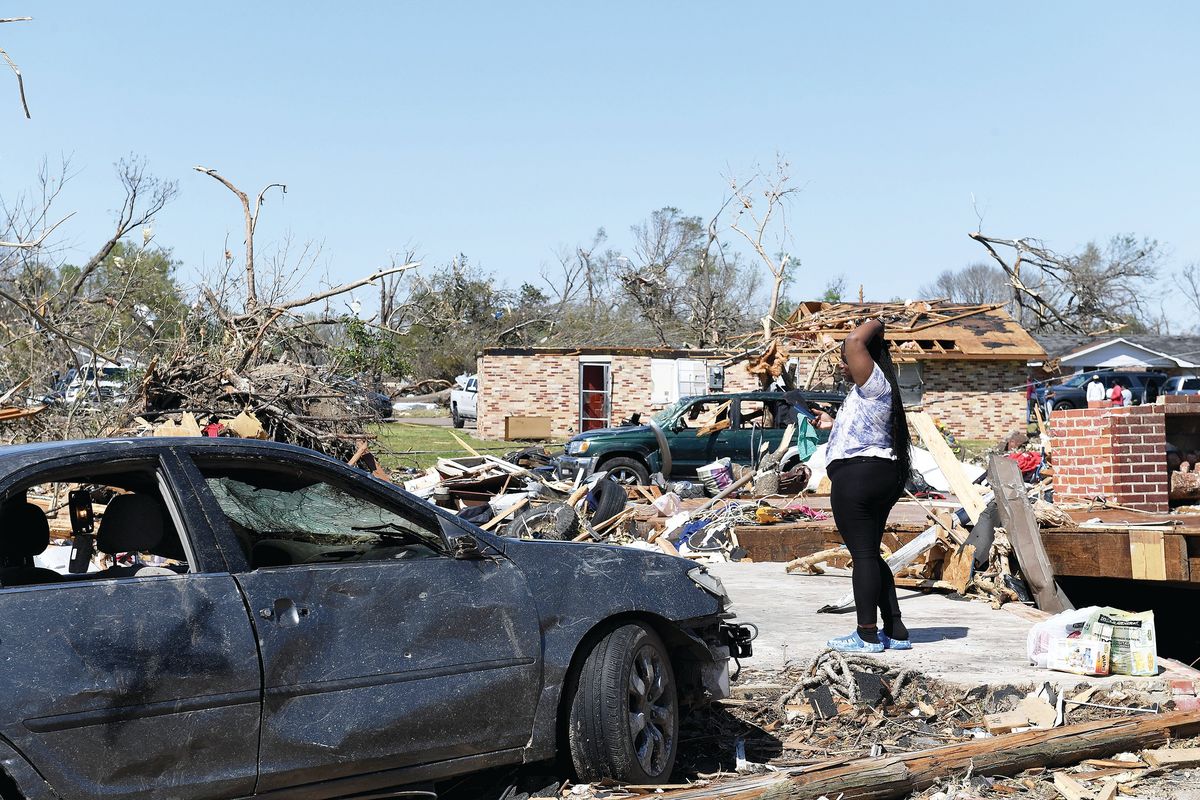 Above: Kenterica Sardin, 23, stands where her bedroom once was and home once stood on Saturday after a series of powerful storms and at least one tornado in Rolling Fork, Miss. Left: A vehicle is impaled by debris on Saturday in Rolling Fork, Miss. (Will Newton)
Washington Post
ROLLING FORK, Miss. – An entire town, flattened. Injured people staggering out of what was left of their homes, impaled with debris. And no tornado siren to be heard.
That scene is what professional storm chaser Zachary Hall found driving into Rolling Fork, Mississippi, after a tornado roared through.
"There were people everywhere, too many to count," Hall said. "We initially saw a group of seven or eight people with injuries."
More than a dozen tornadoes reportedly tore through Mississippi and Alabama on Friday night, leaving at least 26 people dead and a swath of devastation 100 miles wide as severe weather continues to threaten regions throughout the Southeastern United States and Ohio Valley on Saturday.
Everywhere in Rolling Fork, there is utter destruction: homes and businesses reduced to rubble, mangled cars flipped about and massive trees uprooted – all part of one of the deadliest tornado events in Mississippi's history. Sharkey and Humphreys counties, both rural areas of the state that are predominantly Black, were the hardest hit, especially their towns of Rolling Fork and Silver City.
"The loss will be felt in these towns forever," Mississippi Gov. Tate Reeves (R) wrote on Twitter. He later added "Devastating damage – as everyone knows. This is a tragedy."
The tornadoes stretched from the Louisiana border to the area of Winona, Mississippi, according to estimates from officials. The deadly devastation was amplified by the twisters' ferocity, which crushed many of the area's mobile homes, which are more vulnerable to destruction from devastating winds. The storm's nocturnal path took residents by surprise as they slept.
Throughout the night and into the morning, winds were gusting up to 80 mph while sheets of rain and hail the size of golf balls pounded the region. At least four people are still missing, the Mississippi Emergency Management Agency, or MEMA, confirmed this morning, with the death toll expected to rise. Dozens more are injured.
A "great deal of the town has been destroyed," the former mayor of Rolling Fork, Fred Miller, said in an interview with Fox Weather.
"The storm came through just a few minutes after 8. My wife and I had taken precautions and gotten in a middle room, in a bathroom, and the whole house just shook, and then we heard windows being blown out and debris falling," Miller said.
"We had to help dead bodies out of the house," Shanta Howard, a resident of hard-hit Rolling Fork, told local TV station WAPT. "Actually seeing people losing their lives over bad weather like this."
"What was going through my head? Lord, I don't want to die. I don't want to die. I don't want me or the kids to die."
Some storm chasers believe a "wedge" tornado may be to blame for the wreckage. That type of tornado appears to be wider than it is tall, according to the National Oceanic and Atmospheric Administration. "Some of the largest and most destructive tornadoes in history" have been wedge tornadoes, AccuWeather said.
The wedge tornado was probably on the ground for 90 minutes covering 80 miles as it chewed up west-central Mississippi, according to the National Weather Service.
One "extremely high-caliber" tornado lifted debris to above 30,000 feet, said Samuel Emmerson, a member of the radar research group at the University of Oklahoma on Twitter.
President Biden called the images from the ground in Mississippi "heartbreaking" in a statement and said that he had spoken with Federal Emergency Management Agency Administrator Deanne Criswell to focus support to the stricken area.
There is a tornado warning in southern Georgia as of Saturday afternoon and some severe thunderstorm watches are in effect. The worst of the storm is over, but the National Weather Service's Storm Prediction Center is still forecasting "isolated" severe thunderstorms on Saturday in portions of the Southeast and Ohio Valley.
Pittsburgh; Akron, Ohio; Montgomery, Alabama; and Tallahassee, Florida, could still face some more severe storms.
More than 50,000 customers throughout Mississippi, Tennessee and Alabama were without power as of midday Saturday, according to PowerOutage.us, a site that tracks and aggregates power outage data from utility companies.
The National Weather Service is warning of ongoing danger from the tornadoes' fallout, cautioning residents to stay away from power lines and be wary of damaged buildings and walking or driving through floodwaters.
"Do not enter a damaged building until local authorities say it's safe. Leave your home if there's shifting or unusual noises," a fact sheet from the National Weather Service's Jackson office read.
"During severe weather events, your reports help the message get out to those who are yet to be impacted by the weather. We do still welcome any reports you send our way today as the sun comes up, and you get a better idea of what damage has occurred," the office said on Twitter.
Several Mississippi counties reported deaths. In Sharkey County, one of the hardest-hit towns, at least 13 people had died, Coroner Angelia Easton told news outlets. Monroe County Coroner Alan Gurley told the Washington Post that there were at least two fatalities in Wren, a community in northeast Mississippi.
There was at least one death in Silver City, in Humphreys County, Mississippi Highway Patrol Trooper Jose Watson said in a video. And at least three deaths had occurred in Carroll County Coroner Mark Stiles told WTVA.
In Alabama, a 67-year-old man was killed at home in Morgan County, the Washington Post confirmed.
- – -
Weber, Bella and McDaniel reported from Washington. Adam Lynch in Rolling Fork, Miss.; Kim Bellware in Chicago; Jason Samenow, Lauren Lumpkin and Samuel Granados in Washington; Niha Masih in Seoul; and Adela Suliman and Victoria Bisset in London contributed reporting.
Local journalism is essential.
Give directly to The Spokesman-Review's Northwest Passages community forums series -- which helps to offset the costs of several reporter and editor positions at the newspaper -- by using the easy options below. Gifts processed in this system are not tax deductible, but are predominately used to help meet the local financial requirements needed to receive national matching-grant funds.
Subscribe now to get breaking news alerts in your email inbox
Get breaking news delivered to your inbox as it happens.
---