News > Spokane
10 homeless Spokanites graduate blue collar job training program
March 26, 2023 Updated Sun., March 26, 2023 at 9:04 p.m.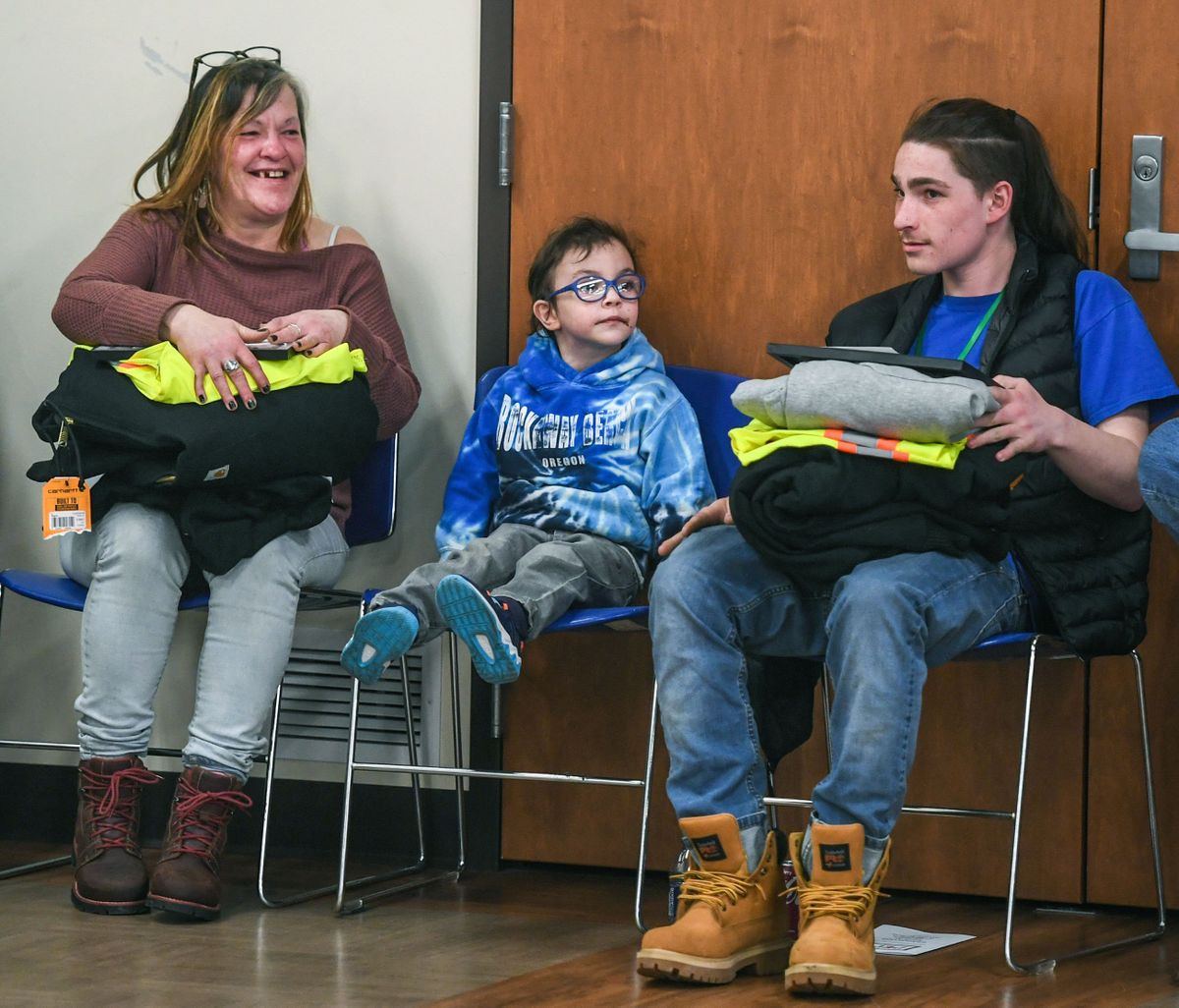 Among students completing the Pre-Employment Preparation Program on Friday at the Northeast Community Center in Spokane are Misty Carson, left, and her son Ryan Carson, right, while visiting with Misty's grandson, Ezra Austin, 4. (DAN PELLE/THE SPOKESMAN-REVIEW)Buy a print of this photo
On a cold Friday afternoon, after a celebratory lunch with teachers and local leaders, 10 men and women contemplated a better future.
For four 40-hour weeks, they had traveled across town, from Camp Hope or local homeless shelters, to their classes with the Pre-Employment Preparation Program, an apprenticeship introduction program that taught them the basics of myriad trades.
During their graduation ceremony Friday, in the downstairs conference room of the Northeast Community Center, they were cheered on by family, friends, elected officials, judges and law enforcement officers as they were presented certificates of completion.
They had learned to measure and cut lumber, constructing garden beds for the community center. They had learned to lay concrete and operate heavy machinery, and they earned certificates in occupational safety, first aid, traffic control and using forklifts.
Using the skills they learned, they can now either apply directly to relevant jobs or enter a full apprenticeship program with a local trade union.
Mysti Carson and her 21-year-old son, Ryan, have been living at the Camp Hope homeless encampment for more than a year following the death of Mysti's partner and pandemic-related job loss.
Now, Mysti Carson plans to work as a traffic controller, saving some money, before applying for an apprenticeship program to work with heavy machinery. Ryan Carson wants to find a job in roofing and while that wasn't a skill he learned through the PEPP program, an instructor has offered to help him pursue that goal.
When asked what finishing the program meant to her, Mysti Carson paused for a moment.
"Stability," she said. "Everything that we haven't had: to be able to get a home, vehicles and with an income, to do things with our family that we couldn't before."
A new chapter for a young program
The PEPP program was created in 2021 to help those with disadvantages entering or re-entering the workforce, such as the formerly incarcerated and those without high school diplomas. With a job in the trades, graduates have an opportunity for stability and a large enough salary to care for their families.
"Far too many in Spokane are working low-paying jobs or two or three jobs just to keep their household together," said Judith Gilmore, program coordinator, during Friday's graduation.
Supported by organizations such as the Northwest Laborers Training and the International Union of Operating Engineers, it launched with funding from the Smith-Barbieri Progressivce Fund and other local, individual and group donors.
In addition to receiving training, the students were given a $100 stipend every week they had perfect attendance. Graduates also received an additional $200 voucher for work boots and other gear.
This was the first time the PEPP program has focused on homeless students, using supplementary funding from the state departments of Commerce and Transportation. Most of the students had at some point stayed at Camp Hope, which the state has pledged to empty and whose occupants the state is working to offer a permanent path out of homelessness.
The program is taught by instructors like Luis Licea, who was born in Mexico and has been part of the Northwest Laborers Training for 15 years after graduating from an apprenticeship in 2004. He has taught labor workshops and apprenticeships in both English and Spanish in places such as Yakima and Pasco, and has been leading classes for the PEPP program since its launch.
"When Gilmore came to us, she came into a good group that said we can work with you," Licea said. "Every single building trade union put their name on this program."
Now that the students have graduated, the next step is to get them into jobs or apprenticeships. Some of the local apprenticeship programs have agreed to either offer a guaranteed spot or at least an interview, Licea said.
"We want to make sure they have a place to go," he said. "We can train 100 people, but if there's not a job at the end of it, what's the point?"
At least one graduate already has a job. Before handing a certificate to the last graduate, Ryan Nada, Licea told the audience that he had found a job for Nada with NorthStar, a traffic control company subcontracting with the state Department of Transportation on an upcoming project.
"I feel so great," Nada said after the ceremony. "I feel so proud of a lot of the guys that entered the program with me. We were looking out for each other."
Nada and his classmates were part of the fourth cohort of the PEPP program since its inception two years ago. Licea said the long-term goal is to hold as many as six PEPP cohorts each year but more financial support is needed to expand or maintain the program.
Licea noted the graduates were not the only ones that can benefit from programs like PEPP as the labor pool continues to shrink.
"I have a hard time, especially after the pandemic, recruiting people," he said. "So you have 10 individuals in each class that I can come and talk to, that's 10 people that can come into my union, as well as the other trades."
Of the 21 people who were a part of the first three cohorts, six continue to work with one of 15 local unions, he noted.
Local journalism is essential.
Give directly to The Spokesman-Review's Northwest Passages community forums series -- which helps to offset the costs of several reporter and editor positions at the newspaper -- by using the easy options below. Gifts processed in this system are not tax deductible, but are predominately used to help meet the local financial requirements needed to receive national matching-grant funds.
Subscribe now to get breaking news alerts in your email inbox
Get breaking news delivered to your inbox as it happens.
---