Sports
A Grip on Sports: Despite the poor end to Gonzaga's season, an Elite Eight finish isn't half-bad
Sun., March 26, 2023 A GRIP ON SPORTS • Well, that ended poorly.
•••••••
• We are specifically referring to Gonzaga's ugly season-ending 82-54 Elite Eight loss to Connecticut. But the same could be said about a couple other items from Saturday, all of which we delve into here.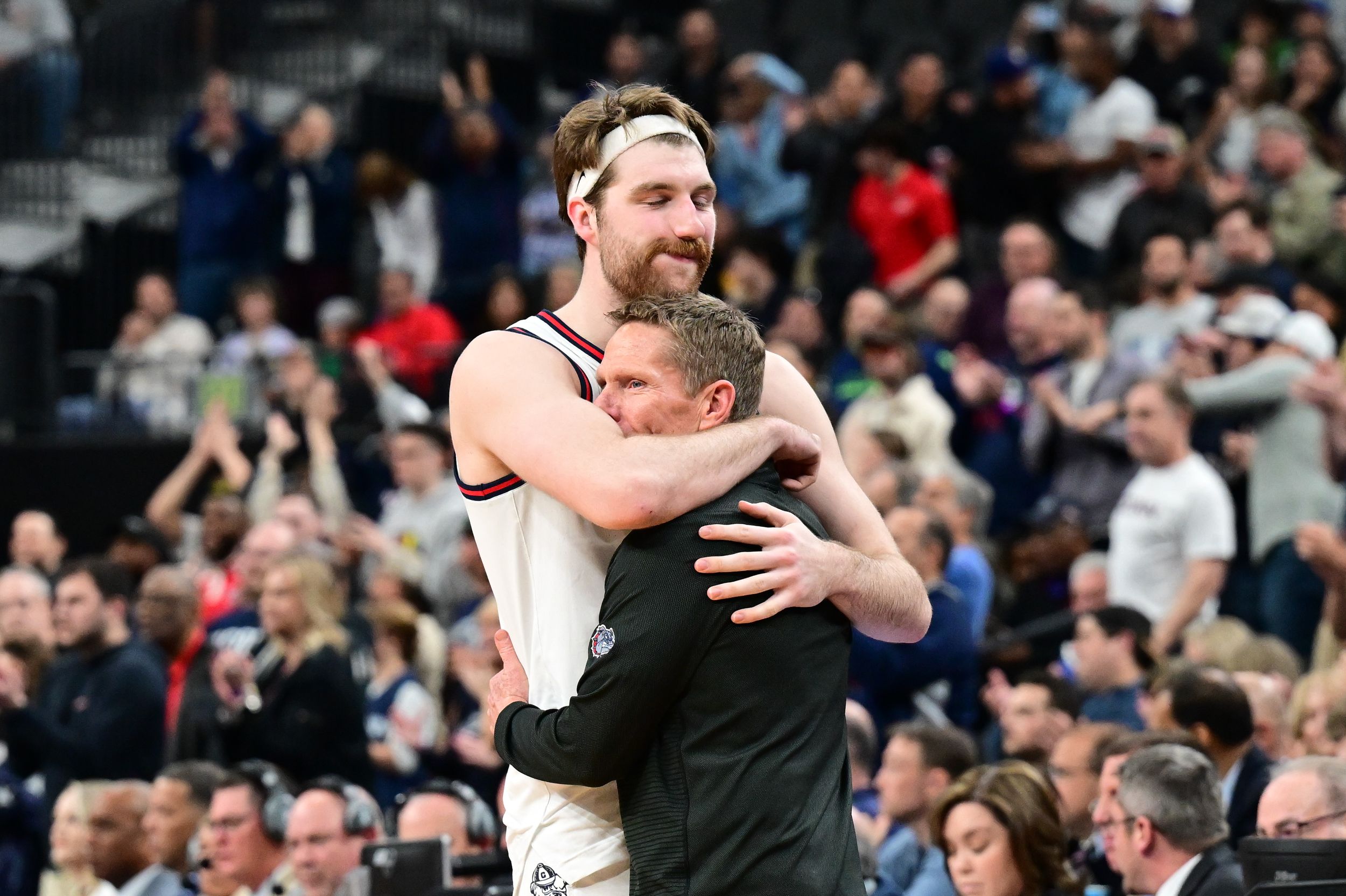 • There is so much to unpack from the Zags' stunning – in its scope, not in its ultimate outcome – loss last night in Las Vegas, we're not sure where to start.
For the first time in years, the Bulldogs were dominated out front. Well, if you ignore some warning signs that popped up in their nonconference struggles and surfaced again against UCLA.
A school that has made its bones by developing some of the nation's best point guards and cultivating deadeye outside shooters didn't have any of that Saturday. And has struggled to show consistency in those departments all season.
Nolan Hickman has potential to become another in a long line of outstanding Gonzaga point guards but the sophomore is still a work in progress. His to-do list over the summer includes improving his defensive intensity and consistency, decision making and, most all, dependable outside shooting. That's pretty much it.
Rasir Bolton's shooting touch was knocked askew when he injured his thumb late in the season. It never came back. And it seemed to impact the rest of his game. Hunter Sallis has so much obvious potential. But this year it was pretty much still just potential. Next year? Expect more. He will deliver. Malachi Smith was up and down, mainly due to a penchant for ill-advised fouls that made trust hard to come by. But when he was on, he was as good as any guard on the roster. If he returns, he will be the centerpiece in a lot of ways.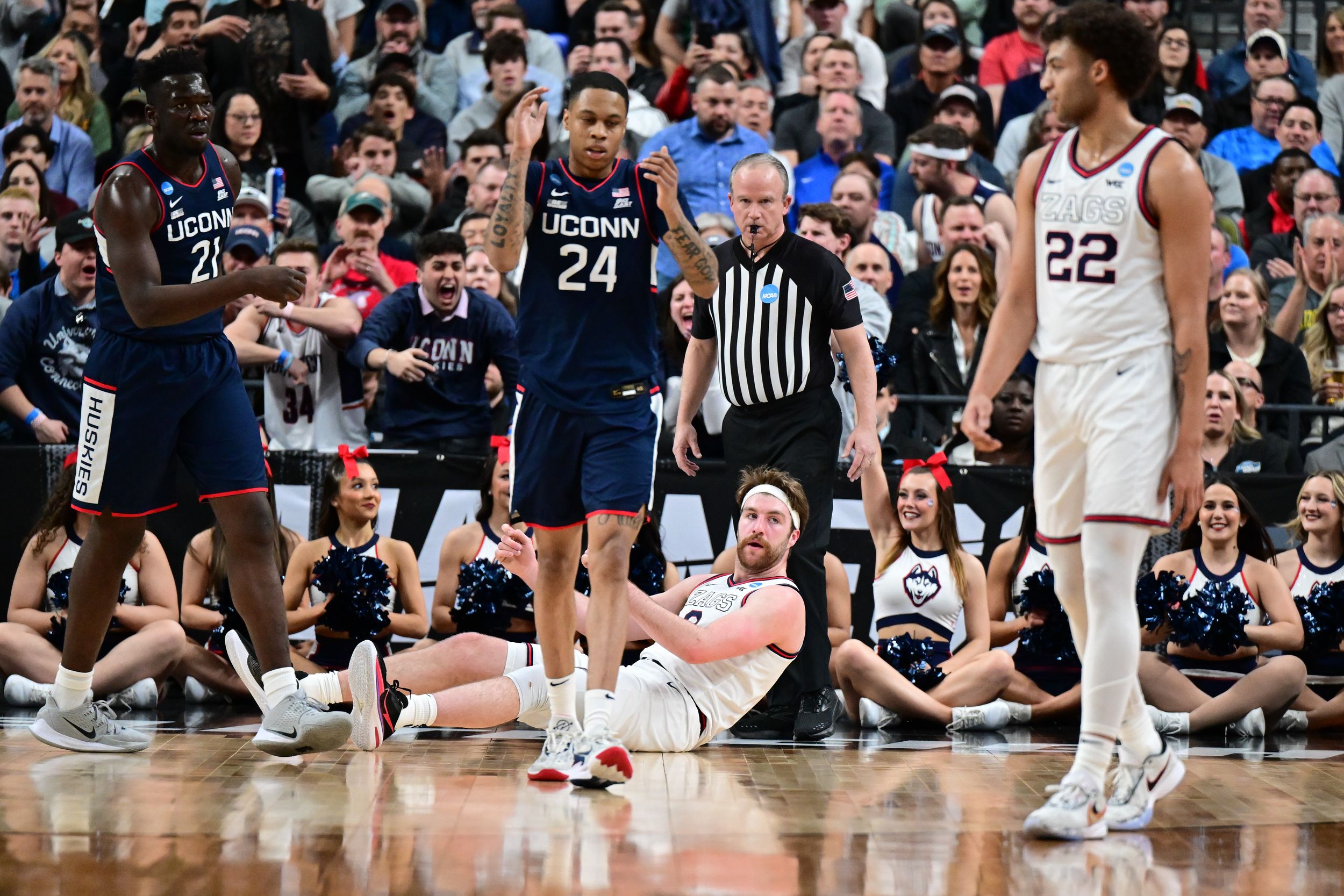 • UConn knew the way to stop the Zags was to stop Drew Timme. Well, everyone, including the average fifth-grader at Franklin Elementary, knew that. The Huskies did it. With an assist from a couple folks – including the Gonzaga staff.
The defensive game plan to have Timme play the role of a rover on defense, to sag off his man and be available to help on Adamo Sanago, might have looked good on paper, but in reality was a poor choice. Switching roles with Anton Watson, who matched up with the 6-foot-9 Sanago down low, would have allowed both players to play to strengths, albeit exposing Timme to unwanted foul trouble.
The senior has never been the best aggressive guy on the defensive end. And in the role he was asked to play, he had to make quick decisions based on where and when Sanago caught the ball. And then everyone else had to react. His hesitancy showed and helped open holes in the Gonzaga half-court defense.
Worst of all, it seemed to carry over to the offensive end, where he seemed as hesitant as he has all season. And Gonzaga hasn't been great the past three years when Timme isn't decisive.
But maybe the defensive role wasn't all that made him hesitant. Or even the most important factor. Maybe it was the two early travel calls, both of which were correct but also including contact that may have contributed to the extra steps. We're not sure but we are sure of one thing. The Huskies were going to jump in front of Timme and fall down every chance they got. It was a smart play. And it worked to some degree.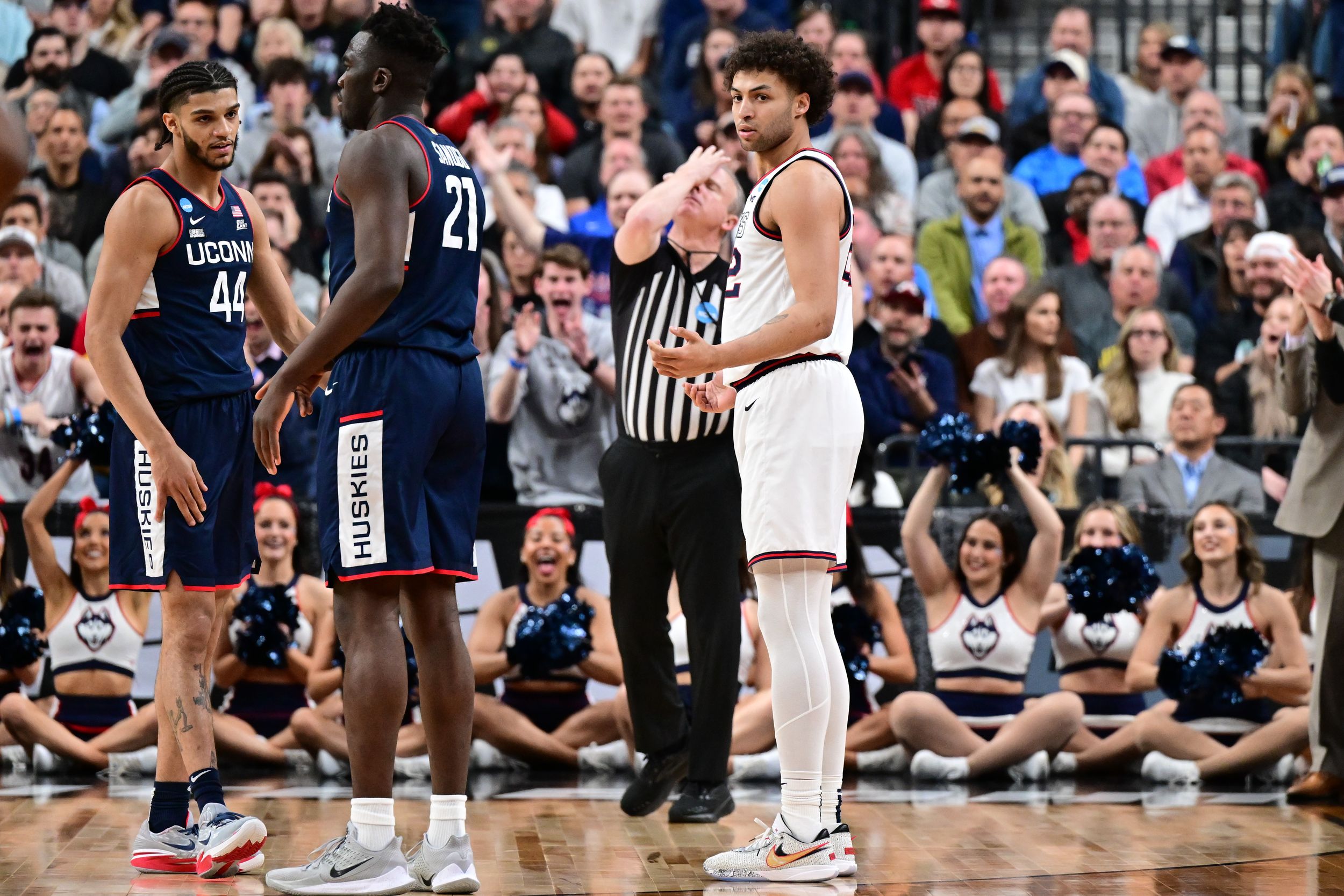 So did a key fake-out Andre Jackson pulled early in the second half. It was the best soccer-like play of the night. His excessive head bob caught the eye of official John Gaffney and resulted in Timme's fourth foul with almost 18 minutes to play.
The guards inability to score or to stop the UConn fastbreak may have been the main ingredient in the Zags' demise, but that call cooked them.
Was it a foul? By rule, sure. But we watched the tape and were able to count at least eight times there was rebounding scrums that included much-more egregious contact. All passed muster with the officiating crew. That call at that time was unwarranted – and decisive.
• We have a member of our household who has been advocating, loudly and forcefully, for years a sixth foul, a la the NBA, is needed in college hoops. Part of it is to anticipate, and to alleviate, the inevitable poor call college officials make. To release pressure.
He's right. And we would go a step further. Experiment with six fouls and no disqualification. Every foul after six would result in one or two extra free throws. Or the ball. If a coach wants to keep a player on the floor, it comes with a price. Try it and see if it improves the game. Heck, if it gets the officials to be more aggressive early on calls and helps encourage a more free-flowing game, it would be worth it.
• Need a palate cleanser? Washington State's edge rushers dominated in spring's first day in full pads. The group, which includes at least three players who have All-Pac-12 potential, will be the strength of the defense. Maybe of the team as a whole. And the trio of Quinn Roff, Brennan Jackson and Ron Stone Jr. showed off its immense potential Saturday.
• Remember when Bobby Wagner's tenure with the Seahawks ended? Sure, you do. It was just a year ago. It ended badly in one way. The Hawks said goodbye to one of their best players ever while he still had wear on his tires. They did it for monetary reasons.
Wagner went to the Rams, led them in tackles. Nearly derailed the Hawks' season himself in the game in L.A. He was a beast at times.
Now he'll be that beast for the Hawks again. Seattle had a need in the middle of their defense. Wagner was available. The match seemed inevitable. And was. A one-year contract for an affordable price – after Seattle cleared some cap space.
Good for both parties. No rancor, just business. And we all get cheer for 54 – or is it 45? – again.
•••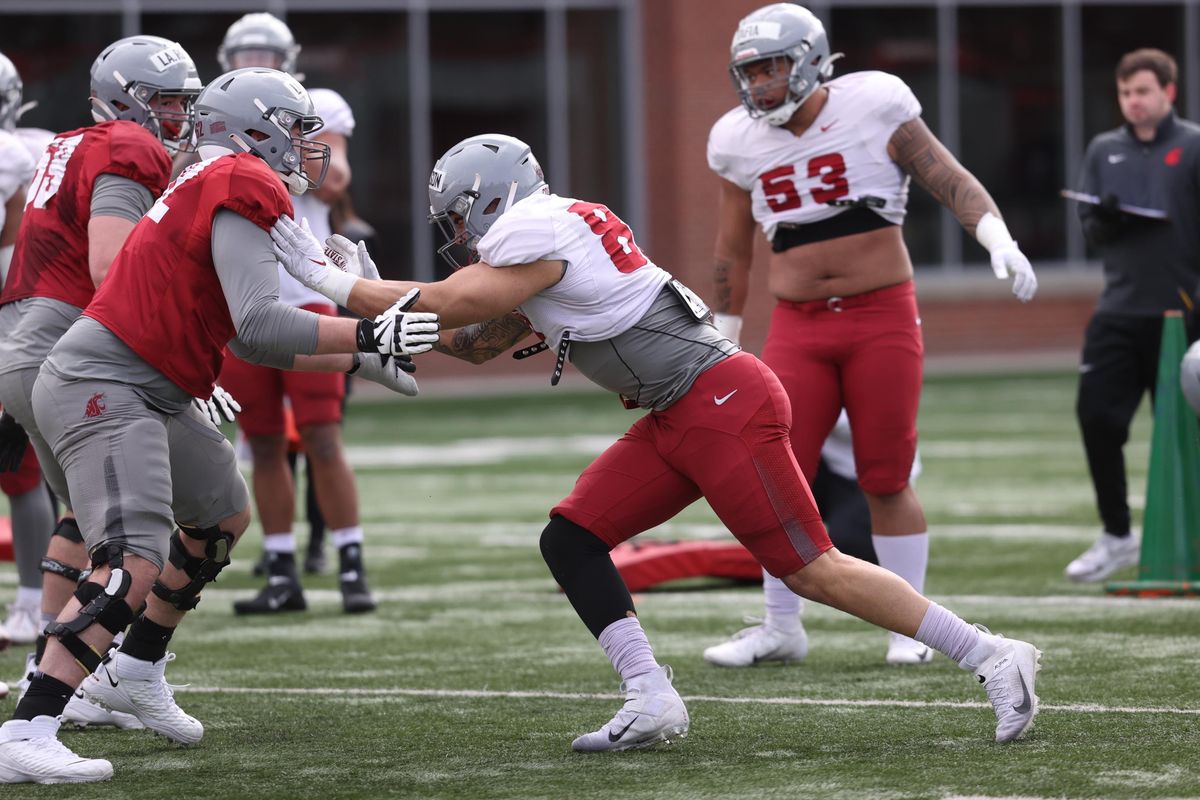 WSU: We mentioned the edge rushers. That's a big part of Colton Clark's notebook from Pullman on the first full-pad day of the spring. … Elsewhere in the Pac-12 and college basketball, Jon Wilner looks back in the Mercury News at the week that just ended. … Another Washington player is in the portal. … It wasn an up-and-down season for Colorado. … Among the women, UCLA had played South Carolina tough earlier in the season. The top-seeded Gamecocks were not going to let it happen again. The Bruins fell 59-43 in the NCAA's Elite Eight. … The future seems bright in Colorado. … James Harden helped Arizona State turn its season around. … Over in Seattle, Connecticut fell to Ohio State, snapping a long Final Four streak, and Virginia Tech stopped Tennessee. … In football news, Utah coaches are high on a BYU transfer. … A USC player is trying to put his injury in the past. … Arizona patiently tries to develop depth in the secondary.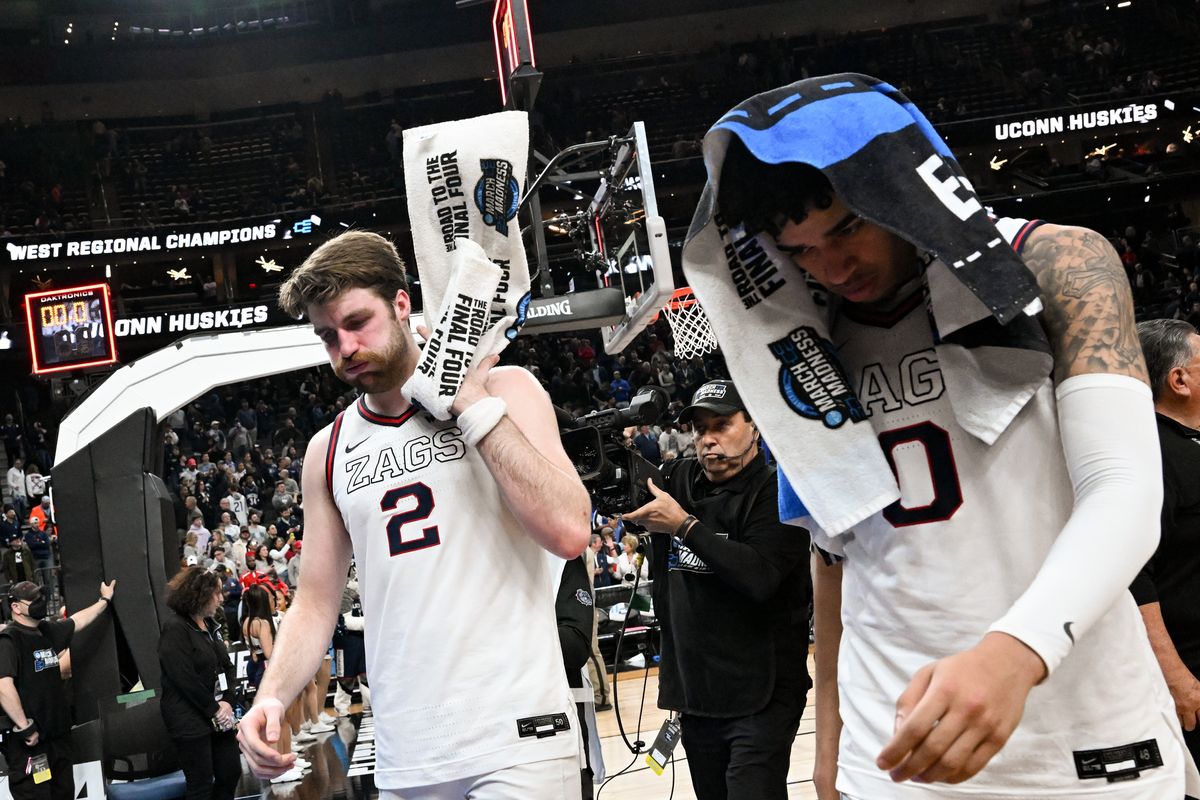 Gonzaga: We have the usual complete report for you, starting with Theo Lawson's game story. … Dave Boling's column covers the final game of Timme's glorious Gonzaga career. It may have ended badly – is there any other way for a college career to end? – but there was much to celebrate. … Jim Meehan has this story centered on Julian Strawther and his poor performance. … Jim also has the difference makers. … Tyler Tjomsland has the photo gallery from Las Vegas, many of which we sprinkle throughout this column. … We had our TV Take. It serves as an appreciation of the work of the CBS crew as well. We're sorry we had to cut a part about the early Lauren Shehadi interviews, because the sideline reporter served her role well. … Jim Allen talked with Gonzaga fans before the game about the team's underdog status. … The folks in the office put together the recap with highlights. … Of course, there are other stories with a Connecticut bent from around the nation to pass along. … The other Elite Eight game was an actual upset, as Florida Atlantic ousted Kansas State. … Elsewhere in the WCC, a USF shooter is in the portal.
Preps: Saturday not only included enough events for a roundup, there was also the Howard Dolphin track and field invitational at West Valley High. Keenan Gray was there and has this story.
Chiefs: It was, by record, Spokane's worst season ever. It ended last night in the Arena with a 2-1 shootout loss to Tri-City. Kevin Dudley was there, along with a sellout crowd, and he has this story.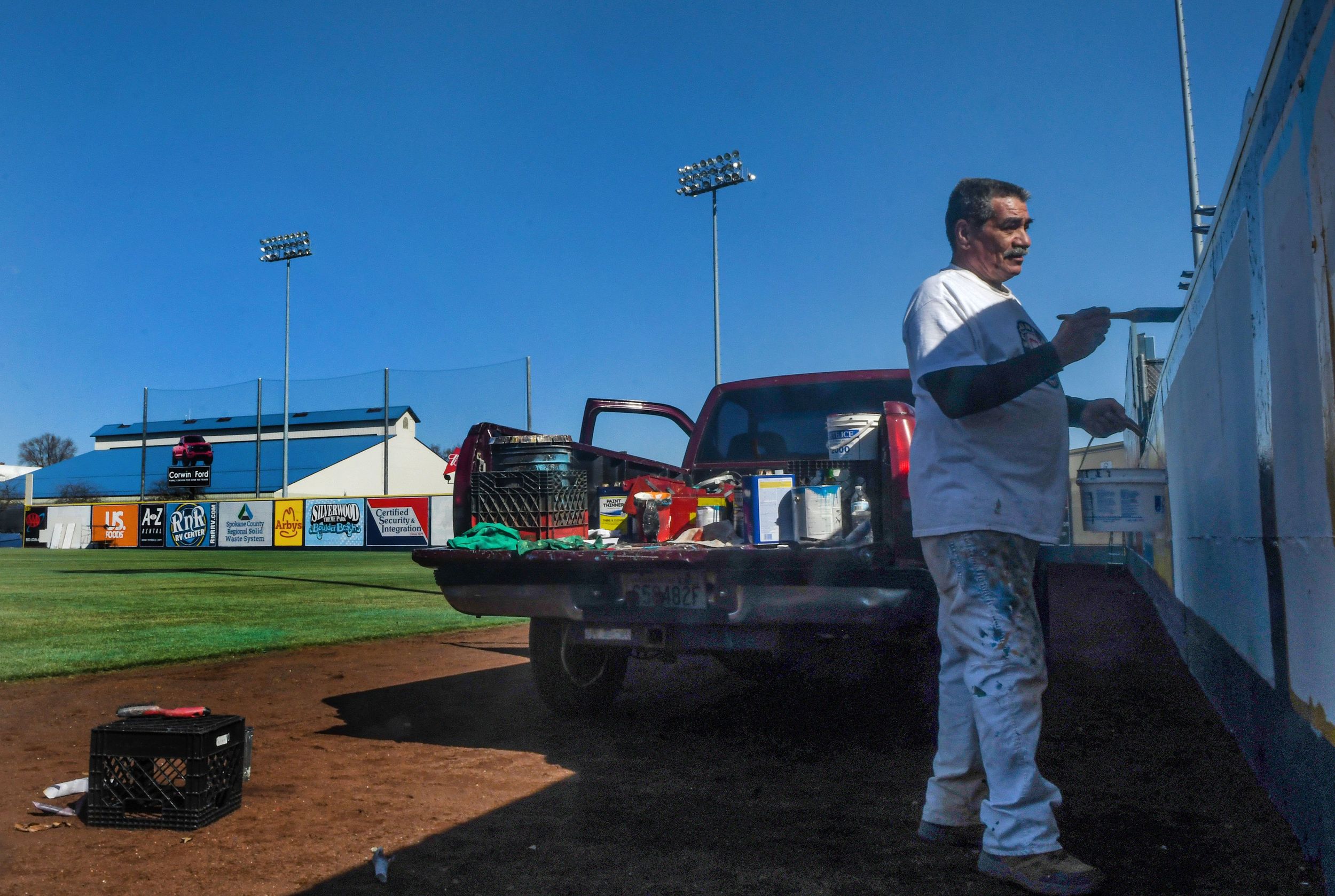 Indians: The season begins soon and the fence advertisements have to be ready. Ruben Marcilla takes care of that. Colin Tiernan has this story on the man who has adorned the Avista Stadium walls with advertisements for three decades.
Mariners: It looks as is JP Crawford will be ready to start at shortstop on Opening Day.
Seahawks: We mentioned Wagner above. We link the stories here once again.
Kraken: There was a playoff atmosphere in Nashville last night and that seems to bode well for Seattle. The Kraken's 7-2 win would look good on any resume. … Matty Beniers scored, which puts him over the 50-point threshold,
Sounders: The last road win? July. Jordan Morris must have been ticked it took so long. After all, the veteran, playing a different spot up front, scored four goals – yes, four – in a 4-1 win at Kansas City. It was his best game ever.
•••       
• We typed the words "Opening Day" in the Mariners' section above and smiled. Guess what? We will be in Seattle to watch. We bought tickets in a decent T-Mobile spot, have our hotel reserved and have been walking around the house the past few days saying things like "we're going to Opening Day." OK, not too original. But appropriate. Now we need a new M's hat. But fitting our gigantic head is pretty darn hard. Maybe at the team store? Until later …
Local journalism is essential.
Give directly to The Spokesman-Review's Northwest Passages community forums series -- which helps to offset the costs of several reporter and editor positions at the newspaper -- by using the easy options below. Gifts processed in this system are not tax deductible, but are predominately used to help meet the local financial requirements needed to receive national matching-grant funds.
Subscribe to the sports newsletter
Get the day's top sports headlines and breaking news delivered to your inbox by subscribing here.
---