Ann Carrns: A new federal student loan program will move millions toward forgiveness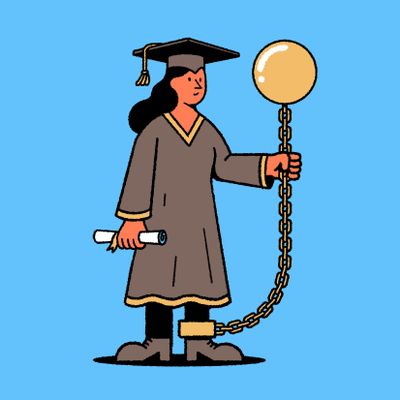 It's unclear whether President Joe Biden's student loan cancellation plan will survive a legal challenge now before the Supreme Court, but a different federal program may still offer relief to many borrowers. Some are already seeing relief under the program, and the government just extended a key deadline for some borrowers who must take special steps to qualify.
The help will come as a one-time adjustment to accounts of borrowers, some of whom have been making payments for decades. The adjustment will revise their accounts so that more of their payments will count toward the required number of payments needed to qualify for loan forgiveness.
The adjustment may benefit millions of borrowers, eliminating outstanding balances for some and moving many others closer to forgiveness of their remaining debt, the Education Department said when it announced the plan almost a year ago.
Some background: Income-driven repayment plans let student loan borrowers make lower monthly payments – in some cases, as low as zero dollars – based on their income and family size. Because the payments are low, they don't often make much of a dent in the loan balance. But after making payments for 240 or 300 months (20 or 25 years), depending on the specific plan, the remaining debt is eligible for cancellation.
Now, under the new program, borrower accounts will be reviewed and updated, and credit will be given for months that didn't previously count toward the maximum repayment period – such as certain periods of forbearance or deferment, when borrowers pause payments because of financial setbacks. (Periods when a loan was in default won't count.)
Based on the adjustment, some borrowers who have reached the necessary threshold have already been notified that their loans have been discharged, an Education Department spokesperson said on Thursday in an email. More than 3.6 million borrowers will receive at least three years of credit toward forgiveness, the Federal Student Aid office has said.
The adjustment will apply even to borrowers who were not enrolled in income-driven plans, in recognition that many were not made aware of their options or were improperly steered away by their loan servicers, the Education Department said. In addition to correcting "historic inaccuracies," the department said, it will create a new payment-counting process to avoid future problems. An online tracker is expected to be available this year.
The one-time revision will apply to all federally held student loans, including Plus loans, which are available to graduate students and to parents, to help them pay for their children's college education.
Most account adjustments will happen automatically, according to the Education Department, but there are some exceptions. Older commercially held loans, such as Perkins loans and some made under the Federal Family Education Loan Program, can qualify for the one-time adjustment, but borrowers must first apply to consolidate them into a new direct federal loan. These borrowers can now apply for a consolidation loan until the end of the year, the department spokesperson said; previously, the deadline was May 1.
Borrowers with one-time payment adjustments that make them eligible for automatic loan forgiveness through the Public Service Loan Forgiveness program are being notified first, the spokesperson said. After adjusting those accounts, the department expects to next adjust accounts for borrowers eligible for forgiveness under income-driven repayment rules. The federal aid office has said that adjustments will occur this summer.
Ashley Harrington, a senior adviser in the Federal Student Aid office, asked borrowers to be patient, and she suggested checking the government's income-driven repayment website for news. (The site doesn't necessarily flag updates, so borrowers should read carefully.) Harrington made her remarks on March 7 during a webinar hosted by Betsy Mayotte, the founder of the Institute of Student Loan Advisors, a nonprofit group that provides student loan advice.
The recent avalanche of student-loan-relief proposals, while welcome, have been difficult for people to keep track of, Mayotte said, adding, "It really has caused a lot of confusion among borrowers."
Here are some questions and answers about the income-driven payment adjustment.
If the U.S. Supreme Court strikes down Biden's loan-cancellation program, will the income-driven adjustment program continue?
Yes, according to student loan advisers; the programs are separate. The plan being reviewed by the Supreme Court would cancel as much as $20,000 in student debt for qualifying borrowers. If the justices reject that plan, the loan adjustment plan will remain available, Mayotte said. And if the court lets the president's cancellation plan proceed, she said, borrowers may potentially benefit from both programs.
Is there a new income-driven repayment plan coming?
Yes. The Biden administration has proposed a new, more generous plan to replace the current income-driven plans, to simplify things for borrowers. The administration has said that it is aiming to start making some parts of the new plan available this year.
If I consolidate my loans to get the adjustment, won't the clock for loan forgiveness reset?
No. Normally, a risk to consolidating student loans is that the forgiveness clock resets to zero, and borrowers must start over to accumulate credit toward cancellation of their balance. But that won't happen under the adjustment plan, Harrington said during the webinar.
There are other important factors to consider, however, before consolidating. For instance, the interest rate on your new loan may be different, and your monthly payment may change.
Also, importantly, borrowers who consolidate federally held loans with loans that aren't federally held in order to qualify for the adjustment may lose their eligibility for the one-time debt relief plan that is being considered by the Supreme Court, said Abby Shafroth, a lawyer with the National Consumer Law Center and an expert on federal student loans.
Borrowers who have only loans that aren't federally held should "strongly consider" consolidating into a new federal loan before the deadline for the one-time adjustment, she said, as they're not eligible for the $20,000 debt relief plan anyway.
For a smaller group of borrowers who have both types of loans (federally and commercially held), the decision is more complex. One approach, Shafroth suggested, might be to leave their federally held loans alone and consolidate only their commercially held loans into a new federal consolidation loan. With the consolidation deadline now extended, borrowers have more time to weigh their options and perhaps consider the impact of the Supreme Court decision, which is expected in the coming months.
How can I tell whether my loans potentially qualify for the special adjustment?
One way to tell, Shafroth said, is by confirming whether your loan payments have been suspended under the COVID-related pause that began in March 2020. If they were, your loans most likely qualify. If you are still being billed by your loan servicer, your loans are not federally held and you may need to apply for a consolidation loan.
Will the adjusted loan payments also count toward the Public Service Loan Forgiveness program?
Yes. Many borrowers submitted applications in the fall for a temporary waiver under the public service program, which forgives student debt after 10 years of repayment for borrowers working in government or nonprofit jobs. But if they missed that window to get payments that normally wouldn't qualify toward forgiveness included, they might benefit from the income-driven adjustment, Mayotte said, as long as the borrowers were working in a qualifying job at the time of those payments.
This article originally appeared in The New York Times.
---