Sports > Area sports
Longtime Idaho track and field coach Mike Keller reunites with athletes, Olympic champ Dan O'Brien
March 26, 2023 Updated Sun., March 26, 2023 at 4:28 p.m.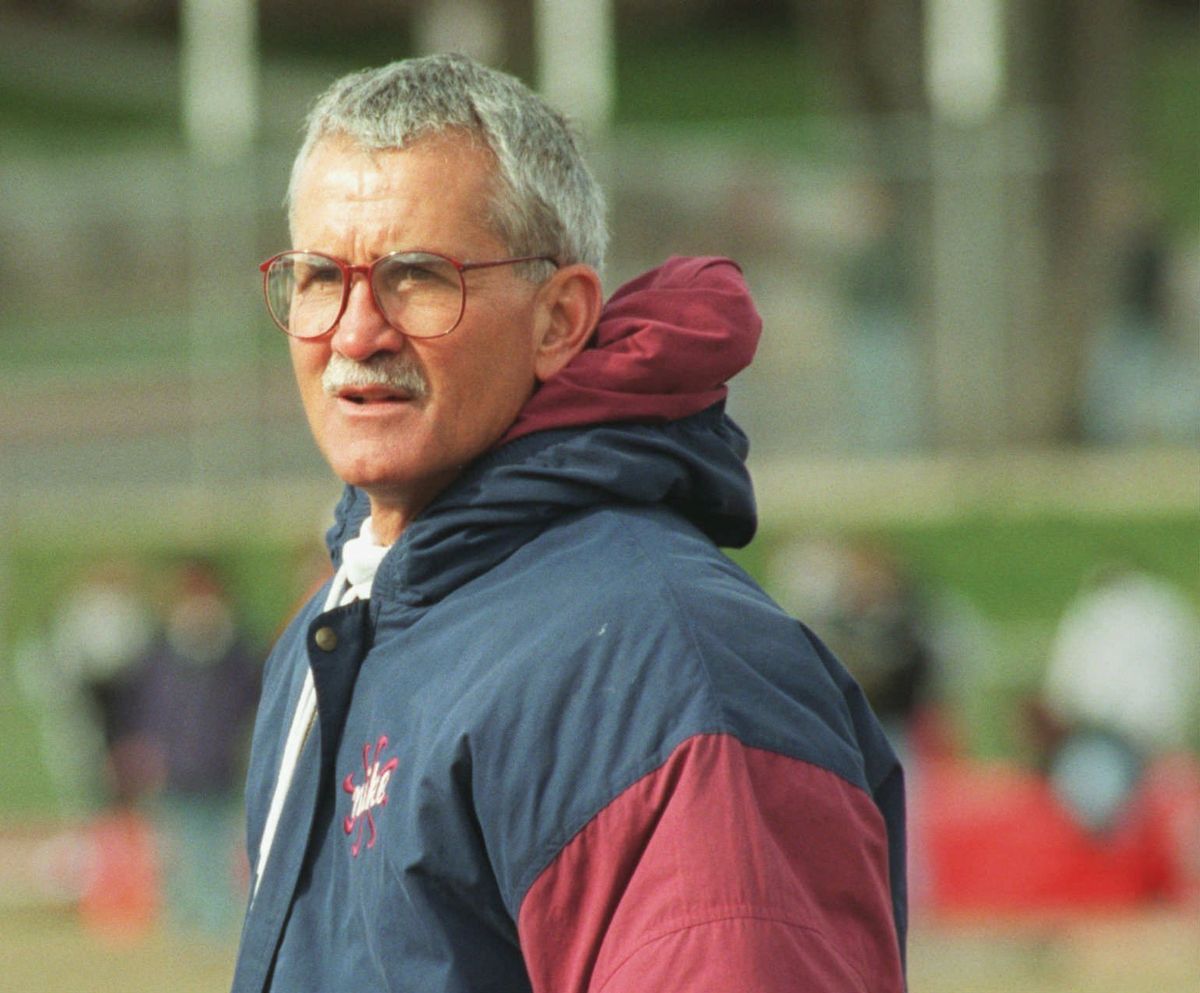 Idaho track and field coach Mike Keller, pictured in 1996. (Dan Pelle/The Spokesman-Review)Buy a print of this photo
In 1974, the University of Idaho hired a 33-year-old men's track and field coach with a luxuriant, dark mustache. Mike Keller took over a Vandals team that had languished for several years under assistant football coach Ed Troxel, who understood where the lion's share of his time should go.
The Vandals trained and competed on a rubberized asphalt track that had the consistency of a parking lot. In his early years, Keller had to teach bowling and health education as well as coach. The track team's meager budget forced Keller to wring money for recruiting from the funds allotted for athletes' room, board and transportation, and a list of team records was nonexistent until Keller detailed one of his half-milers, Rick Bartlett, to comb through newspaper accounts of meets to glean top 10 performances.
In addition, when Keller came to Moscow he found "there were three houses for sale. Two I wouldn't live in and one I couldn't afford." After Troxel was named head football coach he had approached Keller, who had been the track coach at Spokane Falls Community College the previous five years, to ask if he was interested in taking over Troxel's job with the Idaho team. Keller said he was, "but I forgot to ask him how much it paid." To lead the Vandals, he was forced to take a pay cut.
For the next quarter-century, Keller was a resourceful alchemist who improbably manufactured gold from the circumstances he confronted at Idaho. A years-long effort to get the track resurfaced, for example, finally succeeded after Keller convinced the UI safety officer to lock up the facility and give him the key.
"I knew every noontime jogger would be (complaining) to the athletic director. It didn't take too long after that," he says.
By 1999, when he retired to Spokane, Keller had won five Big Sky Conference titles, a Mountain Pacific Sports Federation indoor championship, and a Big West Conference outdoors title. After the Kibbie Dome was finished in 1975, Keller leveraged it into a premier indoors track and field facility in the Northwest. He coached 16 All-Americans, including decathlon world record holder and 1996 Olympic gold medalist Dan O'Brien.
In 2007, Keller became a charter member of the UI's athletics hall of fame.
This past weekend, Keller, minus the mustache, returned to Moscow for a reunion with his former athletes. Even the youngest among them are old enough to have children who are grown, and the earliest of his Vandals are grandparent aged. But about 150 of them returned to relive old times and to celebrate their coach.
"It's kind of like a wake," said Keller.
They didn't come back for any sentimental foolishness. A number remarked how Keller was supportive and goaded them to success in their events and in the classroom. But no one ever said he was cuddly. His early years at Idaho preceded electronic timing, and Keller admits he was frequently exasperated by his crew of volunteers who hand timed at meets with stopwatches.
"Half of them would fall asleep. I had to chew on them. They almost had to hate me to get through it."
At a reception that was one of the reunion events, Keller frankly acknowledged of his former athletes "I didn't know half of them," what with everyone having aged and some having grown beards and put on weight. Luckily, there were name tags.
O'Brien was easily recognizable. However, when he walked into the reception Friday, Keller immediately asked him "what's the deal? You're losing hair. You going to blame me for that?"
Those two were wired differently: O'Brien easy-going, Keller relentlessly insistent, and for more than a decade they regularly banged heads as O'Brien needed several tries to settle down to being a student before developing his enormous athletic gifts and leaning into his responsibilities as a world class athlete.
"This is too small a town. I learn everything that goes on in this town," Keller said he told O'Brien early on in their relationship.
Even after O'Brien became the dominant competitor in the decathlon, Keller remembered, they were flying to Japan for a meet once. O'Brien was late getting to the Pullman Moscow Airport for the first leg of the journey. On the flight to Seattle, said Keller, O'Brien realized he left his passport at home.
In Seattle, Keller phoned someone in Moscow to retrieve the passport and take it to the airport. Keller arranged for it to be handed to the pilot on the next plane to Seattle, and from there it went to the pilot of the plane going to Japan.
"A direct pilot-to-pilot exchange," says Keller.
But he deflects plaudits about his influence on O'Brien's career.
"He gave me a career, too," says Keller. "I would have been just another Idaho coach. Once in awhile you get lucky. He is a great kid."
For much of his tenure at Idaho, Keller's archrival was Washington State coach John Chaplin. The two had been teammates at WSU in the late 1950s and early 1960s. Even then, "I tried not to let him take control of the conversation. That was hard to do," Keller acknowledges. Chaplin was mercurial and relentless about seizing even the smallest advantage. Keller recalls sending a single athlete, a pole vaulter who no-heighted, to a meet in Spokane. Chaplin sent two runners, who dominated a race with three competitors in it. Afterwards, Chaplin called Keller: "you lost, 6-0."
WSU running up dual meet scores at Idaho's expense was common in their rivalry. But Keller says it was Chaplin who convinced him to give up high school teaching in Oregon and come to Oregon State University to replace Chaplin as an assistant coach with the Beavers after Chaplin moved to WSU. Keller said it gave him an opportunity to earn a master's degree.
"I guess I'm obligated to him for that," Keller says. "He reminds me of it all the time."
Over the years with Keller, Idaho produced outstanding jumpers, throwers and distance runners. The Vandals really hit their championship stride, though, in the early 1980s when Keller realized his recruiting budget was best spent on sprinters, who were versatile and could score in several events. At the same time he was afforded the opportunity to conduct coaching clinics in Caribbean countries, which produced an untapped wealth of sprinting talent.
"In seven years, I never saw another American coach there. It was a gold mine."
The steady pipeline of sprinters was the foundation of Keller's championship teams, and a major goal of the reunion – that was years in coming together – was to give something back. The reunion was a catalyst for raising money to endow an annual scholarship for a UI men's track and field athlete from a foreign country.
"That's who got me here," Keller said.
Twenty-five years later, those athletes, and scores of others who competed for him as Vandals, brought him back to Moscow.
Local journalism is essential.
Give directly to The Spokesman-Review's Northwest Passages community forums series -- which helps to offset the costs of several reporter and editor positions at the newspaper -- by using the easy options below. Gifts processed in this system are not tax deductible, but are predominately used to help meet the local financial requirements needed to receive national matching-grant funds.
Subscribe to the sports newsletter
Get the day's top sports headlines and breaking news delivered to your inbox by subscribing here.
---