News > Military
Putin says he could put tactical nuclear weapons in Belarus by summer
March 26, 2023 Updated Sun., March 26, 2023 at 9:57 a.m.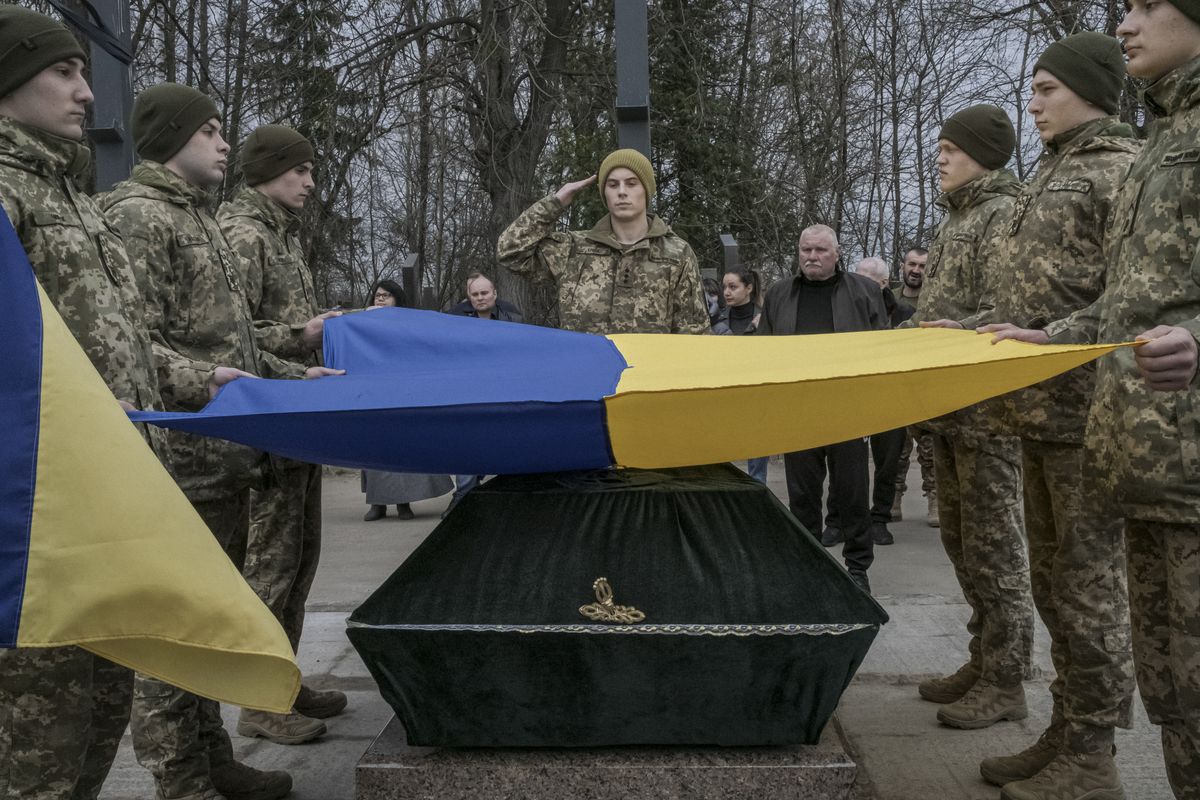 Ukrainian soldiers bury a fallen comrade, Andrii Neskhodovskyi, who worked as a driver and a cook, in Kyiv, on Saturday, March 25, 2023. Ukrainian forces could be close to stabilizing the front lines in Bakhmut, the commander of the country's armed forces said, as international aid workers warned that civilians remaining in the war-ravaged eastern city faced a dire humanitarian situation. (Mauricio Lima/The New York Times) (Mauricio Lima)
President Vladimir Putin of Russia said he would be able to position nuclear weapons in Belarus by the summer, a claim that analysts said was likely bluster but which underscored the Kremlin's determination to use its vast nuclear arsenal to pressure the West to back down from its support of Ukraine.
Western officials condemned Putin's remarks as irresponsible, even as they said that they saw no indication that Russia was making changes to how it deploys nuclear weapons.
Putin, in an interview released before its broadcast on Russian state television Sunday, provided new details of a plan that he first floated last year to base Russian weapons in Belarus, a close ally. He said that 10 Belarusian warplanes have already been retrofitted to carry Russian nuclear weapons, and that a storage facility for the warheads would be ready by July 1.
"The United States has been doing this for decades," Putin said, insisting that his plan was no different from the U.S. practice of positioning nuclear weapons in allied countries — an assertion that Western officials rejected.
The Russian leader has repeatedly raised the specter of using nuclear weapons since Moscow launched its full-scale invasion of Ukraine last year. U.S. officials say they have seen no effort by Russia to move or employ its nuclear weapons and believe the risk of their use is low, but worries have lingered.
It was not clear whether Putin would in fact transfer Russian nuclear weapons into Belarus, and in the interview Putin was vague on the timeline for such a move. Analysts also pointed out that even if Russia were to transfer some of its warheads, the action wouldn't substantially change the nuclear threat posed by Russia since it can already target a vast range of territory from inside the country.
But Putin's comments in the interview underlined his continuing efforts to unsettle Western officials — and Western public opinion — with the prospect that the war in Ukraine could escalate into a nuclear conflict. Putin said that the nuclear warheads Russia intended to position in Belarus were of the "tactical" variety, meaning that they would be meant for battlefield use and have lower explosive power than the "strategic" type that can threaten entire cities.
In response to Putin's comments, a NATO spokesperson, Oana Lungescu, said Sunday that "we have not seen any changes in Russia's nuclear posture that would lead us to adjust our own." But she called Putin's rhetoric "dangerous and irresponsible." Ukraine called for an emergency meeting of the U.N. Security Council to address "the latest provocation by the criminal Putin regime" and Josep Borrell Fontelles, the European Union's top diplomat, said the bloc "stands ready to respond with further sanctions."
Putin made the comments during a wide-ranging interview for a weekly state television show dedicated to the Russian president called "Moscow. Kremlin. Putin." In response to a question focused on Britain's decision to send weapons containing depleted uranium to Ukraine, Putin condemned the British move and then said he was moving ahead with a plan, first revealed last year, to give Russia the ability to base nuclear weapons in Belarus.
He cast the initiative as "nothing unusual," saying the United States has long deployed its own nuclear weapons within the borders of its European allies and that he was taking the step in response to a request from President Alexander Lukashenko of Belarus, Russia's closest international ally. Lukashenko has allowed Putin to use Belarus, which borders both Ukraine and Russia, as a staging ground for the invasion, without openly committing his own troops to the war.
"We are in principle doing all the same things that they have been doing for decades," Putin said. "Without violating, I want to emphasize this, our international obligations on the nonproliferation of nuclear weapons," he added.
But Putin was vague on when Russia would actually send Belarus the nuclear warheads themselves. Asked in a follow-up question by the interviewer, Pavel Zarubin, "when and under what conditions could the weapons themselves be handed over?," Putin responded only by saying that Russia was replicating the U.S. practice of "nuclear sharing" and that Moscow would remain in control of weapons placed in Belarus.
Ukraine's Foreign Ministry condemned the remarks and claimed that basing Russian nuclear weapons in Belarus would violate the Treaty on the Nonproliferation of Nuclear Weapons, to which Moscow is a party.
However, Pavel Podvig, a scholar on Russian nuclear forces, said that the move might not go against the letter of the treaty — because Russia would remain in control of the weapons — even though it would violate the spirit of nuclear disarmament. He also pointed out that Russia has declared NATO's "nuclear sharing," in which U.S. nuclear weapons are based in allied countries like Germany, to be a violation of the nonproliferation treaty.
Analysts said that behind Putin's bluster, the immediate implications of his comments for nuclear security appeared to be minimal.
The Institute for the Study of War, a Washington-based research group, dismissed Putin's announcement as an "information operation" with little risk of escalation.
"Putin is attempting to exploit Western fears of nuclear escalation," it said, adding that the group "continues to assess that Putin is a risk-averse actor who repeatedly threatens to use nuclear weapons without any intention of following through in order to break Western resolve."
Podvig, a senior researcher at the U.N. Institute for Disarmament Research in Geneva, said he still considered it unlikely that Russia would actually move nuclear warheads into Belarus, despite Putin's latest comments.
Russian nuclear storage sites are so complex, Podvig said, that he doubted a facility in Belarus could be ready to receive them by July. Even if Russia were to transfer weapons to Belarus, he added, the nuclear threat level would not substantially change.
"It's not a positive development, of course, but as long as the weapons are in storage the threat is not immediate," Podvig said. "Yes, theoretically, Russia can reach more targets from Belarus, but the change is marginal."
Russia has as many as 2,000 tactical nuclear weapons, which have a lower yield than the strategic kind that are designed to attack cities, military bases and other targets far from the battlefield. A tactical nuclear weapon has never been used in combat, but one could be deployed in a number of ways, including by missile or artillery shell. Putin said in the interview that Russia had already transferred some nuclear-capable Iskander short-range missiles to Belarus, a step that Russia announced last summer.
In Belarus, Lukashenko did not immediately respond to Putin's comments. But they drew swift condemnation from Svetlana Tikhanovskaya, an exiled Belarusian opposition leader. She said the deployment "grossly contradicts the will of the Belarusian people to assume the non-nuclear state status expressed in the Declaration of State Sovereignty of Belarus of 1990," and "directly violates the constitution."
Belarus, which had nuclear weapons stationed on its territory when it was part of the Soviet Union, gave up these weapons in the 1990s after it became an independent country and declared itself a non-nuclear state, as did Ukraine and Kazakhstan, which also inherited Soviet warheads.
Since he became president in 1994, Lukashenko has blown hot and cold on the issue of nuclear arms. When he first came to power he said his predecessor made a mistake by allowing the withdrawal of Soviet nuclear weapons — a process that was completed in 1996 — and claimed that he had stopped the dismantling of warhead storage sites. But, as relations with the West improved, Lukashenko insisted he would not allow Moscow to return nuclear arms to Belarusian territory.
He flip-flopped again after ties with the U.S. frayed and Putin helped him crush nationwide protests that followed a 2020 presidential election in which the Belarusian leader claimed an implausible landslide victory for a sixth term in office. The following year, Lukashenko again started talking about letting Russia station nuclear weapons on Belarusian territory.
In an interview with Russian state television in late 2021, Lukashenko said Russia was welcome to move nuclear arms back to Belarus. Early last year, as Russia massed troops in Belarus for its full-scale invasion, he announced constitutional changes that deleted mention of Belarus as a non-nuclear state.
Nuclear weapons featured in Putin's calculus about the war in Ukraine even before he started making veiled threats about their use. Starting before the invasion, Putin spun a conspiracy theory that Ukraine and the United States were secretly plotting to put nuclear weapons back onto Ukrainian territory.
Some Western analysts have warned that Putin could resort to nuclear strikes against Ukraine if he were to suffer dramatic losses on the battlefield, while others have dismissed his threats as a bluff — especially given the opposition by China, Russia's most important foreign partner, to the use of nuclear weapons.
This article originally appeared in The New York Times.
Local journalism is essential.
Give directly to The Spokesman-Review's Northwest Passages community forums series -- which helps to offset the costs of several reporter and editor positions at the newspaper -- by using the easy options below. Gifts processed in this system are not tax deductible, but are predominately used to help meet the local financial requirements needed to receive national matching-grant funds.
Subscribe now to get breaking news alerts in your email inbox
Get breaking news delivered to your inbox as it happens.
---