News > Pacific NW
100 years ago in Spokane: Bears at Manito Park Zoo welcome arrival of spring - most of them
Mon., March 27, 2023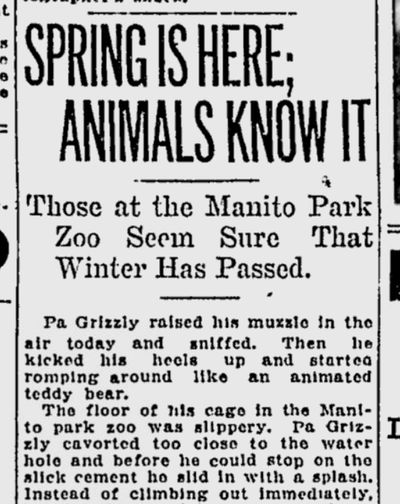 Spring had arrived, and the bears at the Manito Park Zoo knew it.
A Spokane Daily Chronicle photographer reported that the male grizzly bear at the zoo was frisking around "like an animated teddy bear." So was "Ma Grizzly" and the grizzly cubs.
The only bears who were not exulting in the spring were the two polar bears, Pollo and his mate. They were sulking about the coming summer, because they were from "a land of eternal snow," according to the photographer.
Pollo was so surly that he "pulled off a rubber heel from one of the photographer's shoes" while he was standing on the netting on top of Pollo's cage.
From the explosion file: A gasoline explosion blasted out the wall of the Ideal Laundry at Boone and Ruby, hurling bricks and lumber 75 feet.
"It was a miracle that all employees escaped without even minor injuries," said the Chronicle.
The explosion occurred in a drying and deodorizing machine. Apparently static electricity sparked the gasoline to ignite.
"Practically all of the windows and doors in the upper floor of the cleaning establishment were blown out and the upper half of the west wall toppled over," said the Chronicle.
Fortunately, no one was in the deodorizing room at the time of the blast.
Also on this day
(From onthisday.com)
1915: Mary Mallon, aka Typhoid Mary, is arrested and returned to quarantine on North Brother Island, New York, after spending five years evading health authorities and causing several outbreaks of typhoid.
Local journalism is essential.
Give directly to The Spokesman-Review's Northwest Passages community forums series -- which helps to offset the costs of several reporter and editor positions at the newspaper -- by using the easy options below. Gifts processed in this system are not tax deductible, but are predominately used to help meet the local financial requirements needed to receive national matching-grant funds.
Subscribe now to get breaking news alerts in your email inbox
Get breaking news delivered to your inbox as it happens.
---