News > Business
Half of U.S. employees earn extra cash on the side, survey finds
March 27, 2023 Updated Mon., March 27, 2023 at 1:21 p.m.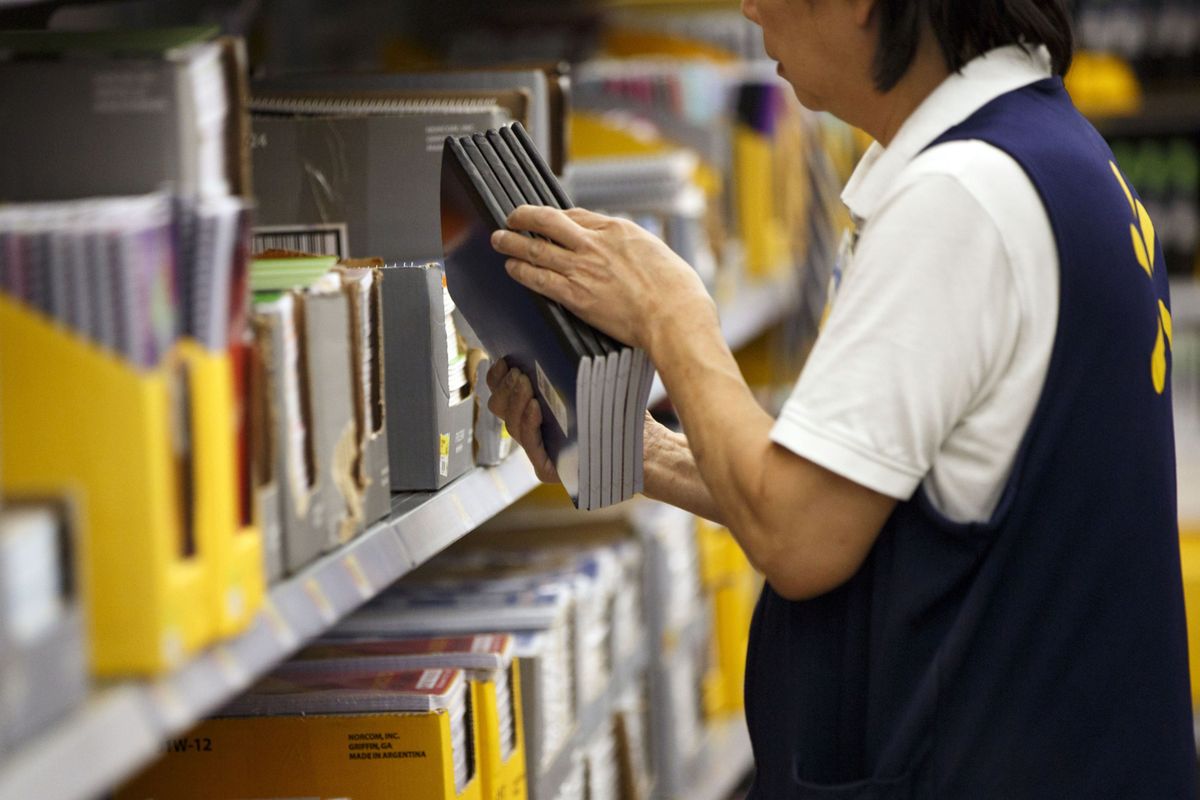 An employee restocks shelves of school supplies at a Wal-Mart Store in Burbank, California, on Tuesday, Aug. 8, 2017.  (Patrick T. Fallon/Bloomberg)
To meet increasing spending needs, households can generally do two things – cut spending or raise income. A large share of Americans are doing the latter, according to a new survey.
Almost half of employed consumers hold a side job or have some other form of supplemental income such as selling artisan products, data released Monday by LendingClub in partnership with industry publication Pymnts.com show.
It's not just low-income or cash-strapped households that are turning to additional income to help pay the bills. Those earning $100,000 annually are more likely to have a growing supplemental income, the survey found.
Overall, consumers may be amassing more than $50 billion a month in cash through extra earnings – with a large portion of that money undeclared to tax authorities, according to the report.
"A vast majority of consumers became used to working from home during the pandemic, and after returning to work, many kept flexible hours and turned to alternative income streams to expand their earning potential beyond a 9-to-5 job," Anuj Nayar, financial health officer at LendingClub, said in the report.
Tips and selling used items on online marketplace like eBay are among the most common sources of extra cash cited in the survey. Other respondents – especially the more affluent – are taking informal jobs on mobile apps like TaskRabbit, or receiving passive incomes from investments or rents.
Roughly 4% say they supplement their income with returns on betting or gambling.
For people who live paycheck to paycheck, the extra money can represent the difference between being able to cover the bills or not, according to the survey, which polled 4,125 consumers was conducted in February.
The findings align with other reports showing a rise in the informal economy during the pandemic, with an increasing number of people taking on side hustles.
The proliferation of apps designed to help people find short-term work or to sell products has made it easier to find additional sources of income.
More than 4 million people in the U.S. and Canada have signed up on Instawork looking for additional income, according to Daniel Altman, chief economist at the platform.
Half of them have full-time or part-time jobs, and two-thirds want permanent positions, he said by email.
"According to our research, three quarters of the flexible workers on our platform are using the extra income to pay for essentials, just to make ends meet," Altman said.
Local journalism is essential.
Give directly to The Spokesman-Review's Northwest Passages community forums series -- which helps to offset the costs of several reporter and editor positions at the newspaper -- by using the easy options below. Gifts processed in this system are not tax deductible, but are predominately used to help meet the local financial requirements needed to receive national matching-grant funds.
Subscribe now to get breaking news alerts in your email inbox
Get breaking news delivered to your inbox as it happens.
---