Sports > Area sports
Locally: Hall of Fame AD and founding GNAC commissioner Richard Hannan honored for DII contributions
March 27, 2023 Updated Mon., March 27, 2023 at 4:28 p.m.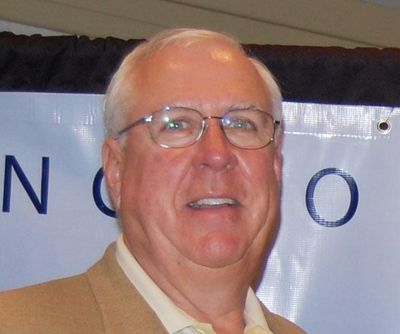 Richard Hannan, the founding commissioner of the Great Northwest Athletic Conference, has been selected to receive the Division II Conference Commissioners Association's (D2 CCA) Meritorious Service Award.
Hannan is among six recipients of the award in 2023, which recognizes a commissioner with 10 or more years of experience once they leave the position for the time and dedication they have made to Division II.
Hannan retired in 2011 after over 10 years as commissioner of the GNAC and more than three decades in intercollegiate athletics. During his tenure with the conference, GNAC teams earned 53 Division II top 10 finishes, including Division II championships for Seattle University in men's soccer in 2004 and Seattle Pacific in women's soccer in 2008. He also oversaw the addition of men's and women's indoor track and field and men's and women's golf to the conference's initial offering of 12 championship sports and the addition of Montana State Billings as a conference member in 2007.
Hannan was also responsible for the development of a television package with Fox Sports and later ROOT Sports, making the GNAC one of the very few Division II conferences in the country to have a weekly basketball game of the week televised on a major cable network. He also worked with the Spokane Sports Commission to bring the 2011 and 2013 Division II Cross Country Championships to Spokane.
Hannan, a graduate of North Central High School and Eastern Washington University, previously served as athletic director and head basketball coach at Lewis-Clark State College from 1974-1989. Hannan also served as athletic director at Division I schools Weber State and Southwest Texas State.
Hannan was inducted into the NAIA Hall of Fame for meritorious service in 1991. He was elected to the Northwest Athletic Conference and the Lewis-Clark State Warrior Athletics Hall of Fame in 2013 and the Columbia Basin College Hall of Fame in 2017. In 2018, Hannan was recognized with the Eastern Washington University Athletics Service & Contribution Award.
Academics
Whitworth swimming standout Carly Hoff has been named an NCAA Division III first team Academic All-American by the College Sports Communicators.
Hoff will graduate this spring as an elementary education major. She carries a 4.0 grade point average into her final semester.
Hoff was the 2023 Northwest Conference Women's Swimmer of the Year and concludes her Whitworth career as a five-time Northwest Conference individual champion.
• Northwest Christian graduate Jordan Rabe represented Biola as a Division II Academic All-District selection, as chosen by the College Sports Communicators. Rabe, a master's student who is pursuing her degree in innovation and leadership, has a 3.8 cumulative GPA in her master's program.
All-Americans
Garrett White, a senior from Post Falls who is the first Vanguard University player in men's basketball program history to be named All-Golden State Athletic Conference three times in his career, has added NAIA Honorable Mention All-American to his list of accomplishments.
In 2022-23, he averaged a team-leading 19.4 points. White's decorated career also includes being a GSAC Scholar-Athlete, NAIA Scholar Athlete and member of the College Sports Communicators (CSC) All-District Team.
• Whitworth swimmer Zachary Washburn finished 12th in the men's 100-yard freestyle at the NCAA Division III Swimming and Diving Championships.
Golf
The team led by PGA professional Cameron Fife and Daniel Campbell of Bellingham Golf and Country Club won the Pro-Assistant Championship by one stroke over PGA professional Nick McCaslin and his assistant Amy Eneroth of Kalispel Golf and Country Club after firing a two-day Four-Ball score of 11 under par at Eugene Country Club a week ago.
Among a group tied for 12th at -7 were professional Derek Siesser and assistant Isaac Hall from Indian Canyon Golf Course and professional Gordon Corder and assistant Anton Rosen from Manito Golf and Country Club.
Shooting
Led by state champion Tanner Krebs, members of the Spokane Jr. Rifle Club competed in the Washington State Junior Indoor Smallbore Rifle Championships on March 11.
Krebs, 15, a student at Shadle Park, scored 1,127 points out of a possible 1,200 to win the Precision Individual competition.
Five other shooters from Spokane finished in the top 10: 2nd place Anna Pearsall, 1,123 points; 4th place Garrett Pearsall, 1,084; 6th place Sean Kegley, 1,072; 8th place Jack Burns 1,061; and 10th place Meghan Mix, 1,045.
In the team competition, Spokane Jr. Rifle Club Gold took first place with 4,406 out of 4,800 possible points. The team was comprised of Krebs, Anna Pearsall, Garrett Pearsall and Kegley. SJRC teams also finished second and fourth.
Local journalism is essential.
Give directly to The Spokesman-Review's Northwest Passages community forums series -- which helps to offset the costs of several reporter and editor positions at the newspaper -- by using the easy options below. Gifts processed in this system are not tax deductible, but are predominately used to help meet the local financial requirements needed to receive national matching-grant funds.
Subscribe to the sports newsletter
Get the day's top sports headlines and breaking news delivered to your inbox by subscribing here.
---