News > Washington
Spokane County homeowner frustrated as neighbor continues flouting regulations
Tue., March 28, 2023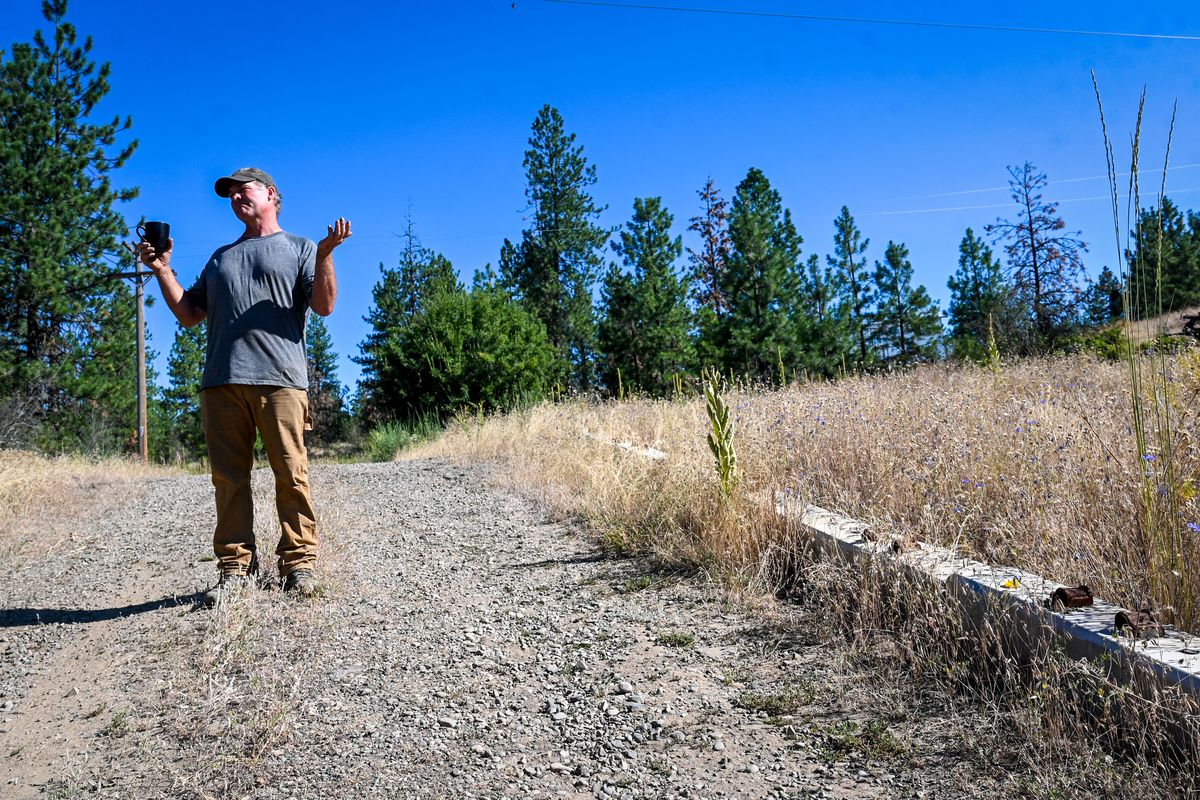 Brandon Ward on July 27 stands next to his neighbor's property, at right, west of Nine Mile Falls. His neighbor, Donald Bailey, uses the property for numerous types of storage that Ward says puts Bailey in violation of Spokane County code. (Dan Pelle/The Spokesman-Review)Buy a print of this photo
For five years, Brandon Ward has documented all the ways he believes his neighbor, Donald Bailey, is breaking Spokane County code.
Ward has dozens of photos that show Bailey uses his property to store trucks, windows, logs, heavy machinery, concrete panels, scrap metal, vehicle parts and more. Whenever he thinks Bailey is committing an infraction on the 20-acre parcel west of Nine Mile Falls, Ward snaps a picture and emails Spokane County's Building& Planning department.
Ward says Bailey is using the property for commercial purposes – something county code prohibits on large-tract agricultural land. He has hounded county officials and pleaded his case at Spokane County Commission meetings in an attempt to resolve the issue.
But Bailey continues to flout county regulations, Ward said.
"It's just so overt, but they do nothing," he said. "It's been really onerous, every day."
Spokane County is actively trying to bring Bailey's property into compliance, even though Ward is frustrated the county isn't doing enough.
In December 2021, the county took the issue to District Court. Spokane County is going after Bailey for improper storage of materials and commercial equipment.
Ward says Bailey's actions are significantly impacting his life.
Frequent semitruck traffic along Burnett Road, an unpaved road in the county's northwest corner, kicks up clouds of dust.
Bailey, who declined to comment, is a contractor with Bailey and Son Construction. According to his website, he specializes in excavation and demolition.
Ward said the state or county should make sure the soils that Bailey has dumped on his property aren't contaminated.
Dave Bennett, a spokesman with the state Department of Ecology, said Ward filed a complaint with the agency in 2020. Bennett said Ecology then passed the complaint to Spokane County.
According to a public records request for every permit issued to Bailey, the county has not fined Bailey for improper soil disposal or given him soil disposal permits.
Spokane County did not make anyone available for an interview but provided written responses over email.
"This case appears to arise from a neighbor dispute over use of the property, which is not in compliance with the code, but if the appropriate permits were obtained would otherwise be lawful use," county spokesman Jared Webley wrote.
Bailey in June agreed to bring his property into compliance and not "object to the admission of the police reports," according to Spokane County attorney Mike Nelson. A District Court judge recently granted him an extension, giving him until May to fix the violations on his property.
"I objected to (the extension) strenuously but Mr. Bailey's attorney made an argument about the weather this year and all the snow and all the problems he's had coming into compliance," Nelson said.
Nelson said in a public meeting last week that Bailey faces up to 180 days in jail and a $2,000 fine if his property is found to be out of compliance.
Judy Gross, who owned the property west of Bailey's before selling it last summer, said all of Ward's concerns are justified.
She said she had Bailey trespassed from her property after he'd been storing his trucks on her land and using her driveway without permission.
Ward stressed that he believes Bailey is violating numerous codes, not merely improperly storing materials and commercial equipment.
He also questions why the county has issued Bailey new permits while the property is out of compliance.
Spokane County code states that "prior to the issuance of a building permit, evidence of compliance with provisions of this section shall be provided."
In an email, the county said Bailey "had violations that required permits and he obtained them" but did not provide further explanation as to why he has been issued permits while his property has been out of compliance.
Ward said he's tired of the county allowing Bailey to violate county code.
"He needs to clean his stuff up," Ward said, "and the county needs to follow its own rules."
Local journalism is essential.
Give directly to The Spokesman-Review's Northwest Passages community forums series -- which helps to offset the costs of several reporter and editor positions at the newspaper -- by using the easy options below. Gifts processed in this system are not tax deductible, but are predominately used to help meet the local financial requirements needed to receive national matching-grant funds.
Subscribe now to get breaking news alerts in your email inbox
Get breaking news delivered to your inbox as it happens.
---