100 years ago in Spokane: A lecture on 'Americanism' at city high schools turned out to be the latest attempted KKK infiltration in the area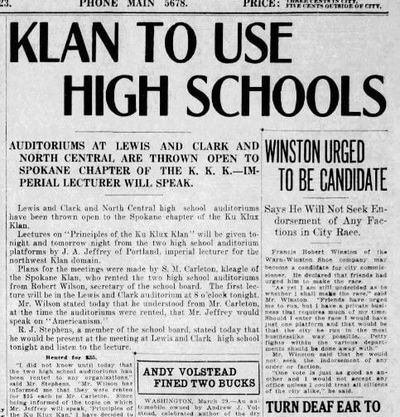 The Spokane Daily Chronicle noted with alarm that the auditoriums of both of Spokane's high schools "had been thrown open to the Spokane chapter of the Ku Klux Klan."
That's because J.A. Jeffrey of Portland was scheduled to deliver a lecture on "Americanism" at both the Lewis and Clark High School auditorium and the North Central High School auditorium.
Turns out, the auditoriums were booked by S.M. Carleton, "kleagle of the Spokane Klan," and Jeffrey was the "imperial lecturer for the Northwest Klan domain."
The school board was taken by surprise. School board member R.J. Stephens said he was unaware that the auditoriums had been rented for a Klan lecture, and now that he found out, he planned to attend the lecture and monitor the situation.
The rentals had been approved by Robert Wilson, school board secretary.
"When Mr. Carleton came to me and requested the use of the two high school auditoriums, he made his request on the grounds that the lectures were to be on Americanism," Wilson said. "… Americanism is an important subject to this country, and therefore I rented the two auditoriums without question. The school board has given me the power to rent the halls."
However, he admitted that Carleton had, in fact, mentioned that the speakers were connected with the Klan.
The head of the American Legion's Americanism committee condemned the use of the auditoriums by the Klan.
"The Klan to me, personally, is an anti-American organization," he said.
Also from the Klan beat: In a related story, the Ladies of the Invisible Empire, the Klan's women's auxiliary, permanently closed their headquarters in Spokane.
Also, the Pacific region headquarters of the Klan was also closing its office and moving it to the home of the Spokane man who was in charge of the region. The Spokane chapter, however, was maintaining its office in the Hyde Building.
---