News > Nation/World
A rescue dog and goat are best friends. A shelter put them up for adoption as a pair.
March 29, 2023 Updated Wed., March 29, 2023 at 3:25 p.m.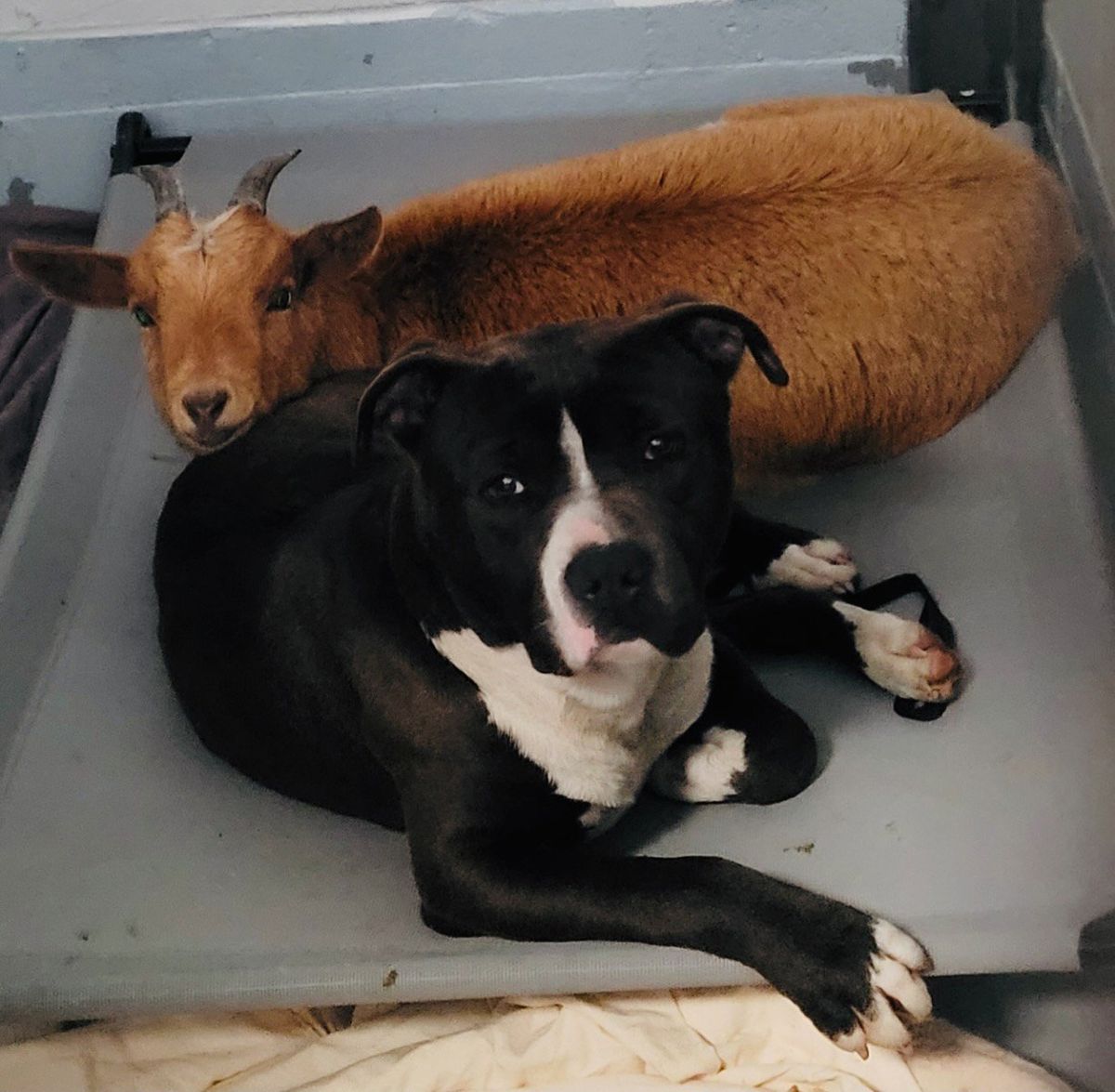 Cinnamon and Felix enjoy a nap together.   (Wake County Animal Center/Handout)
The staff at the Wake County Animal Center in Raleigh, N.C., had a dilemma when a goat named Cinnamon and a dog named Felix showed up together on their doorstep.
The shelter takes in thousands of dogs and cats each year and generally doesn't accept farm animals.
But Cinnamon and Felix seemed affectionate toward one another, said Jennifer Federico, director of animal services.
"That was a first," said Federico, who has worked at the shelter for 12 years. "Most of our dogs aren't hanging out with goats."
Federico said she has seen some unusual animals brought in to the shelter. Chickens and a bearded dragon come to mind. But a pet goat with an American bulldog mix?
She made an exception and welcomed them in on March 13. When staffers separated them and put them each in their own enclosure, things did not go well.
"Cinnamon was very upset – she was bleating and calling out to the dog," Federico said. "She was so stressed and frantic that we realized this pair had to be kept together."
Federico figured the shelter would have the pair for a few days while the owner of the goat and the dog, who lived with them in a residential neighborhood in Raleigh, was hospitalized. The owner did not have anyone who could care for them, according to an animal control officer who dropped them at the shelter, Federico said.
That didn't go as planned, either.
"After 10 days, we gave the owner notice that it was time to come and get them, but he unfortunately never came in," she said. "When that happens, the ownership reverts to us."
At that point, the bonded pair had already won over the staff at the shelter.
"Cinnamon follows Felix everywhere and it was clear they were raised together," Federico said. "You don't even need to put a leash on the goat – she'll simply go where Felix goes. When she became upset, we knew they had to stay in the same holding pen."
The staff now respects their wishes.
"It's a weird duo, but it works for them," Federico said. "Who are we to judge? They obviously love each other."
And so, Federico knew that the shelter had to try to get them adopted together. On March 25, one of the staffers posted on Facebook:
"We have a VERY unique situation and we need your help to find a RESCUE who can take this bonded pair and find them the perfect home. They are best buds and are truly bonded; they even sleep together and have been kept together 24/7 except when they eat."
The post was picked up by Friends of Wake County Animal Center and was shared thousands of times by people hoping to find the dog and goat a farm where they could live.
Offers from people with small farms in the Raleigh area began pouring in. People also jumped in with general adoration for the unusual pair.
"Ohhh these sweet babies I hope they can stay together," one person wrote.
"So is this an outdoor dog or is this an indoor goat?" another person wanted to know.
The day after the Facebook post, so many people had responded to it that the shelter paused the comments. And the day after that, March 27, a new home for the duo was secured.
Federico said that a local farm will send someone to pick up the pair this week after Felix is neutered.
"They have other goats, and hopefully over time, they will integrate Cinnamon into the goat herd," she said.
She is relieved they will stay together.
"They are adorable best buddies," she said, adding that Cinnamon enjoys romping in the shelter's dog yard with Felix, even though it is covered with AstroTurf instead of grass.
"She found some weeds around the edges and did some weeding for us," Federico noted. "The ideal situation for her would be grazing on some grass at a farm somewhere with Felix nearby."
Felix is more mellow than Cinnamon and is equally happy hanging out with humans, she said, but he still shows affection toward the goat.
"He's a big block-headed bulldog, and if he wanted to attack her, he could," Federico said. "But he really seems to enjoy being around her. The other day, we took him away briefly to see how he got along with other dogs, and he licked Cinnamon when he returned to tell her, 'I'm back.'"
While Felix was gone, the goat butted her head against the wall and bleated her concern, Federico said, but she quickly recovered.
"She calms down immediately when she's back with the dog," she said. "This definitely isn't normal, but they really are comfortable together."
While plans are finalized to get the pair into their new permanent home, they seem content to nap and play together at the shelter, she said, although they need to be separated by a divider in their kennel when they eat.
"Cinnamon doesn't really appreciate that, but if we didn't do it, Felix would eat all of her food," Federico explained, noting that a staffer bought a special kibble mix at a local farm supply store for the goat.
"Cinnamon also loves to eat, but she mostly loves cuddling with Felix," she said. "We hope they have many happy years together to come."
Local journalism is essential.
Give directly to The Spokesman-Review's Northwest Passages community forums series -- which helps to offset the costs of several reporter and editor positions at the newspaper -- by using the easy options below. Gifts processed in this system are not tax deductible, but are predominately used to help meet the local financial requirements needed to receive national matching-grant funds.
Subscribe now to get breaking news alerts in your email inbox
Get breaking news delivered to your inbox as it happens.
---