Ford's first electric vehicles for Gulf region coming next year
March 29, 2023 Updated Wed., March 29, 2023 at 8:39 a.m.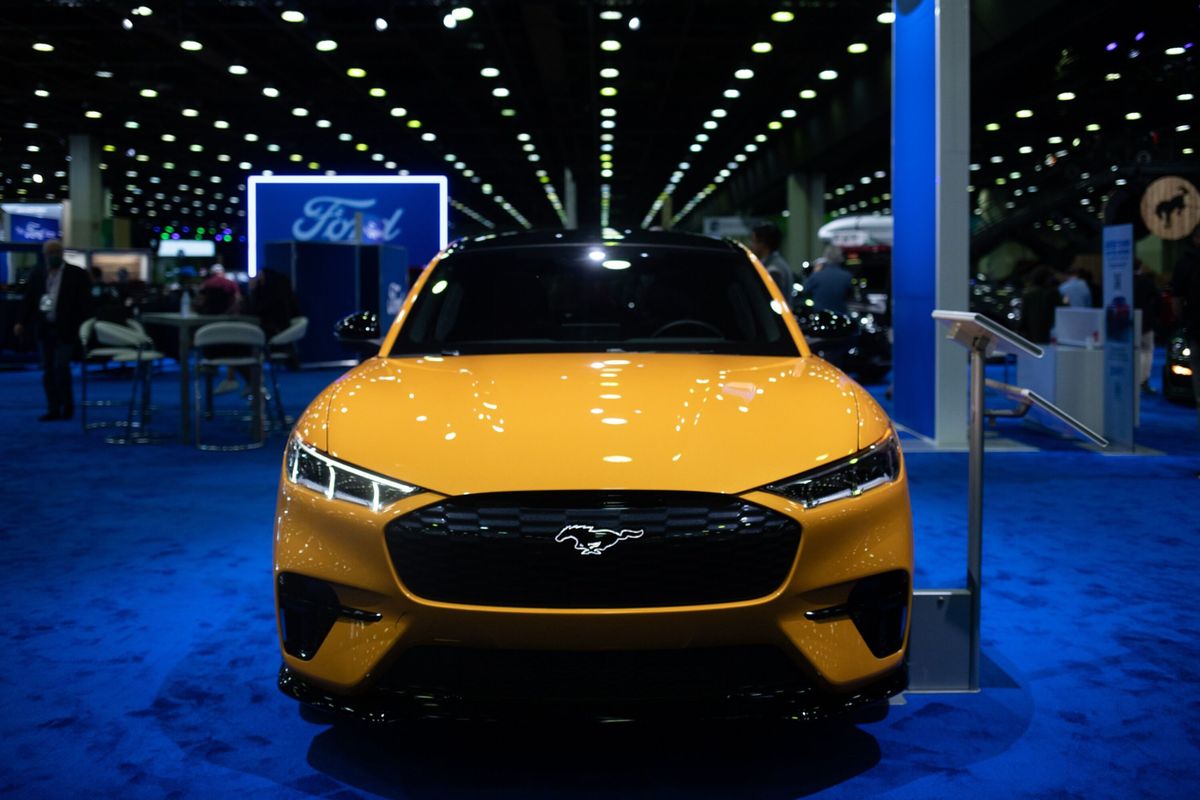 Ford's Mustang Mach-E (Emily Elconin/Bloomberg)
Ford plans to roll out its first electric vehicles in the Middle East next year and expects exceptional sales in the oil-rich region after expanding production capacity.
Chris Noel, managing director of Ford Middle East and Africa, said the U.S. automaker will introduce EV models to the six Persian Gulf countries before moving into the wider region.
He declined to name the models or give a more specific timeline but said manufacturing constraints had prevented Ford from bringing its EVs sooner.
"We just don't have the manufacturing capacity," Noel said in an interview in Dubai. "We can't build them fast enough to bring them to the market, which is why it's so critical that we get this new capacity on the street."
Ford is building a new plant in Tennessee that's part of a $5.6 billion industrial compound known as BlueOval City. The factory - Ford's first all-new assembly facility in half a century - is expected to account for a quarter of the 2 million EVs Ford plans to build annually by the end of 2026.
Climate poses a unique challenge to automakers targeting the Gulf, where temperatures exceed 113 degrees in the summer months and dust can clog up parts.
"Lithium battery packs don't like the heat, particularly not excessive heat, and so we've got to make sure that they're cooled and operated properly in this environment," Noel said. "We've already had a couple of vehicles here on test last year and they did exceptionally well."
Ford is the No. 2 seller of EVs in the U.S. on the strength of its F-150 Lightning plug-in pickup and battery-powered Mustang Mach-E. But it remains behind Tesla, which controls two-thirds of the U.S. EV market and is already popular in the Gulf.
It sees losses in its global EV business growing as it invests in new factories and models to secure its share of an expanding market.
Goldman Sachs estimates that EVs will make up about half of new-car sales worldwide by 2035, according to a research report published Feb. 10.
Noel expects Ford's Gulf roll out to go "exceptionally well."
"We've seen adoption rates in some of the Middle East markets exceed the growth curve that the industry data had projected. Israel is already at 10% for battery electric vehicles," he said. "It's actually quite surprising considering the acquisition cost that they've achieved that level of penetration so quickly."
Noel expects EVs to make up more than 10% of all cars in the Gulf by 2027 or 2028.
"The key is going to be around public-private sector participation on charging infrastructure," Noel said. "There are already nascent industries developing for home charging stations and remote charging stations, which are solar powered."
The Gulf region enjoys near year-round sunshine at a time solar power is becoming more affordable. That combination will deepen adoption in the region, he said.
Gulf governments have also been gradually removing gasoline subsidies, which Noel said would help persuade motorists to make the shift even though EVs remain more expensive to purchase initially.
Ford's sales of combustion engine cars in the Middle East have also recovered from the pandemic and now exceed 2019 levels.
"It's a very important region," Noel said of the Middle East. "It'll remain a growth region for the foreseeable future."
Local journalism is essential.
Give directly to The Spokesman-Review's Northwest Passages community forums series -- which helps to offset the costs of several reporter and editor positions at the newspaper -- by using the easy options below. Gifts processed in this system are not tax deductible, but are predominately used to help meet the local financial requirements needed to receive national matching-grant funds.
Subscribe now to get breaking news alerts in your email inbox
Get breaking news delivered to your inbox as it happens.
---