News > Nation/World
GOP donors open to other Trump challengers as DeSantis tries to find footing
March 29, 2023 Updated Wed., March 29, 2023 at 1:09 p.m.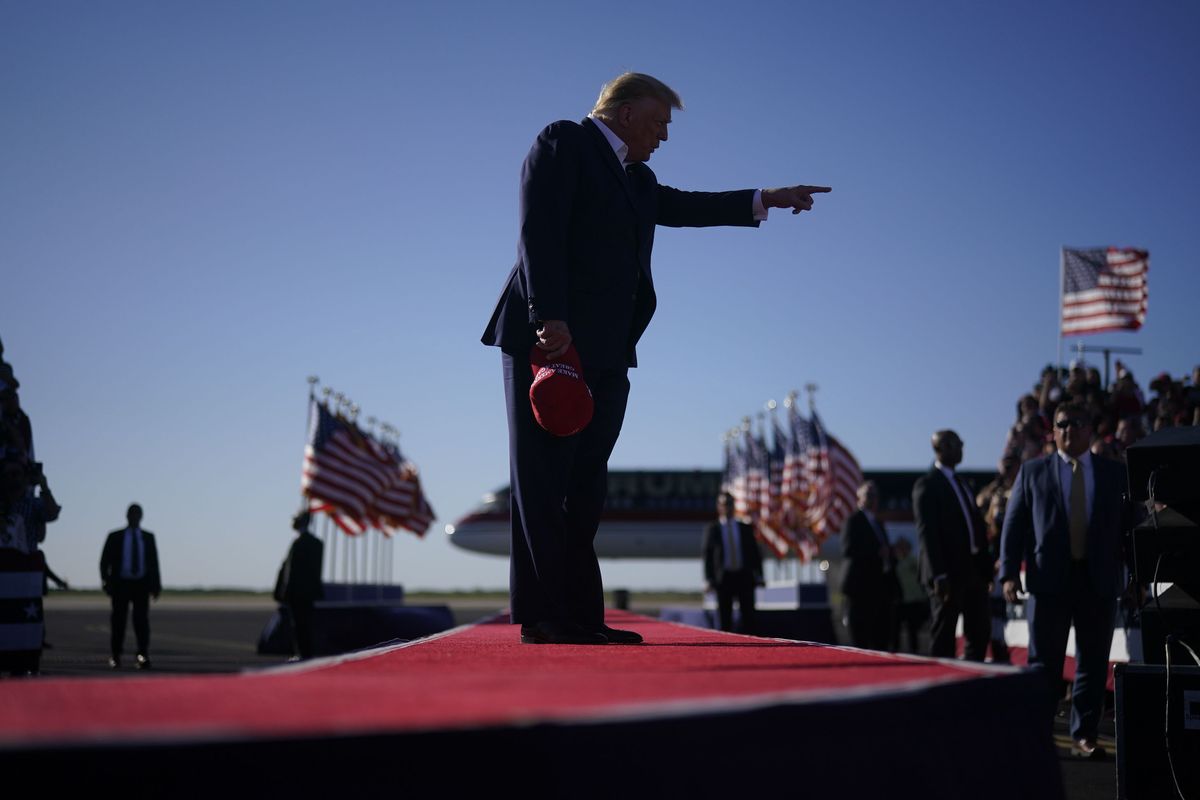 Former president Donald Trump arrives for a campaign rally at Waco Regional Airport in Waco, Texas, on Saturday.   (Jabin Botsford/The Washington Post)
Donald Trump and Ron DeSantis were nowhere to be found at this year's spring gathering of conservative activists and donors in Sea Island, Ga., setting the stage for an private audition before a well-heeled crowd still hankering for a third option in the 2024 presidential race.
New Hampshire Gov. Chris Sununu spoke about choosing the right messenger, arguing that if you can't win in 2024, you won't get results in 2025. Former vice president Mike Pence brought up his prayerful consideration as he contemplates a run. Virginia Gov. Glenn Youngkin disappointed some in attendance by steering clear of any suggestion he wanted to tease a coming campaign.
Former New Jersey governor Chris Christie captured the crowd's attention at the American Enterprise Institute-sponsored summit by offering the bluntest pitch of all. He compared former president Trump to a member of the living dead, saying that a stake would have to be driven through his heart or he would keep coming back like a vampire, according to three people in the audience, a comment that stirred debate in the crowd about whether he was best-suited to take on Trump.
The pronouncement underlined the jockeying to be an alternative to the two leading candidates for the Republican presidential nomination, who have each stoked some anxieties in the party in recent months. While Trump leads in polls of the primary, many GOP voters have expressed fatigue with his combative tactics and grievances, as well as desire for fresh leadership, even if they still admire the former president. The alternate who has gained the most traction by far is DeSantis, who has emerged as the only significant threat in the polls to Trump, even before he has officially entered the race.
But interviews with nearly two dozen GOP donors, strategists and voters suggest the desire for a backup option has intensified amid questions about how the Florida governor would fare in a protracted battle against Trump and how he can distinguish himself from the former president without alienating Trump's supporters. There is also lingering concern about how DeSantis's insular style will wear on early state voters who expect to welcome candidates into their living rooms for an extended job interview.
Scott Reed, a Republican strategist who managed Bob Dole's 1996 campaign for president, predicted that the race would be a "Trump-DeSantis slug fest through the fall, then, if exhaustion sets in, there will probably be an opening for one or two candidates to get the bright lights on them before Iowa."
Representatives for Trump and DeSantis did not respond to a request for comment.
With an eye on DeSantis's vulnerabilities, many donors have kept the door open to other potential White House contenders. One lesson that sticks with many benefactors who helped Jeb Bush raise more than $100 million by July of 2015 only to see the former Florida governor falter is that Trump's ability to torpedo his rivals - as he is now trying to do with DeSantis - necessitates a backup plan.
"My gut feeling is don't count out some of the others," said Mike Murphy, a GOP strategist who helmed a super PAC that supported Bush. "There's nothing wrong and everything right with surging on September 20, not now, when the Iowa caucuses electorate starts to finally tune in, which doesn't really happen until the winter of this year."
Trump was blamed for losses in key midterm races where he elevated extreme candidates, and he is facing several investigations that could result in criminal charges. He has sought to use the legal jeopardy he is in to his advantage by raking in small-dollar donations as he stokes anger among his supporters about a possible indictment by the Manhattan district attorney. But many in the party are looking for a less polarizing standard-bearer.
Some donors looking to move on from Trump have expressed disappointment that Youngkin has not made moves toward running. Donors are also curious about Georgia Gov. Brian Kemp, who won reelection last year despite Trump's opposition in the primary, and Sununu, who will travel to Southern California later this week to meet with potential backers as he explores whether there is a path for him to win.
Tim Scott of South Carolina, the only Black Republican senator, is inviting potential donors to take his measure at a mid-April summit in Charleston and could announce a bid within a month, according to a person with knowledge of the planning, who like others spoke on the condition of anonymity to describe private conversations.
Nikki Haley, the former governor of South Carolina, has been vigorously courting donors since her entrance into the race earlier this year, emphasizing her extensive foreign policy experience as the former ambassador to the United Nations and stressing that she has always been underestimated dating back to her first run for the State House.
DeSantis has experienced a backslide in early polls since his decisive reelection victory in November, but the governor's allies dismiss the notion that there is any consternation about his potential candidacy. Mel Sembler, a top GOP fundraiser from Florida who plans to help DeSantis, said many of the donors he has spoken to are eager to join the team once there is an avenue to do so: "He hasn't had any problems raising money around the country," Sembler said. "He doesn't have the name recognition that Trump does, but that's just something he's got to overcome."
But some unaligned donors have been underwhelmed in recent meetings with DeSantis. A donor who attended a recent event with the Florida governor said DeSantis "just kind of sticks to himself and does his own thing," raising concerns that he will not be able to fully win over top-tier donors who like to feel like they are a part of the campaign. The concern has been magnified by an emerging DeSantis campaign strategy that places much of the traditional campaign operations inside an independent group, called Never Back Down, which will not be able to coordinate closely with the candidate.
Donors are closely watching the team that DeSantis assembles around him, particularly after the blowback he received from many Republicans for his initial description of Russia's invasion of Ukraine as a "territorial dispute." The Florida governor subsequently hardened his tone in an interview with conservative commentator Piers Morgan - saying his words were "mischaracterized" and labeling Russian President Vladimir Putin as a "war criminal."
The swerve, one GOP donor said, led a number of would-be financial backers to question whether he is ready for the rigors of the nominating contest. "That made people really take pause," the donor said.
With the lessons of Trump's dominance in the 2016 nomination contest still fresh, another longtime GOP donor noted that while there is a "strong measure of support" for DeSantis among potential financial backers who don't support Trump, there is also an interest in watching how he fares as a candidate before committing.
Gordon Sondland, a former ambassador to the European Union under Trump who testified in the 2019 impeachment inquiry and is not supporting him in 2024, said the desire to beat Trump is still leading many donors to "leave the door open for everyone."
"What I'm hearing in the donor class is that we absolutely want to win this time. This is not about running your favorite horse for reasons of pride," said Sondland, a major GOP donor.
Allies to Scott voiced optimism about his chances, saying they expect him to run a campaign that will have a broader appeal to a general election audience. They also pointed to his prospects for being a well-funded candidate, given his past support from Larry Ellison, the billionaire co-founder and chairman of the software company Oracle, as well as an active small-dollar fundraising base.
Some Republicans with lower national profiles are also looking at potentially running. Former Arkansas governor Asa Hutchinson, for example, recently met with potential backers in Orange County, Calif.
Christie tried out his arguments before a crowd of New Hampshire voters Monday evening during an event at St. Anselm College. He warned that party should avoid "this sinkhole of anger and retribution" - whether it comes from Trump or "from the candidates who are going to try to be Trump-light."
That approach, Christie argued, would "lose as certain as [Trump] lost in '20."
He also referenced his attacks against Sen. Marco Rubio (R-Fla.) during a 2016 debate that many Republicans saw as a devastating blow in Rubio's losing presidential run. "You better have somebody on that stage who can do to [Trump] what I did to Marco because that's the only thing that's going to defeat Donald Trump," Christie said.
Karen Monasky, who attended the event and is an independent voter, supported Trump in 2020, but is less sure now.
"There are portions of his character that I am truly concerned about and there are things that he does that can be divisive. I'd like to see who else comes to the surface," Monasky said.
Don and Teri Synborski said they both like DeSantis, but would like to see Christie enter the race. "We have some good candidates, there's always drama with the former president," said Teri, a 65-year-old registered nurse.
"I think it will shape up once things with Trump settle down," added Don, 66, who works in corporate finance. "I voted for him twice and I won't vote for him again. He will not get my vote, it's time to move on."
Republican operatives and donors acknowledged the difficult position that DeSantis faces as he experiments with how to deal with Trump's slashing attacks - moving from largely ignoring or laughing off the 45th president's attacks to taking him more directly over the pandemic and other topics.
But one operative questioned the wisdom of DeSantis's "half-stepping" his way into the presidential arena through his national book tour, instead of making it clear to GOP voters that he was going to stay focused on the business of the Florida legislature and announce his decision when they adjourn.
Bill Palatucci, a Republican National Committeeman from New Jersey and Christie confidant, described DeSantis's standing with both the Republican voter base and with donors as "still really good," but added "they want to see more."
"These are very tricky waters to navigate and the governor is doing pretty well at it - picking him spots on where and when to engage with Trump and when to leave Trump's smears aside," Palatucci said. "I think the jury is still out and trying to figure out what type of presidential candidate he might make."
Local journalism is essential.
Give directly to The Spokesman-Review's Northwest Passages community forums series -- which helps to offset the costs of several reporter and editor positions at the newspaper -- by using the easy options below. Gifts processed in this system are not tax deductible, but are predominately used to help meet the local financial requirements needed to receive national matching-grant funds.
Subscribe now to get breaking news alerts in your email inbox
Get breaking news delivered to your inbox as it happens.
---