A&E > Food
In the Kitchen With Ricky: Spring is in the air with these carrot cake cookies
Wed., March 29, 2023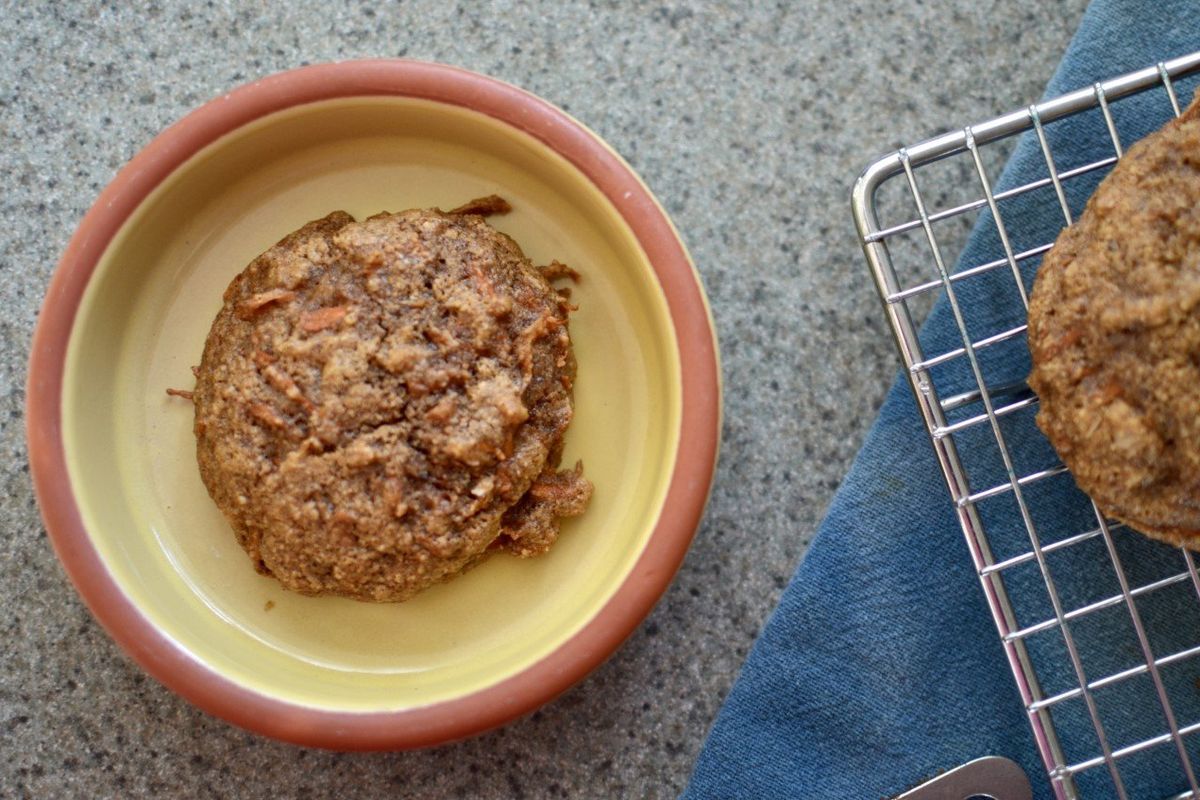 This not-too-sweet carrot cake cookie would be good for breakfast. (Ricky Webster/For The Spokesman-Review)Buy a print of this photo
One thing I always look forward to as Easter approaches is carrot cake. Not only is it a classic Easter dessert, but it's also my partners favorite kind of cake and his birthday is in early April. This year looks a little different, as recently I've been trying to cut down the amount of refined sugar I consume, and my partner has gone with cutting sugar out altogether until Easter.
That has forced me to get a bit creative. With making these dietary adjustments, I still want to make a little sweet treat – I am a pastry chef at heart, after all. In researching lower sugar or no refined sugar recipes, it has led me down a paleo baking path. It has been a fun journey and I have found some great recipes along the way.
The cookie recipe below is a great, not-too-sweet treat that's good for breakfast or as an after-school snack. I have listed brown sugar as the sweetener, but I make these with coconut sugar (a less processed and not refined sugar option). They are not very sweet to begin with, but if you did want them sweeter, they'd be delicious with an orange glaze put on top right after coming out of the oven. They'd also be a great cookie sandwich with a little bit of cream cheese icing between two cookies.
They'd also be great with chocolate chips, or with dried cranberries or chopped dried apricots instead of the raisins. Get creative and have fun; I think this light and fluffy muffin top-adjacent cookie will surprise and delight most.
Carrot Cake Cookies1 1/3 cups almond flour
1/4 cup cornstarch or tapioca flour
1 teaspoon baking soda
1/2 teaspoon kosher salt
2 teaspoons ground cinnamon
1/2 teaspoon ground ginger
1/4 teaspoon ground nutmeg
Zest of 1 orange
1/3 cup mixed nut butter (or almond butter would work well)
1/4 cup unsalted butter or coconut oil, softened
1/2 cup brown sugar, or coconut sugar
1 teaspoon vanilla extract
1 large egg
1 cup shredded carrots, with water squeezed out (see note)
1/2 cup golden raisins
1/4 cup walnuts, toasted and chopped
1/4 cup unsweetened shredded coconut
In a small bowl, combine almond flour, cornstarch (or tapioca flour, if using), baking soda, salt, and spices. I like to use a whisk for this to get everything combined.
Set aside.
In the bowl of a stand mixer, or in a medium mixing bowl (if using a handheld mixer fitted with the beater attachments), combine zest of orange, nut butter, and coconut oil.
Mix well until combined and add in sugar and vanilla extract, continuing to mix until lightened in color.
Add in egg and mix until fully incorporated.
Fold in carrots, raisins, walnuts, and coconut, until combined and then mix in dry ingredients.
Mix until just combined and then set aside.
The mixture is best if it sits for a bit or even wrapped and refrigerated overnight.
When ready to bake, preheat your oven to 360 degrees.
Line a sheet pan with parchment paper.
Drop by the rounded tablespoon-full onto a lined sheet pan and bake cookies for about 13 minutes, or until set in center and crisp around edges.
Let cool for about 5 minutes and then transfer to a cooking rack and cool completely.
Enjoy!
Yield: About 2 dozen cookies
Note: To remove excess water from the shredded carrots, place the carrots in a piece of cheesecloth, gather up the sides and twist into a small bundle. Keep squeezing until a good amount of liquid is removed.
Local journalism is essential.
Give directly to The Spokesman-Review's Northwest Passages community forums series -- which helps to offset the costs of several reporter and editor positions at the newspaper -- by using the easy options below. Gifts processed in this system are not tax deductible, but are predominately used to help meet the local financial requirements needed to receive national matching-grant funds.
Subscribe to the Spokane7 email newsletter
Get the day's top entertainment headlines delivered to your inbox every morning.
---