Movie Review: 'Dungeons & Dragons: Honor Among Thieves' is an engaging brew but no natural 20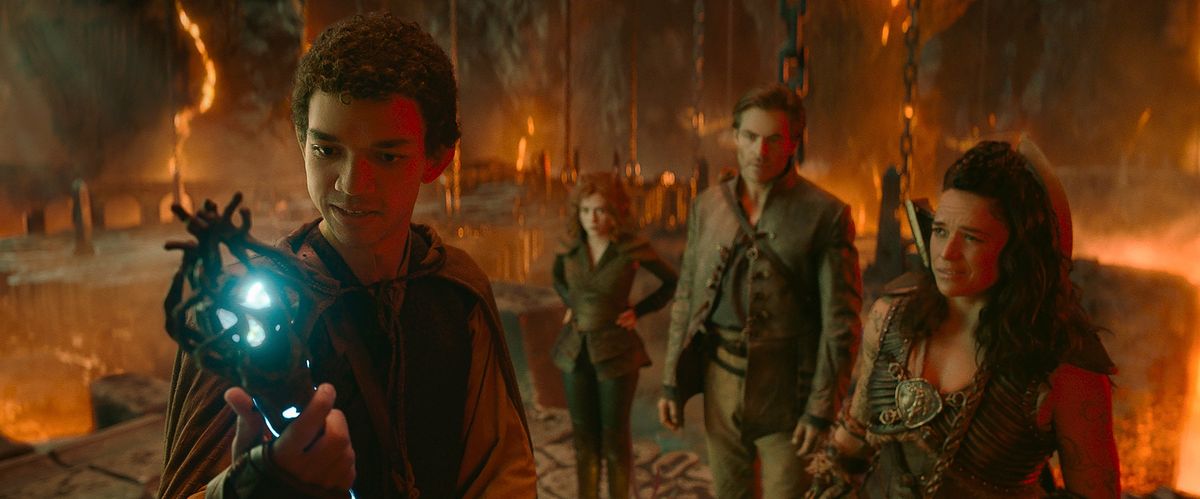 For at least 20 years, it's been obvious that the geeks shall inherit the earth, pop culturally speaking. Comic books have crawled out of the cons to dominate mainstream movie culture, "Star Wars" is ubiquitous, and now, "Dungeons & Dragons" has its moment in the sun. First published in 1974, the popular fantasy role-playing game has mostly been relegated to a punchline (or punching bag) in media (see: Patton Oswalt's Dungeon Master character in comedy series "Reno 911!").
But now, the medieval-inspired game gets a splashy, big budget blockbuster adaptation, replete with swaggering charm and sex appeal. In a perfectly full-circle media moment, "Dungeons & Dragons: Honor Among Thieves" is co-directed and co-written by John Francis Daley, who played one of the primary geeks in Judd Apatow's short-lived but much beloved comedy series "Freaks and Geeks," which has an episode dedicated to a D&D campaign (he knows his barbarians from his clerics).
Daley and co-director Jonathan Goldstein (they also directed the raunchy '80s remake "Vacation" and the surprisingly fun action comedy "Game Night") co-wrote the script with Michael Gilio, and they take a genius approach to bringing D&D to the masses, smuggling the heavy-duty lore of the game into a garden-variety bank heist plot. It's essentially "Ocean's 11" in a fantasy setting, with massive movie stars riffing on their well-known personae offering a crucial assist.
Daley and Goldstein don't ask their team of actors to stretch much beyond what we already know and love about them. Chris Pine is on the charm offensive, Michelle Rodriguez plays a tough warrior and Hugh Grant grins and fumbles and fops endearingly, as he has for decades. With this trio in place, tackling a familiar plot, Daley and Goldstein thread D&D mythos throughout in a way that's not too challenging for a newbie, but will serve as a treat for the experienced player.
Aside from its clunky title, "Dungeon & Dragons: Honor Among Thieves" has a relaxed, loose energy that puts the viewer at ease, especially combined with the throwback appeal of the style that harkens to '80s fantasy classics like "Willow," "Labyrinth" and "Legend." Yet the tone is decidedly modern, thanks in large part to Pine's laissez-faire, ironic energy as the lute-playing Edgin, the bard of this tale.
His vibe is a bit at odds with his goal, which is to reunite his family by bringing his wife back from the dead and reclaiming his daughter Kira (Chloe Coleman) from his former compatriot Forge (Grant). He intends to do this by stealing a reanimation tablet from a magically fortified vault with the team he assembles: his ride-or-die warrior Holga (Rodriguez), insecure sorcerer Simon (Justice Smith) and disaffected druid Doric (Sophia Lillis). They also receive help from stone-faced paladin Xenk (Regé-Jean Page), whose straight-arrow nature bounces off Ed's inability to take anything seriously. This odd couple is one of the most amusing interactions of the film, but it's unfortunately brief.
"Dungeons & Dragons: Honor Among Thieves" boasts some eye-popping set pieces, including Rodriguez's fight scenes and a truly remarkable "one-shot" sequence that showcases Doric's shapeshifting abilities. The film's affable nature and the sheer charisma oozing off Pine and Grant is intoxicating, but overall, there's a sense that it doesn't quite gel, the engine revving but never hitting the speed of which it seems capable.
Daley and Goldstein make for fine dungeon masters; the film is unapologetically a big, fun, swashbuckling slice of hardcore fantasy, and it leans into what it is without any self-deprecation, which is the core lesson for our merry band of misfits. And yet there is some ineffable quality lacking – perhaps an emulsifying ingredient – that prevents all these elements (the stars, the lore, the creatures) from coming together into something truly magical. Maybe on the next roll of the 20-sided die.
---