News > Education
100 years ago in Spokane: Fallout swirled after the school district's 'embarrassing tangle' of letting the KKK rent its auditoriums
Thu., March 30, 2023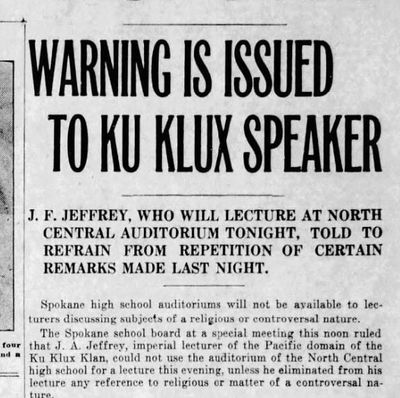 The Spokane school board held a special meeting after listening to a lecture by J.A. Jeffrey, "imperial lecturer of the Pacific domain of the Ku Klux Klan," at the Lewis and Clark High School auditorium.
They told Jeffrey they would cancel his lecture the next night at North Central High School "unless he eliminated from his lecture any reference to religious or (any) matter of a controversial nature." He was specifically ordered not to use the words "Jews" or "Catholics."
In the lecture, attended by 600, Jeffrey said all Greeks should be deported because "Greeks do not respect the virtue of American womanhood." He also said all political candidates should be "100% American," by which he meant white and Protestant, and not beholden to any other church.
Jeffrey agreed to comply. The next night, instead of the words "Jews" or "Catholics," he used the term "the other fellow."
On the Chronicle editorial page, the editors said the school board needed a policy for use of its auditoriums, one in which it could reject any use "which discriminates against any class." They said the school board got itself into an "embarrassing tangle" by allowing the Klan to rent the auditoriums.
From the radio beat: A new 50-watt radio station was coming to Spokane, with the call letters KFZ.
This would be, by far, the most powerful station in Spokane to date, with a transmitting radius of 1,000 miles.
The transmitter's aerials would be strung between the tops of two buildings, from Post to Lincoln streets.
A low-power station with the KFZ call letters had operated in Spokane in 1922 and was considered the first true commercial radio station in Spokane. The new station was granted the use of the same call letters because it was also to be operated by Spokane radio pioneer W.H. Irish. The station was to be owned jointly by the Pacific Telegraph Institute and the Doerr-Mitchell Electric Co.
Local journalism is essential.
Give directly to The Spokesman-Review's Northwest Passages community forums series -- which helps to offset the costs of several reporter and editor positions at the newspaper -- by using the easy options below. Gifts processed in this system are not tax deductible, but are predominately used to help meet the local financial requirements needed to receive national matching-grant funds.
Subscribe now to get breaking news alerts in your email inbox
Get breaking news delivered to your inbox as it happens.
---