News > Military
9 soldiers killed after Army helicopters collide over Kentucky
March 30, 2023 Updated Thu., March 30, 2023 at 5:11 p.m.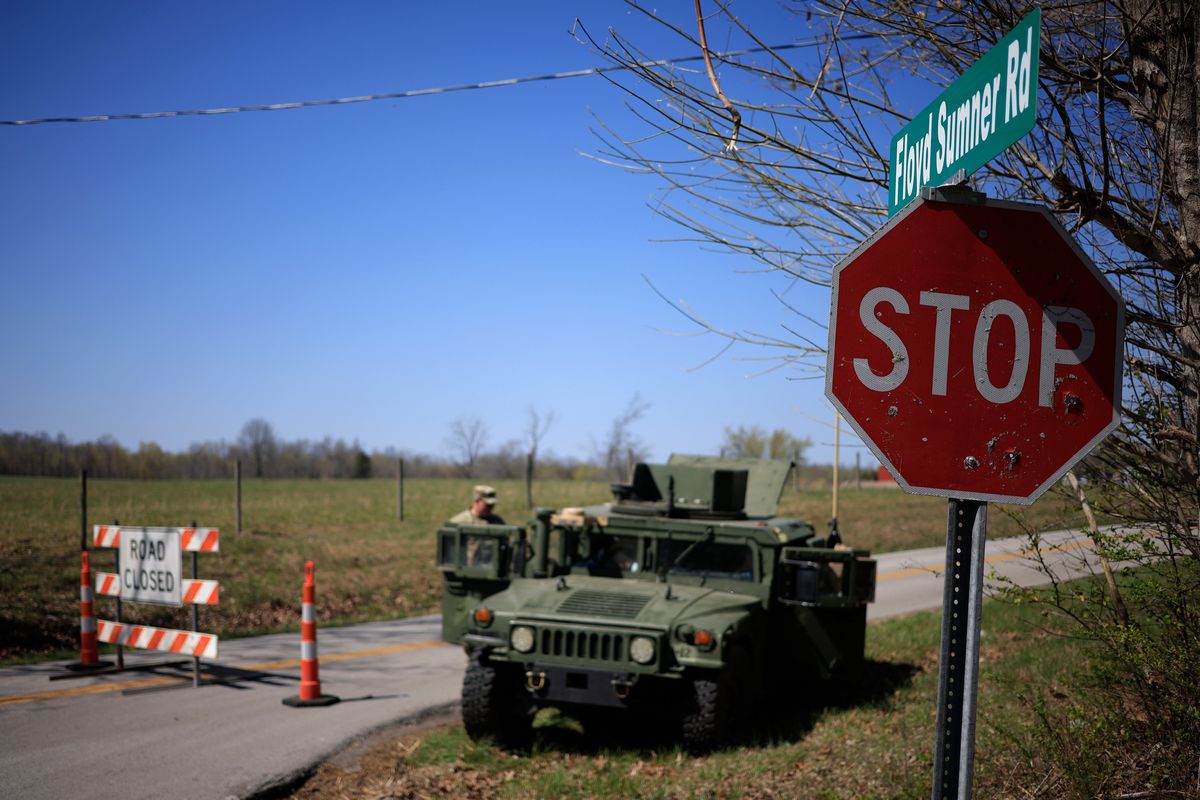 A Humvee from the U.S. Armys 101st Airborne Division sits parked at a checkpoint near the site where two UH-60 Blackhawk helicopters crashed on Thursday in Cadiz, Ky. Nine soldiers based at Fort Campbell were killed in the incident that occurred during a night training mission. (Luke Sharrett)
Nine soldiers were killed after two U.S. Army helicopters collided during a training mission near an Army base along the Kentucky-Tennessee state line on Wednesday night, the Army said.
The two HH-60 Black Hawk assault helicopters crashed into each other at about 10 p.m. during a routine training mission in Trigg County, Kentucky, Nondice L. Thurman, a spokesperson at the Army base, Fort Campbell, said in a statement. She added that the crash was under investigation.
The helicopters were from the 101st Airborne Division, which is based at Fort Campbell and is the Army's only air assault division.
Brig. Gen. John Lubas said during a news conference at Fort Campbell on Thursday that the Army did not yet know what had caused the collision, and that there were no radio signals calling for help before it occurred.
The helicopters were equipped with flight recorders that officials hoped would be able to help shed light into what happened, he said.
All of the soldiers on board the two helicopters – four on one and five on the other – were killed, Lubas said. He declined to provide details about any of the soldiers until their families had been notified.
"This is a truly tragic loss for our families, our division and Fort Campbell," he said.
Gov. Andy Beshear of Kentucky said during the news conference that it was a tragic day for Kentucky and for Fort Campbell.
"We must remember that that freedom relies on those who are willing to serve, some of which pay the ultimate price," Beshear said.
Defense Secretary Lloyd Austin said he would work with Army leaders "to make sure our troops and their families receive the care that they need in the wake of this accident."
"My heart goes out to the families of these service members and to the members of the 101st Airborne Division who bravely and proudly serve our country each and every day," Austin said in a statement.
A Black Hawk helicopter can transport an 11-person infantry squad, and the HH-60 model can be used for air assaults, medical evacuations and other purposes, according to the Army.
The weather in the Fort Campbell area at the time of the collision was fair: calm winds, a visibility of 10 miles and a temperature of 39 degrees.
Fort Campbell sits on 105,000 acres that include parts of Trigg and Christian counties in Kentucky, and Montgomery and Stewart counties in Tennessee.
This article originally appeared in The New York Times.
Local journalism is essential.
Give directly to The Spokesman-Review's Northwest Passages community forums series -- which helps to offset the costs of several reporter and editor positions at the newspaper -- by using the easy options below. Gifts processed in this system are not tax deductible, but are predominately used to help meet the local financial requirements needed to receive national matching-grant funds.
Subscribe now to get breaking news alerts in your email inbox
Get breaking news delivered to your inbox as it happens.
---