Donald Trump trying to lock down Texas before Ron DeSantis joins GOP race for president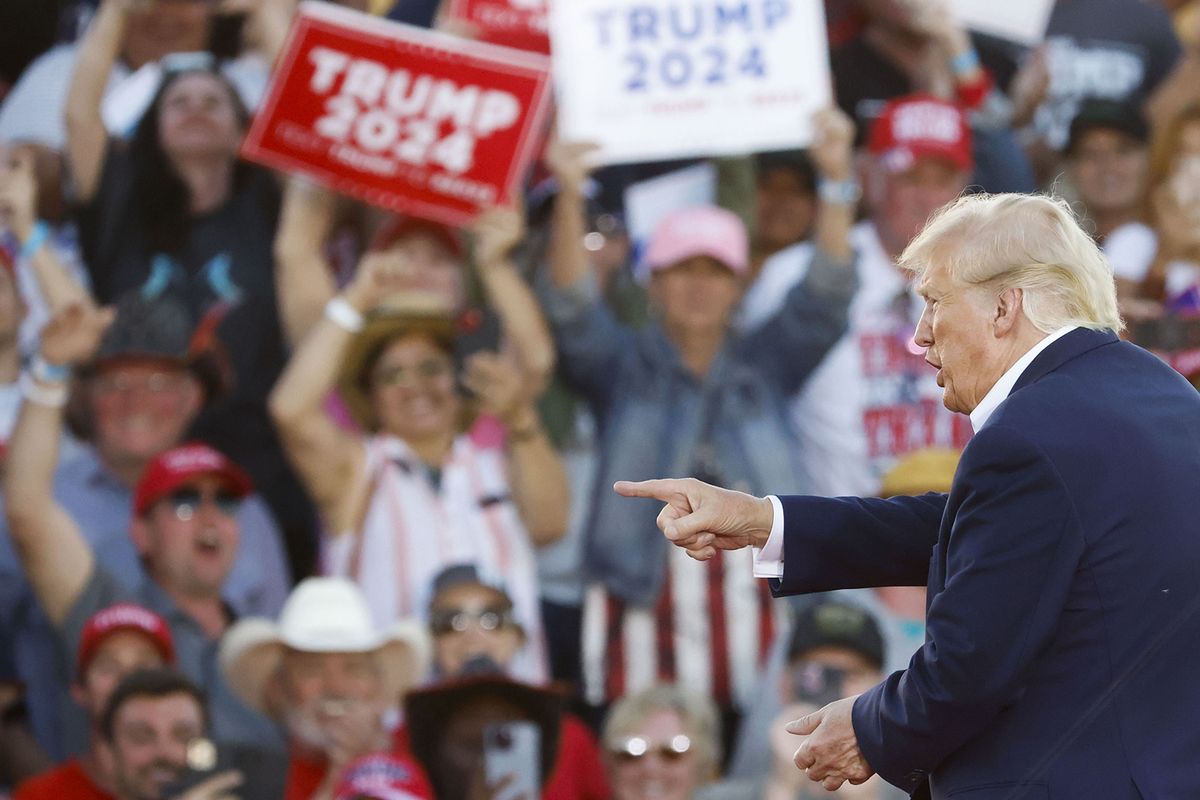 WACO, Texas — In front of 20,000 supporters jammed into the Waco Regional Airport, Donald Trump slowly recited the names of 15 Texas elected officials who are endorsing his third campaign for the White House.
One by one he thanked them for supporting him in previous years and in the future.
"They're for me and I'm for them," Trump said, revealing a strategy that he could use in other states to try to lock up primary votes
The backing of the conservative right joined with legions of grassroots activists has bolstered Trump as the dominant political player in Texas.
In what could be a rollicking GOP presidential primary, the former president is trying to lock down the Lone Star State well ahead of the March 2024 presidential primary. Though there's still time for the political winds to shift, Trump's Texas strength gives him an advantage over other Republican presidential contenders, including Florida Gov. Ron DeSantis.
Texas has the second most delegates in the presidential primary, trailing only California.That makes it a critical battleground in the GOP race for the White House. That's why Trump billed Texas as the first official stop of his 2024 campaign. The Lone Star State could be either his political firewall or final, victorious blow.
Trump hopes to leave little room for DeSantis and other potential candidates to navigate. At the rally DeSantis was the second choice among most of the people interviewed by The Dallas Morning News. Their sentiment, however, was that the Trump era was not over and DeSantis was a better fit leading Florida, not the nation.
"He'll win Texas and he'll sweep nearly all the delegates," said Lt. Gov. Dan Patrick, who was state director of Trump's two previous campaigns for the White House. "There's no one that can draw this kind of crowd with less than two weeks' notice. There's no one that can out speak him on the podium and there's no one that can out debate him. And he knows the issues."
Patrick said DeSantis, who is thought by some to be the great Republican hope against Trump, can't beat the former president.
"Ron DeSantis has done a good job as governor, as we've done here in Texas, but I don't think anyone beats Donald Trump," he said.
But Tom Pauken, a former Texas Republican Party chairman and a former Trump delegate in the 2016 presidential primary, said DeSantis was the best candidate he's seen since Reagan. He predicted DeSantis would win Texas after going on a roll in the early primary states.
"People are tired of the chaos associated with Trump," he said.
Republican consultant Bill Miller said Trump is trying to secure Texas early, because he doesn't have room to grow. DeSantis does.
"He needs an early knockout, so he'll be throwing roundhouse punches in order to win early," Miller said. "But Texas is too big. One rally in one part of the state doesn't mean that it's locked down."
Temple retiree Janet Larson said that Trump "cares about America" and that "he tells it like it is."
She said the Trump movement was resurgent after a tough 2020.
"For a long time after Biden was elected, Republicans almost had to kind of hide in the closet because of the blowback you'd get," she said. "You were afraid to let anyone know who you wanted to vote for, but now I think we're coming out of that, and we're standing up and coming out with strong support."
Gobbling up Texas support
In the runup to his rally Trump and his campaign aides were contacting Texas elected officials—statewide and in Congress—to score their endorsements.
Most of the leaders Trump called had received his endorsement in previous years, giving the former president that advantage of being able to call in favors.
From 2020 to now Trump was particularly active in Texas, where he endorsed statewide leaders like Gov. Greg Abbott, Patrick, Attorney General Ken Paxton, Texas Land Commissioner Dawn Buckingham and Agriculture Commissioner Sid Miller. He also backed a number Texas members of Congress, including many that endorsed him Saturday.
Trump will likely replicate his Texas strategy across the country, where the political debt will come due for numerous elected leaders.
While political endorsements range from being useful to worthless, they give Trump the ability to project that he's still the Republican presidential frontrunner and the leader of the party.
Trump is now preaching loyalty.
"I'm a loyalist," Trump said in Waco, referring to his 2018 endorsement of DeSantis, who is now poised to run against Trump for the GOP nomination for president.
The DeSantis threat
Not all elected Republicans are with Trump. In Texas, Rep. Chip Roy of Austin says he'll back DeSantis, if the Florida governor gets into the race.
"It's time for younger, but proven, leadership" to take on President Joe Biden next year, the Austin Republican told supporters in an email blast.
And there are establishment Republicans also looking toward DeSantis, Virginia Gov. Glenn Youngkin or someone else. Former United Nations Ambassador and former South Carolina Gov. Nikki Haley is already in the race.
In early March DeSantis was the keynote speaker at local GOP fundraisers in Dallas and Houston.
Pauken attended the Dallas event.
"I was for Trump in Texas in 2016 when almost everyone was for Cruz; and I was a Trump national delegate that year," Pauken said. "This time I am for DeSantis who exemplifies courage and competence. He got a huge turnout at his Dallas event. A lot of former Trump supporters and appointees told me privately at that event they are for DeSantis. I think DeSantis will have strong, grassroots support in Texas and will win here."
"DeSantis will run as a guy who can win," Miller said. "Trump is selling anger."
Staying loyal to Trump
Can DeSantis pull the average GOP voter outside of Florida from Trump?
According to security at the event, the former president drew over 20,000 (He says 25,000) people in reliably red Waco. At this point, it seems unlikely that DeSantis will be that big of an attraction anywhere in the country.
"It's my first Trump rally," said Joshua Francis, a mechanical engineer who came to America from the West African nation of Sierra Leone. "We live in Houston and it was a good opportunity to come and actually be a part of it."
Francis, who attended the rally with his wife, said he likes Trump because he's "transparent" and loves his country. He said as an immigrant, he understands the importance of America being a model for the world, even for people who can't live here.
"Is America still that place?" he asked. "That's why we need Trump, to restore America."
What about DeSantis?
"He still needs to stay in Florida and learn," Francis said. "Washington is not an easy place. We need tough men that have been tried and true, like Trump."
Francis is unmoved by Trump's legal troubles, including a potential indictment by a New York grand jury related to a hush money payment made to adult film star Stormy Daniels.
"Some of the things that the media has complained about with Trump are those things that are common to man. If he's flaunting it and not being repentant about it, that would be a whole different issue," he said. "He's got to get the benefit of the doubt sometimes."
Trump's rally contained spiritual elements that cast him as a prophet, redeemer and patriot.
Before he spoke, a video of the January 6th prisoner song called "Justice for All" blared throughout the airport, along with images of the Jan. 6 Capitol riots. Trump bragged that the song hit No. 1 on the Billboard and Itunes digital sales charts, even beating Taylor Swift on the charts. He said he recorded the song, which praised participants of the riot, with the J6 choir of those being held in prison for their part in the attack. The choir sings the National Anthem as Trump recites the Pledge of Allegiance.
But Texas Sen. John Cornyn chided Trump for playing the video.
"People who violated the law should be prosecuted. And they have been," Cornyn told NBC News.
"I just frankly don't understand this, you know, retrospective look," he said. "When it comes to running for president or any other office, people don't want you to relitigate all your grievances in the past. They want to know what your vision for the future is. And so I don't think it's a formula for success."
During the last few minutes of his Waco speech, Trump spoke over haunting background music, as he promised to restore America to its former glory.
Already approaching the 90-minute mark of the speech, the audience didn't react, except for when Trump mentioned the Battle of Gonzales in the Texas Revolution.
"This is the state where a small band of patriots…armed with a single cannon stared down a foreign enemy and declared 'come and take it,'" Trump said. "Texas is the state where generations of farmers and ranchers, sheriffs and lawmen, cowboys, cattle hands. prospectors and pioneers helped build America into the greatest nation in the history of the world. And we're going to bring it back to that level. It's not there now. We're going to bring it back."
Melissa Ford, a Meridian stay-at-home mother, wore a bright red Trump t-shirt and moved to the music that played before Trump hit the stage.
"This is my first rally," she said. "My preference is Trump. He's actually for the American people, but I would also vote for DeSantis too, because he's just as good."
Larson, the retiree from Temple, said the GOP primary would attract contenders against Trump, including DeSantis. She predicted the former president would be triumphant.
"There are other people that will probably come in to run against him," she said. "I think maybe they're doing it as a prequel to four years from now, because they won't win against him."
---