News > Nation/World
Grand jury indicts Trump: The unprecedented case will have wide-ranging implications
March 30, 2023 Updated Thu., March 30, 2023 at 8:44 p.m.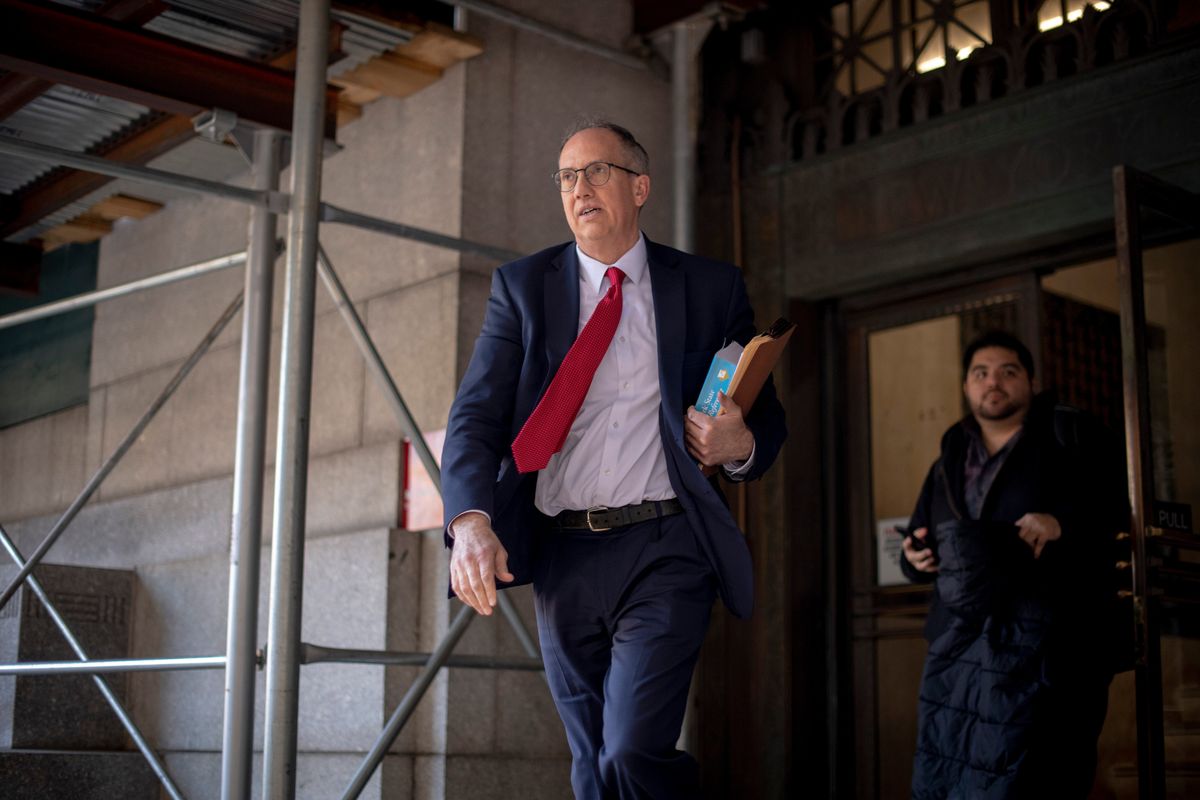 Chris Conroy, a prosecutor with the Manhattan district attorney's office, leaves Manhattan Criminal Court in Manhattan, March 30, 2023. A Manhattan grand jury voted to indict Donald J. Trump on Thursday for his role in paying hush money to a porn star, according to four people with knowledge of the matter.   (Hilary Swift/The New York Times)
NEW YORK – A Manhattan grand jury indicted Donald Trump on Thursday for his role in paying hush money to a porn star, according to people with knowledge of the matter, a historic development that will shake up the 2024 presidential race and forever mark him as the nation's first former president to face criminal charges.
On Thursday evening, after news of the charges had been widely reported, the district attorney's office confirmed that Trump had been indicted and that prosecutors had contacted Trump's attorney to coordinate his surrender to authorities in Manhattan.
Trump is expected to turn himself in on Tuesday, at which point the former president will be photographed and fingerprinted in the bowels of a New York state courthouse, with Secret Service agents in tow. He will then be arraigned, at which point the specific charges will be unsealed. Trump faces more than two dozen counts, according to two people familiar with the matter.
Trump has for decades avoided criminal charges despite persistent scrutiny and repeated investigations, creating an aura of legal invincibility that the indictment threatens to puncture.
But unlike the investigations that arose from his time in the White House – which examined his strong-arm tactics on the international stage, his attempts to overturn the election and his summoning of a mob to the steps of the U.S. Capitol – this case is built around a tawdry episode that predates Trump's presidency. The reality star turned presidential candidate who shocked the political establishment by winning the White House faces a reckoning for a hush-money payment that buried a sex scandal in the final days of the 2016 campaign.
In a statement, Trump lashed out at Manhattan District Attorney Alvin Bragg, a Democrat, and portrayed the case as the continuation of a politically motivated witch hunt against him.
"This is political persecution and election interference at the highest level in history," Trump said in the statement, calling Bragg "a disgrace" and casting himself as "a completely innocent person."
Trump, who has consistently denied all wrongdoing, has already called on his followers to protest his arrest, in language reminiscent of his social media posts in the weeks before the Jan. 6, 2021, attack on the Capitol by his supporters. He has also denied any affair with the porn star, Stormy Daniels, who had been looking to sell her story of a tryst with Trump during the 2016 campaign.
"President Trump did not commit any crime," Trump's lawyers, Susan R. Necheles and Joseph Tacopina, said in a statement. "We will vigorously fight this political prosecution in court."
The first sign that an indictment was imminent on Thursday came just before 2 p.m., when the three lead prosecutors on the Trump investigation walked into the lower Manhattan building where the grand jury was sitting.
One of them carried a copy of the penal law, which was most likely used to read the criminal statutes to the grand jurors before they voted.
Nearly three hours later, the prosecutors walked into the court clerk's office through a back door to begin the official process of filing the indictment, arriving about two minutes before the office closed for the day.
For weeks, the atmosphere outside the district attorney's office had resembled a circus, with television trucks and protesters surrounding the building. But the fervor had cooled by Thursday, and the outskirts of the office were emptier than they had been in weeks.
Bragg is the first prosecutor to indict Trump, but he might not be the last. Trump's actions surrounding his electoral defeat are the focus of a separate federal investigation, and a Georgia prosecutor is in the final stages of an investigation into Trump's attempts to reverse the election results in that state.
But the Manhattan indictment, the product of a nearly five-year investigation, kicks off a volatile new phase in Trump's post-presidential life as he makes a third run for the White House.
And it will throw the race for the Republican nomination – which he is leading in most polls – into uncharted territory.
Under normal circumstances, an indictment would deal a fatal blow to a presidential candidacy. But Trump is not a normal candidate. He has said that he would not abandon the race if he were charged, and the case might even help him in the short term as he paints himself as a political martyr.
(BEGIN OPTIONAL TRIM.)
The indictment also raises the prospect of an explosive backlash from Trump, who often uses his legal woes to stoke the rage of die-hard supporters.
The former president has used bigoted language to attack Bragg, the first Black man to lead the district attorney's office, calling him a "racist," an "animal" and a "radical left prosecutor."
In the past, Trump has lashed out when feeling cornered, encouraging the violent attack on the Capitol as he contested the results of the 2020 presidential election. That assault on the seat of government demonstrated that Trump's most zealous followers were willing to resort to violence on his behalf as he sought to overturn the election results.
(END OPTIONAL TRIM.)
While the specific charges in the Manhattan case against the former president remain unknown, Bragg's case centers on a $130,000 hush-money payment to Daniels.
Trump's longtime fixer, Michael Cohen, made the payment in the final days of the 2016 campaign. Trump later reimbursed him, signing monthly checks while serving as president.
Bragg's prosecutors appear to have zeroed in on the way Trump and his family business, the Trump Organization, handled the reimbursement to Cohen. In internal documents, Trump Organization employees falsely recorded the repayments as legal expenses, and the company invented a bogus retainer agreement with Cohen to justify them.
Cohen, who broke with Trump in 2018 and later testified before Congress as well as the grand jury that indicted Trump, has said that the former president knew about the phony legal expenses and retainer agreement.
In New York, it can be a crime to falsify business records, and Bragg's office is likely to build the case around that charge, according to people with knowledge of the matter and outside legal experts.
But to charge falsifying business records as a felony, rather than a misdemeanor, Bragg's prosecutors must show that Trump's "intent to defraud" included an effort to commit or conceal a second crime.
That second crime could be a violation of election law. Bragg's prosecutors might argue that the payment to Daniels represented an illicit contribution to Trump's campaign: The money silenced Daniels, aiding his candidacy at a crucial time.
"Campaign finance violations may seem like small potatoes next to possible charges for his attempt to overthrow the 2020 election, but they also go to the heart of the integrity of the electoral process," said Jerry H. Goldfeder, a special counsel at Stroock & Stroock & Lavan LLP and a recognized expert in New York state election law.
If Trump were ultimately convicted, he would face a maximum sentence of four years, although prison time would not be mandatory.
Yet a conviction is not a sure thing, and Bragg's case might apply a legal theory that has yet to be evaluated by judges. A New York Times review of relevant cases and interviews with election law experts strongly suggest that New York state prosecutors have never filed an election law case involving a federal campaign.
An untested case against any defendant, let alone a former president of the United States, carries the risk that a court could throw out or limit the charges.
(BEGIN OPTIONAL TRIM.)
Trump will not be the first person charged over the hush-money payment. In 2018, Cohen was federally prosecuted for the payment and pleaded guilty to campaign finance violations.
Cohen is likely to become Bragg's star witness at trial. While his past crimes will make him a target for Trump's lawyers – who can be expected to attack the former fixer's credibility at every turn – prosecutors will be likely to counter that Cohen lied on behalf of Trump, and that his story has been consistent for years.
In a statement, Cohen said he took "solace in validating the adage that no one is above the law; not even a former president."
His lawyer, Lanny J. Davis, said that "Michael Cohen made the brave decision to speak truth to power and accept the consequences," and that "he has done so ever since."
Cohen will not be the prosecution's only witness: David Pecker, a longtime ally of Trump and the former publisher of the National Enquirer, testified before the grand jury twice this year. He is likely to be able to corroborate important aspects of Cohen's story, including that Trump wanted to bury embarrassing stories to protect his presidential campaign, not just his family, as his lawyers contend.
Soon after Trump began his campaign in 2015, he hosted Pecker for a meeting at Trump Tower, during which the publisher agreed to look out for stories that might damage Trump's candidacy.
One such story arose in the summer of 2016, when Karen McDougal, Playboy's playmate of the year in 1998, said that she'd had an affair with Trump. She reached a $150,000 agreement with the tabloid, which bought the rights to her story to suppress it, a practice known as "catch and kill."
When Daniels tried to secure a similar arrangement, Pecker didn't take the deal. But he and the tabloid's former top editor helped broker Cohen's payment to Daniels.
Despite the potential legal obstacles, and questions about Cohen's credibility, if the case does go to trial, the salacious details could sink Trump. While white-collar prosecutions are often dry and procedural, this one will likely have some built-in jury appeal: a defendant charged with a seedy crime in a city where he is loathed by many.
(END OPTIONAL TRIM.)
Any trial is months away. It will take time for Trump's lawyers to argue that the case should be thrown out. That timeline raises the extraordinary possibility of a trial unfolding in the thick of the 2024 presidential campaign.
(STORY CAN END HERE. OPTIONAL MATERIAL FOLLOWS.)
The case would come before a jury more than five years after Cohen's federal guilty plea prompted the district attorney's office to open an investigation into Trump's role in the hush-money saga. The inquiry began under Bragg's predecessor, Cyrus Vance Jr., who did not seek re-election.
Over the years, the investigation expanded to include whether Trump had lied about his net worth on annual financial statements. Although Vance's prosecutors were marching toward an indictment of Trump for inflating his net worth, soon after Bragg took office, he developed concerns about proving the case.
But he continued to scrutinize Trump. And in January, a few months after his prosecutors began revisiting the potential hush-money case, Bragg impaneled the grand jury that has indicted Trump.
This article originally appeared in The New York Times.
Local journalism is essential.
Give directly to The Spokesman-Review's Northwest Passages community forums series -- which helps to offset the costs of several reporter and editor positions at the newspaper -- by using the easy options below. Gifts processed in this system are not tax deductible, but are predominately used to help meet the local financial requirements needed to receive national matching-grant funds.
Subscribe now to get breaking news alerts in your email inbox
Get breaking news delivered to your inbox as it happens.
---