A&E > Entertainment
Jay Oakerson will be painting it blue at the Spokane Comedy Club
March 30, 2023 Updated Thu., March 30, 2023 at 2:34 p.m.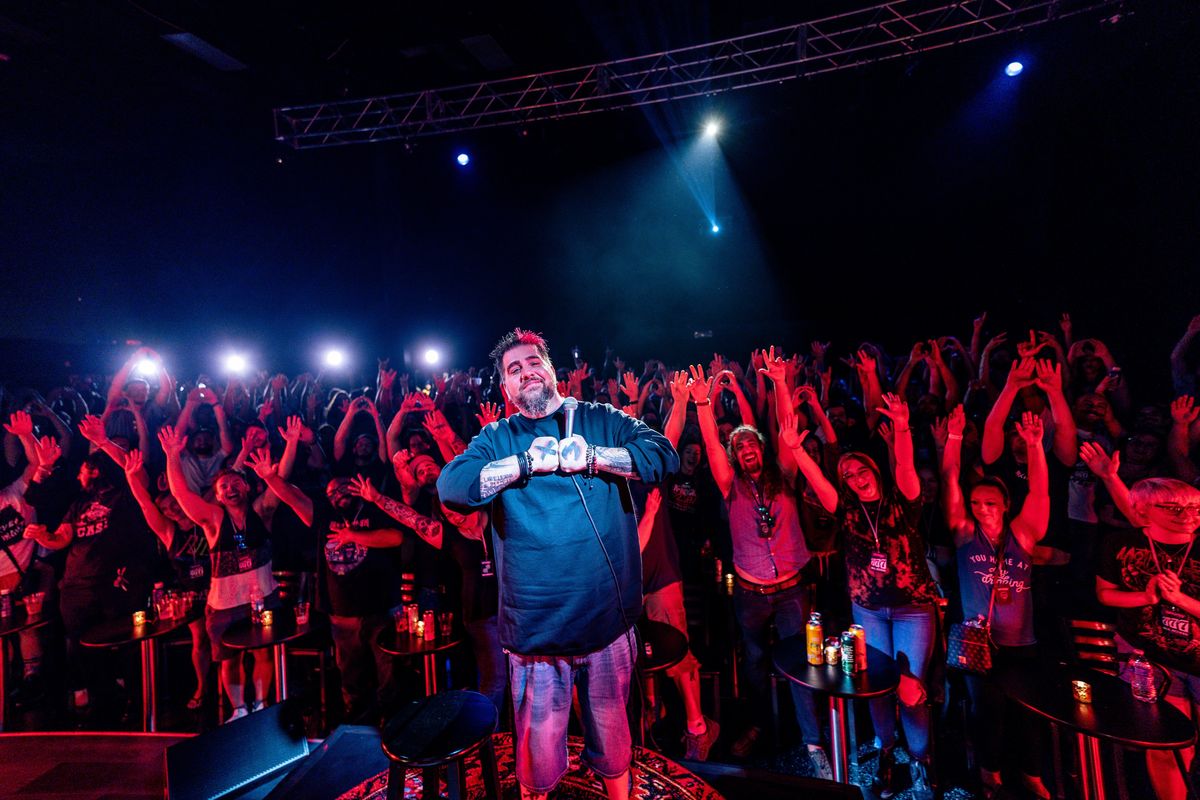 Jay Oakerson will headline the Spokane Comedy Club this weekend. (Troy Conrad)
It's not surprising that blue is Big Jay Oakerson's favorite color. The veteran comic is as blue collar as fellow humorists Jeff Foxworthy and Ron White
"That's just how it was for me ever since I can remember," Oakerson said. "It was all blue collar."
When the Philadelphia native made his debut at the Spokane Comedy Club in 2021, Oakerson immediately noticed a common denominator.
"Spokane is a blue collar city and I grew up blue collar," Oakerson said while calling from Rochester, New York. "They understand what I'm talking about. I get them. The guys in flannel and the truckers are who show up for my shows at the Spokane Comedy Club. They get where I'm coming from, which is a gritty environment in which you work hard. I take pride in being a blue-collar comic."
Oakerson, 45, is also a blue comic, unlike squeaky clean Foxworthy. "It all starts with Andrew 'Dice' Clay," Oakerson said. "My stepfather showed me Dice's special, 'The Diceman Cometh,' when I was 12 years old and that opened my eyes and mind."
An old-school comic had an even bigger impact on Oakerson, who will perform Friday and Saturday at the Spokane Comedy Club. "When I was a kid I was listening to Howard Stern and I heard Buddy Hackett on the Stern show and he was hilarious," Oakerson said. "I started digging into Buddy Hackett and he was very dirty. For some reason I'm drawn to that stuff and so is my audience."
Oakerson will riff about relationships, his lack of political awareness and female police officers. "I'll talk about some outrageous things when I come into Spokane, but I have to watch what I talk about," Oakerson said.
It's not as if Oakerson is concerned about being politically correct. The New York-based comic doesn't want to cover anything from his forthcoming special, "Dog Belly," which debuts April 5 on YouTube.
"I want everyone that comes out to the Spokane show to be able to watch the special, so I'll go with new material," Oakerson said. "The special has some wild stuff in it. I'll talk about the trouble I got into."
Oakerson is referring to an outdoor stand-up show he headlined in suburban Philadelphia in 2021. A disorderly fan was verbally crushed by Oakerson. However, the heckler's brother crept up onstage and pulled the stool from which Oakerson was sitting out from under him and chaos ensued.
"A drunk lunatic started all of this trouble after I destroyed his sister," Oakerson said. "It was unreal. I got on top of him but my fans pulled me away and said, 'Don't get in trouble for this. We got this.' The guy who surprised me onstage got arrested that night. It made for a crazy story that's good for the special."
Crowd work makes up a healthy bit of Oakerson's sets. "What's so interesting is that the most seemingly boring couple is more interesting than you would think," Oakerson said. "If the most strait-laced couple allows me to ask a few questions, I promise you, I'll get to the weird no one knows about. … I get people in the audience to reveal strange things since I'm open about what's odd about me. My self deprecation leads to some interesting revelations from fans."
Oakerson hopes to make it back to Spokane more often.
"I've been doing comedy for 23 years and I can't believe that I'm only coming to Spokane for the second time," Oakerson said. "I would like to come back quite a bit since the comedy fans there are my kind of people."
Local journalism is essential.
Give directly to The Spokesman-Review's Northwest Passages community forums series -- which helps to offset the costs of several reporter and editor positions at the newspaper -- by using the easy options below. Gifts processed in this system are not tax deductible, but are predominately used to help meet the local financial requirements needed to receive national matching-grant funds.
Subscribe to the Spokane7 email newsletter
Get the day's top entertainment headlines delivered to your inbox every morning.
---