Sports > Seattle Mariners
Luis Castillo dominates, Ty France plays hero in Mariners' season-opening win over Guardians
March 30, 2023 Updated Thu., March 30, 2023 at 10:43 p.m.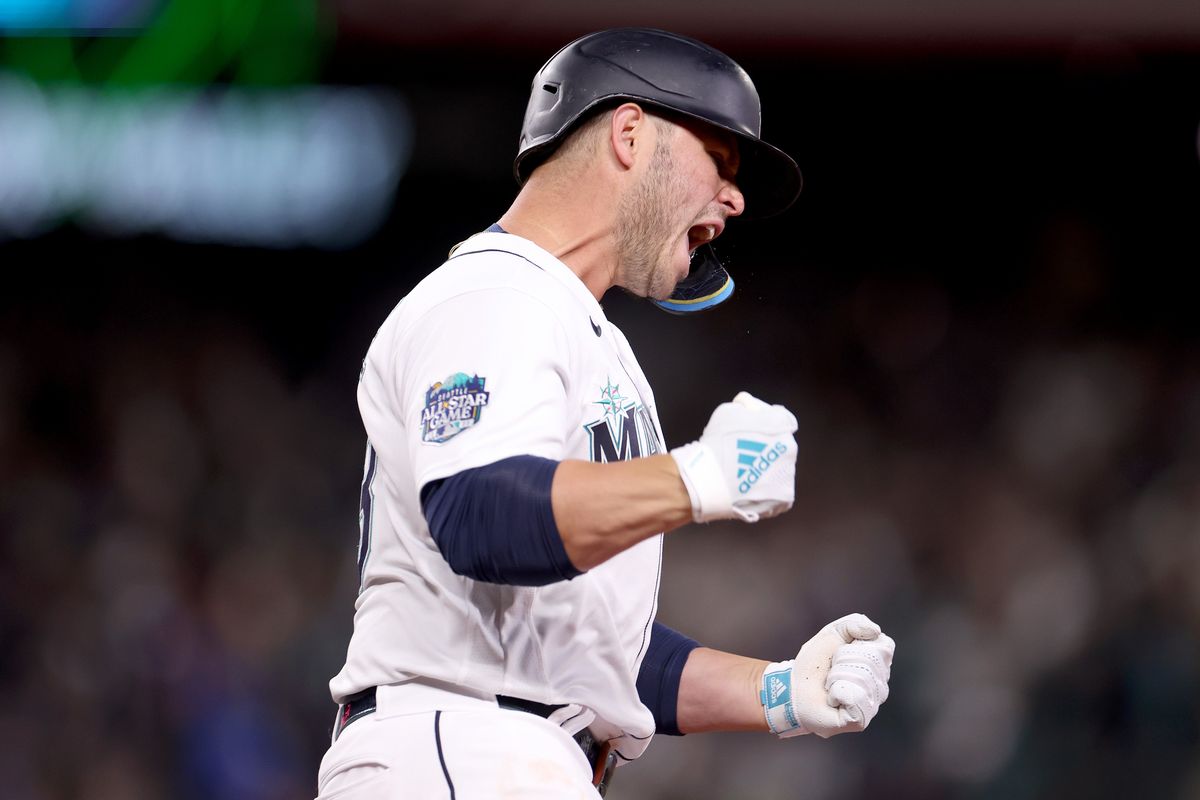 Seattle's Ty France celebrates his three-run home run against Cleveland during the eighth inning on Thursday. (Steph Chambers)
For the folks that determine the individual player ratings for the popular video game "MLB The Show," Ty France has a message for you — improve his ratings … now.
Hours before he was the opening day hitting hero for the Mariners in their 3-0 victory over the Guardians, breaking up a scoreless game that was giving the crowd of sold-out 45,268, uncomfortable déjà vu of the last game of played T-Mobile Park, which ended in frustrating defeat, the amiable France was at his locker venting his frustration.
His player ratings on "MLB The Show" were brought up to him, including his speed of 11 out of 100. And that as a 70 out of 100, he is a bronze level player.
"I stopped playing because they were all way too low," he said half joking/half serious. "You can tweet that."
France then went out and delivered a performance worthy of such a ratings adjustment.
After seven frustrating innings of stranded runners, lost opportunities and no runs, France drove in the only runs in the game, smashing a deep fly ball over the wall in right field off Cleveland reliever James Karinchak to send an already worked up crown into a frenzy.
"I knew I didn't hit it great," France said. "Especially from the at-bat before, I hit that one really good and I thought I got that one. So if that one didn't go out, I wasn't really sure the one that actually did go out was going to."
On a chilly night with the roof open, several hard hit balls that seemed like homers ended up as outs.
"Oftentimes he makes it look easy," manager Scott Servais said. "I know how he does it. But he's not in a hurry to hit. He's not trying to pull the ball. It's hard to get a ball out of here to the opposite field, especially as cold as it was tonight when the wind gets blowing in there. Off the bat, I definitely thought it had a chance. We needed a big hit. We had the right guy up there and he came through."
Karinchak, a twitchy right-hander for Cleveland who had a reputation for taking too long between pitches, was clearly bothered by an early-pitch clock violation. It energized the crowd and left them counting down the final seconds each pitch after.
A controversial walk where J.P. Crawford checked his swing but appeared to hit the ball only seemed to bother him more. After getting a 2-2 count to Kolten Wong on four pitches, he couldn't put him away and eventually hit him on a 3-2 pitch to bring France to the plate.
"We've seen Karinchak a lot in the past," Servais said. "He has a routine, a very lengthy routine, and he's had to try to make adjustments with the things he does things, like the ball flipping and everything else. He was a little bit out of whack. It's a credit to our crowd. They got loud. They made it hard for him to focus and concentrate. That's truly the impact home-field advantage can make in our game. Hats off to them. It made a huge difference in the ballgame today."
It was France's third hit in a game where the Mariners had seven total. He also had a single in his first at-bat and a double to deep center field that might have verified the low speed ratings.
"Was I safe?" he said.
As for the ratings, France jokingly lobbied for himself.
"I think we shouldn't bump those ratings a little bit," he said. "I think I should at least be a gold guy. I'm gonna need you to tweet that out for me."
Meanwhile starting pitcher Luis Castillo and the Mariners pitching staff performed up to their ratings and expectations, which are above bronze.
Castillo tossed six shutout innings, allowing just one hit with no walks and six strikeouts. The one hit made a packed stadium and nearly every Mariners fan watching on television gasp in terror.
Leading off the third inning, rookie outfielder Will Brennan ripped a 96-mph line drive right back at Castillo's face. With minimal time to react or get his hands up to catch it, Castillo instinctively turned his head. The ball glanced off his head and clipped his dreadlocks, loosening the ponytail and knocking his hat to the ground.
"It was 50-50, 50% head and 50% hair," he said through interpreter Freddy Llanos. "It was scary. It was coming so fast you can't really see it."
The Mariners staff was on the field immediately to see if Castillo was hurt. After a brief conversation, a resituating of his dreads and readjustment of his cap, Castillo tossed a few warm-up pitches and pronounced himself ready to resume.
"When the ball hit me, I realized I was OK right away," he said. "Normally when you get hit in the head or something you feel dizzy, but I felt good. I was able to react and see where the ball went."
He struck out Mike Zunino, Myles Straw and Steven Kwan to end the inning and didn't allow another base runner the rest of his outing.
Before the game, manager Scott Servais made it clear that he wouldn't push Castillo to 100 pitches. With Castillo at 76 pitches and the Guardians' 2-3-4 hitters coming to the plate for the third time in the game, Servais went to his bullpen.
Of the pitchers to toss six-plus scoreless innings on opening day, Castillo joined Felix Hernandez, who did it in 2013 and 2007 and Randy Johnson in 1995.
"He is 'The Rock,'" Servais said referencing Castillo's nickname. "He's some kind of consistent, his demeanor, his confidence and belief in his stuff and what he does out there. It's exactly the type of guy you want leading your pitching staff."
Matt Brash worked a scoreless seventh inning, flashing his usual nasty stuff. Paul Sewald handled the eighth without incident. It got a little tense in the ninth when Andres Munoz allowed a single to Amed Rosario and a double to Jose Ramirez with two outs to bring the tying run to the plate in the form of hulking Josh Bell. But Munoz got his first save of the season, coaxing a ground ball to France at first base to end the game.
Local journalism is essential.
Give directly to The Spokesman-Review's Northwest Passages community forums series -- which helps to offset the costs of several reporter and editor positions at the newspaper -- by using the easy options below. Gifts processed in this system are not tax deductible, but are predominately used to help meet the local financial requirements needed to receive national matching-grant funds.
Subscribe to the sports newsletter
Get the day's top sports headlines and breaking news delivered to your inbox by subscribing here.
---