News > Nation/World
Residents evacuated after train carrying ethanol derails, catches fire in Raymond, Minn.
March 30, 2023 Updated Thu., March 30, 2023 at 8:58 p.m.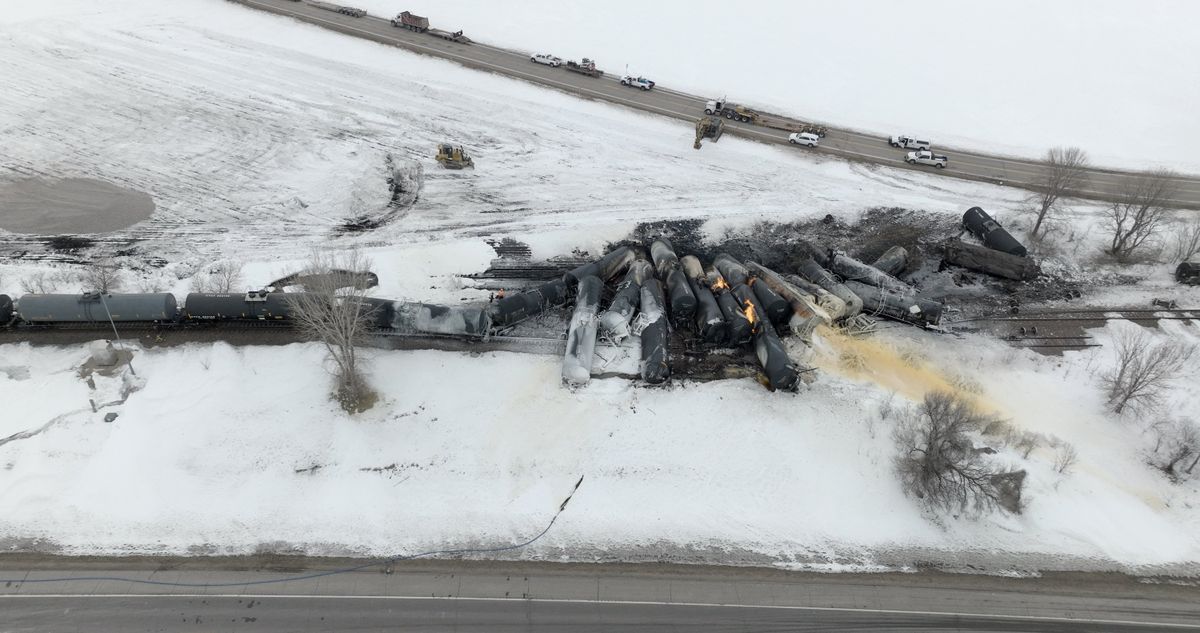 A BNSF train carrying ethanol and corn syrup derailed and caught fire in the town of Raymond, Minnesota, early on Thursday, March 30, 2023.   (Mark Vancleave/Minneapolis Star Tribune/TNS)
MINNEAPOLIS – A BNSF train carrying ethanol and corn syrup derailed and caught fire in the west-central Minnesota town of Raymond early Thursday, and residents living near the scene were being evacuated, the Kandiyohi County Sheriff's Office said.
More than 20 tanker cars jumped the tracks on the west side of the community about 110 miles west of the Twin Cities just after 1 a.m., said Lena Kent, a spokeswoman for the railroad.
No injuries were reported and BNSF is sending a team to the scene to assess the situation, she added.
Scores of first responders from several agencies rushed to the scene and residents living with a half-mile of the crash were told to leave their homes.
Christine O'Leary, who lives less than a block from where the derailment happened, was in a deep sleep when her dogs started barking and firefighters pounded on her door and told her to leave the area.
She packed up her two young children and drove to Montevideo to stay with a friend.
"I put my hands over my head and said, 'This can't be happening'," she said. "I wondered if something like this would happen."
O'Leary said the air smelled like "burning plastic." She said she saw a few tankers fully engulfed in flames as she drove safely out of town.
Others who needed a place to go were directed to go to the Central Minnesota Christian School in nearby Prinsburg, Minnesota, said Kandiyohi County Sheriff Eric Tollefson said.
Jon De Groot, superintendent of school, said he wasn't expecting too many people, but more than 150 people came to seek refuge, he said. The school set up tables in the gymnasium, put out mats and provided games and coffee. A nearby church served breakfast to about 100 people still at the school hours after the derailment
"I'm proud of how our community banded together," De Groot said. "We were blessed to be a blessing. Everybody got along."
The Red Cross was also on the scene.
Gov. Tim Walz and State Emergency Management leadership visited the site and met with residents Thursday morning, a spokeswoman for the governor said.
The Federal Railroad Administration was also sending officials to the scene, said U.S. Secretary of Transportation Pete Buttigieg in a statement.
"We are tracking closely as more details emerge and will be involved in investigation," he said.
O'Leary said the crash happened near the city's grain elevator.
No travel was advised within the city of about 800 people while the large fire was being contained and extinguished, he said.
Highway 23, a major route into the town, has been closed between Kandiyohi County Road 1 and Chippewa County Road 1, the Minnesota Department of Transportation said.
Raymond is one of three cities that comprise the MACCRAY Public School District, which will be in session Thursday. With roads closed in Raymond, students who ride the bus will be picked up in two spots only, at 1st and 5th Streets and 2nd and 4th Streets, the district said.
"Any Raymond students who have been displaced during the night will be excused from classes today," the district said in a statement.
The derailment in Raymond comes after several other incidents across the country in recent weeks, including the high-profile crash in East Palestine, Ohio, in which a train carrying hazardous materials derailed on Feb. 3.
There were at least 1,164 train derailments across the country last year, according to data from the Federal Railroad Administration. That means the country is averaging roughly three derailments per day.
Local journalism is essential.
Give directly to The Spokesman-Review's Northwest Passages community forums series -- which helps to offset the costs of several reporter and editor positions at the newspaper -- by using the easy options below. Gifts processed in this system are not tax deductible, but are predominately used to help meet the local financial requirements needed to receive national matching-grant funds.
Subscribe now to get breaking news alerts in your email inbox
Get breaking news delivered to your inbox as it happens.
---