Sports > Area sports
Spokane MMA fighters Gillian Noll, Melissa Amaya to clash during Combate Global's Miami card
March 30, 2023 Updated Thu., March 30, 2023 at 5:02 p.m.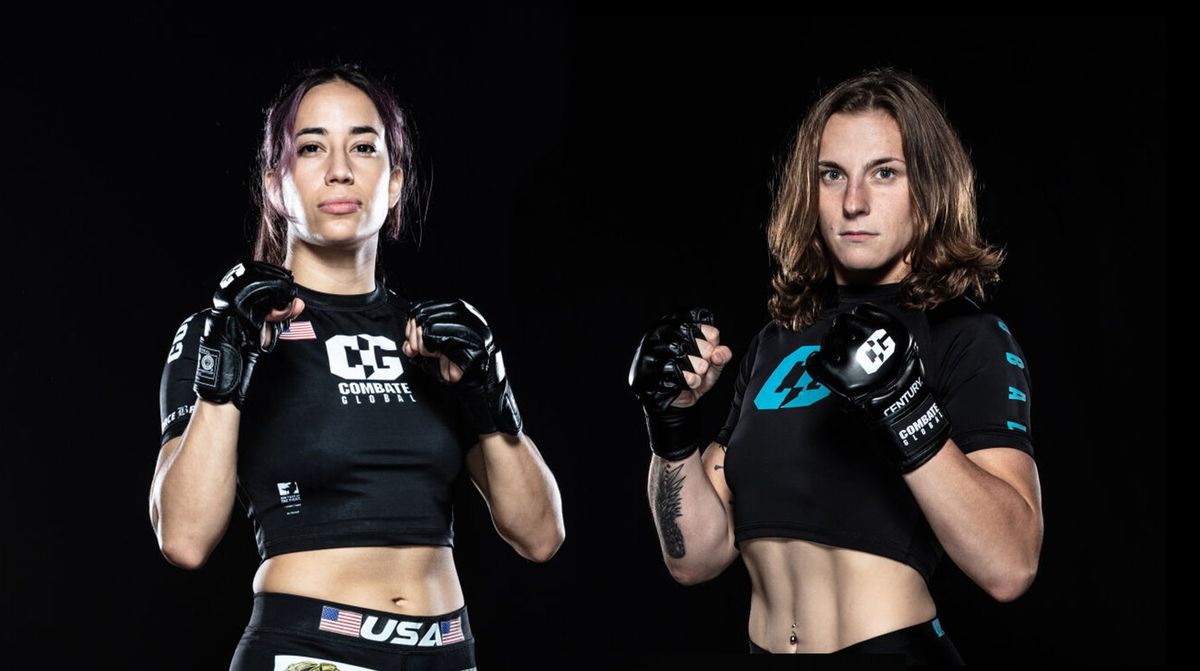 Spokane flyweights Melissa Amaya, left, and Gillian Noll fought each other during a Combate Global card on Saturday in Miami.
Flyweight mixed martial arts fighters Gillian Noll (3-2) and Melissa Amaya (5-0) of Spokane will face off against each other on Combate Global's card taking place Saturday in Miami.
"(I) find it hilarious that two Spokane, Washington, fighters are going down to Miami to fight each other even though we're like 10 miles away from each other," Noll said.
When Noll, a Coeur d'Alene native, first started MMA at 15, she identified herself as an outcast, but when she walked into her first gym, she found her home. Despite the "sweaty and gross" people rolling on the floor, Noll found power and elegance in the art.
As soon as she found out that she liked it and saw she could make it her career, the decision was easy: She was going to make MMA her life.
Her debut amateur fight in 2013 ended in a loss, but that did not prevent her from entering the cage again. She soon racked up a 7-3 amateur record before transitioning to her professional career. Before she signed on to Combate Global, she was 1-1.
Because her head coach, Pablo Alfonso, is originally from Florida, he had connections with Combate Global and she was soon signed with the organization.
On April 29, she lost her Combate Global debut fight in Round 3 via unanimous decision. She came back from the loss a few months later in June with a knockout win in Round 2 and a win via split decision in October .
Noll's upcoming fight with Amaya will be her fourth fight with the organization .
"She's a phenomenal fighter and someone I've been wanting to fight because of who she is," the Coeur d'Alene High graduate said. "She has great management – she's 5-0 for a reason, because she refused to fight me."
Amaya's MMA journey has been atypical. Fighters usually start as amateurs, but Amaya's fight debut was also her professional debut with Combate Global. She said most fighters start fighting because of a passion and a dream for the sport they already had.
"What drives me is just the fact that life is so short," she said. "I have this gift, and it would just be crazy for me not to explore and to do the best I can in this and see what I can do."
Amaya first was introduced to the sport through a kickboxing class a friend invited her to try.
"Literally from the first day, I just started going religiously, every single day," the Chaparral, New Mexico, native said.
When she started, she had no interest in fighting. That changed when she moved to Spokane after her husband was stationed at the Fairchild Air Force Base.
Wanting to continue her hobby, Amaya started at a boxing gym but quickly decided she needed something more than just striking.
After looking up MMA gyms, she tried a class at Rick Little's Sik-Jitsu Fighting Systems.
"It was history from the first day," Amaya said.
Seeing her potential, Little pushed her to fight.
"If I believe someone can compete, I will turn them pro," Little said.
"He (was) like, 'I think you should definitely do this – you're gonna be pro,' and I was like, 'OK, if I kind of just let go and let God and just let it happen, you know,' " Amaya said. "I'm kind of still in that little momentum of just seeing where it goes."
Amaya's debut fight in 2021 resulted in a Round 1 knockout win. Over her next four fights, she dominated in the cage, leading to an undefeated career.
Noll is looking for the Combate Global flyweight title. As the No. 2 fighter in the division, Amaya stands in her way.
"It's time for us to fight, Melissa," the No. 8-ranked flyweight said. "I have to beat you. You are in front of my title."
Both fighters are excited to mix things up and put on a show.
"I feel like I'm the fastest, strongest and better IQ than I've ever been," Amaya said.
"I think this is a perfect fight, too, because Gillian is a brawler, and she's a tough chick. So this is gonna be fun."
Combate Global: Greyson vs Dayron can be watched live on Univision and streamed on Paramount+ with the main card starting at 10 p.m.
Local journalism is essential.
Give directly to The Spokesman-Review's Northwest Passages community forums series -- which helps to offset the costs of several reporter and editor positions at the newspaper -- by using the easy options below. Gifts processed in this system are not tax deductible, but are predominately used to help meet the local financial requirements needed to receive national matching-grant funds.
Subscribe to the sports newsletter
Get the day's top sports headlines and breaking news delivered to your inbox by subscribing here.
---