Men's Final Four notebook: UConn's Adama Sanogo is dominating the NCAA Tournament … while fasting for Ramadan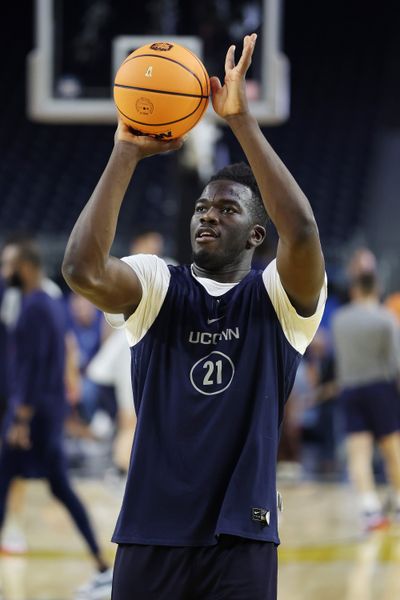 Tribune News Service
About 8 minutes before Connecticut's encounter with Miami in the Final Four on Saturday, Huskies big man Adama Sanogo will down some coconut water and oranges.
It will be Sanogo's first nourishment of the day.
Sanogo, a practicing Muslim, is one of three UConn players who observes Ramadan, a month of spiritual discipline that includes fasting. The others are nonstarters Hassan Diarra and Samson Johnson.
Ramadan started on March 22 and continues until April 20.
It changed Sanogo's diet for the West Regional games in Las Vegas last week and will continue to do so during the Final Four.
Fasting lasts from dawn until sunset.
"I feel it's definitely hard," Sanogo said. "But I feel like the more I'm thinking about it, the more it becomes harder. I'll be fine."
In Las Vegas, Connecticut tipped off against Arkansas in a Sweet 16 game at 4:16 p.m. local time, meaning Sanogo did not have anything to eat that day until after the game.
The 6-foot-9 junior from Mali finished with 18 points and a game-high eight rebounds.
The regional final against Gonzaga started around 6 p.m., and Sanogo ate some fruit at halftime because he didn't want anything heavier on his stomach. He finished with 10 points and 10 rebounds and was named to the region's all-tournament team.
Would-be Husky Wong leads Miami into national semifinal against UConn
The second national semifinal of the NCAA Tournament will be full-circle type of moment for Miami men's basketball guard Isaiah Wong.
When the Hurricanes step onto the floor at NRG Stadium , Wong will be up against the school he chose Miami over – UConn.
"It's a small world, I feel, just (picking) between UConn and Miami, and now I'm playing UConn in the Final Four," Wong said. "It's just, like I said, a small world just having these two teams come and just having these two teams playing against each other."
Wong, a 6-4 junior from Piscataway, New Jersey, was recruited by Huskies coach Dan Hurley while his was playing at Monsignor Bonner High in Drexel Hill, Pennsylvania.
"I got recruited there, and I spent a lot of time thinking about UConn and the decision," Wong said. "And I feel like for me, I have like a lot of great connections with the coach and the assistants and all of them. So, I'd say I have great connections with them."
In 2018, Wong narrowed his list to Miami and UConn.
"It was just close," Wong said of his decision. "And ( Hurley), he showed me a good time over there. I got to meet a lot of people on the team, and they were all great people over there, and he was just a great coach, I felt like."
In the end, Wong committed to the Hurricanes.
Wong is averaging 16.2 points, 4.4 rebounds, 3.2 assists and 1.4 steals for the Hurricanes (29-7).
During Miami's four NCAA Tournament games, he's averaging 16.5 points, 5.8 rebounds, 1.5 assists and 1.0 steals.
San Diego State's success begins, ends with defense
San Diego State is on this magical basketball stage, in this historic moment, because it rarely allows opponents to shoot and score at their usual clip.
The Aztecs will test their defensive prowess against Florida Atlantic in one national semifinal .
Assistant coach Dave Velasquez said it best: You're not coming out of a game if you miss a shot for the Aztecs. You are coming out if you're supposed to go over a ball screen, instead go under it and the other guy hits a 3.
"It's that simple," said Velasquez, who oversees the team's defense. "It's pretty black and white for us. You either did what you're supposed to or you didn't. They know we can always win with defense. Defense travels."
San Diego State does daily defensive drills under coach Brian Dutcher that it did under Steve Fisher, who retired six years ago. The same ones. Over and over and over.
"It's just part of our culture," senior guard Adam Seiko said. "I wanted to be here because I took defense seriously and I saw how the Kawhi (Leonard) teams defended. It's sometimes hard to remain so consistent. A lot of guys in college play hard but are not smart.
San Diego State has limited four NCAA opponent to 57 points a game. Alabama, the No. 1 overall seed in the tournament, shot just 3 of 27 on 3-pointers against the Aztecs in the Sweet 16. Creighton was 2 of 27 in the Elite Eight.
Former Husky Gaffney relishes Florida Atlantic's run to Final Four
When Jalen Gaffney transferred from the UConn men's basketball team to Florida Atlantic prior to the 2022-23 season, he never dreamed that a potential matchup with the Huskies in the national championship game would be a possibility.
Heck, he didn't even think the Owls making the Final Four would be a possibility.
"I knew we were going to be a good team for sure," the junior guard said. "They had a lot of guys coming back and we have a great coaching staff. So, I knew we were going to be a good team, I knew we could definitely go for a conference championship, I knew we could probably make the NCAA Tournament. But to get this far, it's crazy. I don't really think any of us thought we could do this. But we're here now."
Gaffney spent the first three seasons of his career with the Huskies. He played in 87 games at UConn and averaged 4.5 points in 16.8 minutes per game.
He said that Florida Atlantic was the only school that he took an official visit to after entering the transfer portal in March 2022.
"I think the team that they had, the coaches," Gaffney said on what caught his interest. "I give a lot of credit to them. They really developed our players and they really care for the players as well."
The Columbus, New Jersey, native has played in 37 games for the Owls this year, making 23 starts.
He's averaging 4.4 points, 2.7 rebounds and 2.4 assists in 22.6 minutes per game.
---