News > Spokane
Spokane Valley celebrates 20-year anniversary
Fri., March 31, 2023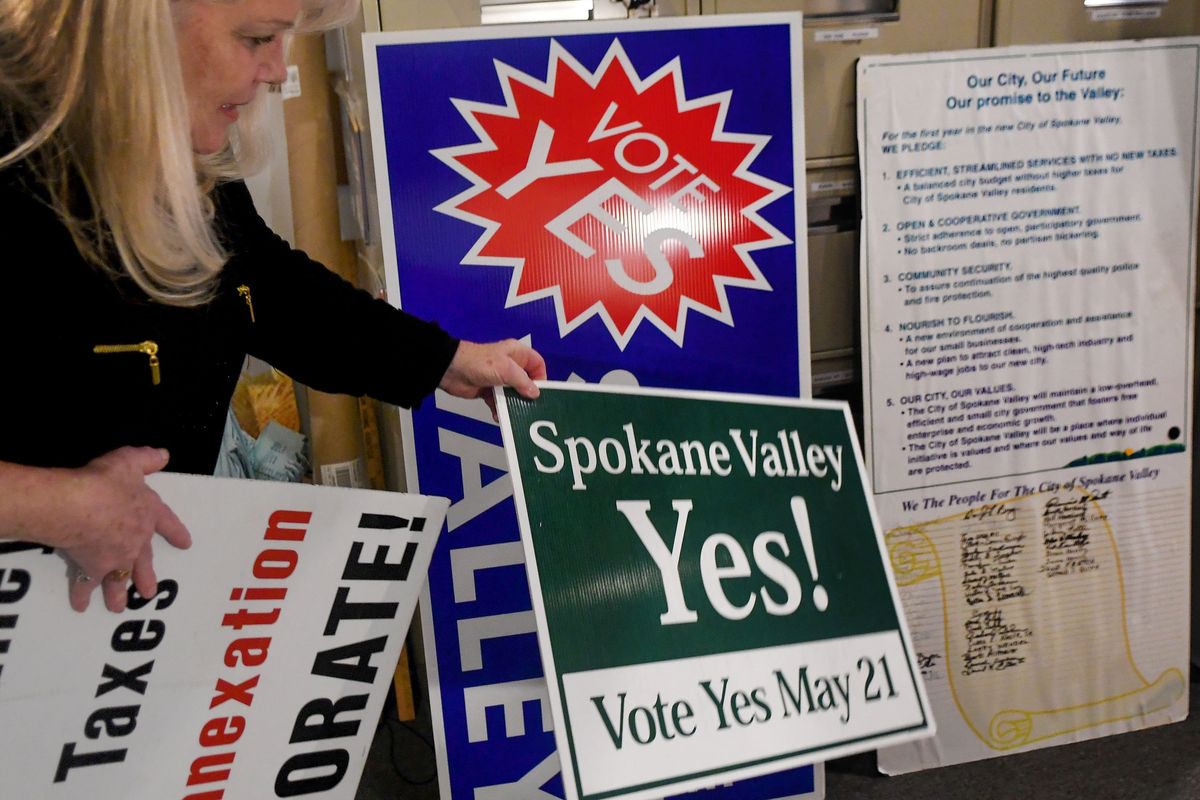 Spokane Valley Heritage Museum executive director Jayne Singleton looks through 20-year-old signs from the anniversary of the existence of the City of Spokane Valley on March 15. (Kathy Plonka/The Spokesman-Review)Buy a print of this photo
Spokane Valley almost didn't happen.
Starting in the 1920s, many Valley residents had campaigned for cityhood and come up short. A handful of incorporation efforts failed in the 1990s alone. The 2002 vote could easily have become just the latest attempt to fail at the ballot box.
It only takes one successful vote to make a city, though.
On May 21, 2002, 51% of Valley voters decided they were ready to form their own government. Citizens picked their inaugural City Council that fall, and Spokane Valley officially incorporated on March 31, 2003.
Ever since it was born 20 years ago, Spokane Valley has been an oddity among Washington's largest cities, a 100,000-resident municipality without a skyscraper or downtown in sight.
To an outsider driving along Interstate 90, it's virtually impossible to tell where Spokane ends and Spokane Valley begins, but Valley leaders love to emphasize how different their city is than its bigger neighbor to the west.
During its brief existence, Spokane Valley has developed a reputation for lower taxes, limited government and fiscal conservatism. Those ideals were part of why the city formed.
Cary Driskell, a longtime Spokane Valley city attorney who helped lead the incorporation effort, said the pitch to voters was simple: a city would do a better job than Spokane County at providing fundamental government services, and it could do it without raising taxes.
"We made a real effort to push on those things that were more pragmatic, kind of real-world issues," Driskell said.
The city of Spokane's behavior helped shift public opinion, too. In the early 2000s, the city sought to annex Yardley, an area of west Spokane Valley rich in big box stores that generate massive sales tax revenues.
Many in Spokane Valley had no interest in joining Spokane.
"I think that's what finally drove the vote to incorporate," said Diana Wilhite, one of the first Spokane Valley City Council members and a former mayor.
City Councilman Ben Wick, who helped gather signatures for the incorporation effort when he was a high school student, said he remembers feeling a sense of excitement and opportunity in the early days of the new city.
"It was amazing to think of the blank slate," Wick said.
Politicians used that blank slate to form a minimalist city government with about 100 employees and a $111 million annual budget to Spokane's $1.2 billion.
"I think fiscal responsibility is kind of a core value to our community," Wick said.
City leaders say they're proud the Valley remains a contract city, outsourcing many responsibilities that other local governments perform in-house. For instance, the Spokane Valley Police Department is part of the Spokane County Sheriff's Office.
Dennis Hession, a former Spokane mayor and city councilman, said he believes contracting with the county for law enforcement was a mistake. Sharing a unified, metropolitan police department and fire department with Spokane would have come with a host of advantages, he said.
"I don't think that was the smart way to do it in terms of urban growth and urban planning, I just don't," Hession said. "But the Valley is a different place than the city of Spokane. The people in the Valley like to be Valleyites. I can't argue with that."
Despite its low taxes, limited government and myriad quirks, Spokane Valley lacks a clearly defined identity 20 years after its formation.
"The Valley was a semi-rural, suburban area, and we were really a land of large lots, with horses and llamas and big gardens and trees," Wilhite said. "We really don't have an identity, per se, and I think that's one of the things we still struggle with."
While subdivisions and apartment complexes have taken over orchards and farmland, many say the city hasn't lost its agricultural roots.
"We were kind of the hub in the region that basically fed others around us," City Councilman Tim Hattenburg said. "That identity will never go away. You find signs of it all over the place."
Spokane Valley Heritage Museum Director Jayne Singleton, who helped with the incorporation effort, said the city's residents have always had a blue-collar spirit.
"Spokane had the money. The mining magnates, the railroad magnates, building their homes in Spokane – more of a high society culture," she said.
Looking back on the Valley's first 20 years after incorporation, Singleton said she feels the city has delivered on its promise.
"All of the ideas, the plans we had, the vision for what the city could be, by and large became reality."
Local journalism is essential.
Give directly to The Spokesman-Review's Northwest Passages community forums series -- which helps to offset the costs of several reporter and editor positions at the newspaper -- by using the easy options below. Gifts processed in this system are not tax deductible, but are predominately used to help meet the local financial requirements needed to receive national matching-grant funds.
Subscribe now to get breaking news alerts in your email inbox
Get breaking news delivered to your inbox as it happens.
---