News > Business
Amazon taps businesses in rural areas to deliver packages
Wed., May 10, 2023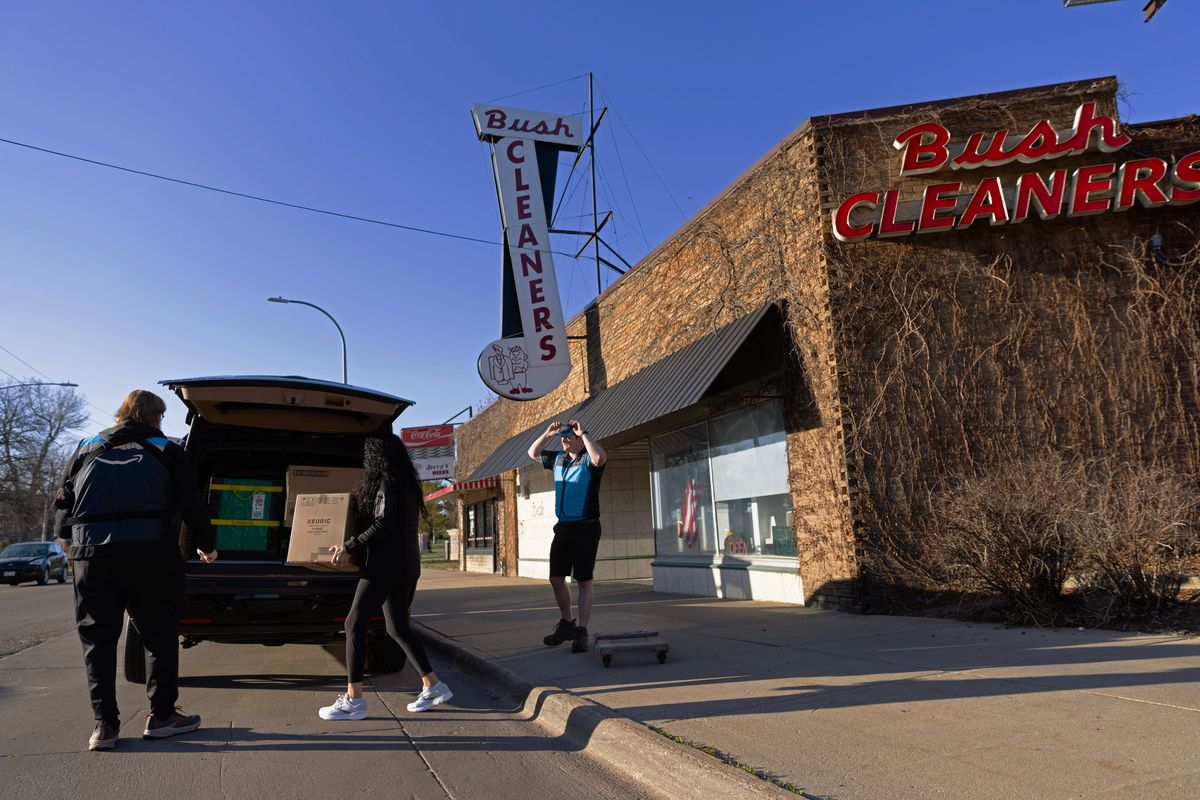 Todd and Liz Niggeling load a shipment of Amazon packages from Jared Sehr of Falls Delivery, at right, outside the Niggelings' cleaning business in Sioux City, Iowa. The Niggelings deliver packages through Amazon's delivery hub program. (Rebecca S. Gratz/For The Washington Post)
Every morning, a box truck drops up to 120 Amazon packages off at Ed Wojtan's house in Houghton Lake, Michigan.
Wojtan loads the packages into his personal truck and delivers them to his neighbors in the remote vacation town about 120 miles north of Lansing. He makes $2.50 per package, delivers an average of 50 a day, and is almost always done by 10 a.m.
A retired county worker who now runs an Airbnb and helps with his neighbor's construction business, Wojtan is also a participant in Amazon's growing Hub Delivery Partner program.
The program is meant to improve the efficiency of Amazon's delivery network in rural areas. Rather than pay contractors to drive between far-flung houses and down long country driveways, Amazon instead is using small businesses like auto shops, florists and pizzerias as centralized drop-off points and paying business owners to drive the last mile to deliver those packages.
Over the past five years, Amazon has built a logistics network that rivals UPS, delivering millions of packages throughout the country every day. To do that, it uses a network of third-party contractors that operate out of Amazon-owned delivery stations. But in hard-to-reach rural areas, Amazon has often been forced to rely on competitors like FedEx and the U.S. Postal Service to get packages delivered.
Recently, Amazon has acknowledged that its delivery network grew too fast as online shopping exploded during the coronavirus pandemic, and the Seattle-based online marketplace has begun looking for ways to deliver packages faster, cheaper and more efficiently. The hub delivery program could help Amazon achieve that goal while reducing its reliance on competing delivery services. But the program also allows the corporate giant to shift risk and responsibility onto small businesses, some of which say the deal Amazon is offering isn't as appealing as advertised.
"We tapped into local businesses, with a strong understanding of the local roadways and communities, to assist with deliveries," Amazon spokeswoman Maya Vautier said in a statement. "The program is successful for Amazon, customers and the local businesses, who are able to treat this as a side hustle to receive incremental income." She said Amazon works with third-party carriers and a network of contractors, and continues to experiment with new delivery models.
Amazon founder and former CEO Jeff Bezos owns the Washington Post.
For Wojtan, 59, being part of the delivery program "couldn't have worked out any better." The money he earns from Amazon supplements the income he gets from Airbnb and the pension he has as a government retiree. Plus, the driving keeps him busy.
"We do pretty good," he said. "I just enjoy working. I'm a workaholic."
But not every small-business owner who got the invite from Amazon felt that way. In March, Amazon employees approached Marc Bowker, who owns a comic-book store in Lima, Ohio, offering him and his teenage son $2.50 per package to deliver for Amazon when business was slow at the store.
Bowker immediately shot them down. "To me, it doesn't make any sense whatsoever as a business that sells printed books," he said. "Why would I sign up to ship Amazon after they've decimated the small-business landscape?"
"The compensation is not worth getting into bed with the devil," he continued.
Amazon has been experimenting with the small-business delivery model for years, initially overseas, Vox first reported, bringing hub delivery to the United States in 2020.
The program hasn't been successful for all its participants. One small-business owner, who joined the hub program about a year ago and spoke on the condition of anonymity because they're still enrolled, said it has been more work and less income than they anticipated.
Rather than the two hours Amazon advertised, this person said it frequently takes four or five hours to complete their assigned route. Driving on gravel roads for several hours a day, seven days a week put so much wear and tear on their vehicle that they've needed to replace their tires twice this year. As more neighboring businesses have joined the hub program, the number of packages per day has decreased and the routes have become less efficient, cutting into drivers' take-home pay.
"It needs to be something that's more reliable," the person said. "The rural deliveries don't pay enough."
While Amazon is aware of this participant's complaints, the company hasn't be able to resolve the routing and distribution issues in a way that satisfies all the local hub partners, the person said. Overall, the person said, the program "is not what it was sold as."
Amazon's Vautier said route length can vary based on location. "We've heard from hundreds of partners that they love this program, and while partner experiences are going to vary based on location, we appreciate their feedback so we can build the best possible experience for them and our customers," she said. "Partners can notify Amazon at any time if they would like to opt out of Amazon Hub Delivery."
The e-commerce giant's existing delivery network allows it to maintain control over its business while passing liability for car accidents or employment issues onto its contractors. It also uses gig-economy-style Amazon Flex workers in some areas who deliver packages in their personal cars. Participants in the hub delivery program have to use their own business license and insurance, which allows Amazon to avoid some overhead costs and legal headaches.
"It's transferring all the risk and liability to these small businesses," said Veena Dubal, a professor at University of California College of the Law, San Francisco. "All the fluctuating risks of employment, car expenses, gas and accidents are on the small business."
To find participants as the hub delivery program expands, Amazon hired field reps and joined chambers of commerce across the country. One Amazon employee working on the program, Abbey Keane, described it in a LinkedIn post as a new program that "partners with small businesses and farm entities to deliver Amazon packages in rural areas."
Amazon Field Acquisition Manager Todd Ghys, who is working on expanding the hub program in Missouri, said in a LinkedIn post that the program will "make a difference in local, rural communities."
"Amazon supports small business," Ghys told the Chamber of Commerce in Marshall, Missouri, "Amazon itself is the ultimate small-business story, as it started by selling books out of a garage. We want folks to buy local first. If they can't, then buy from Amazon."
Amazon has hosted hub events for small-business owners in towns like Marshall; Panama City, Florida; Grayling, Michigan; and Sioux Falls, South Dakota. It is operating in 12 states, including Alabama, Michigan, Arkansas, Mississippi, Minnesota, Oklahoma and Nebraska. According to its website, it also wants small businesses to deliver packages in Manhattan. To join the program, businesses must pass a screening, hold the appropriate business license and insurance, and be available seven days a week.
At first, making deliveries every day sounded like a lot to Todd Niggeling, who runs a dry-cleaning business and owns multiple laundromats with his wife near Sioux City, Iowa. But he likes getting up before sunrise to deliver packages to neighbors. "It feels so productive," he said. "It's truly Shangri-La."
Amazon drops off about 40 packages a day at Niggeling's dry-cleaning business, which means he makes around $700 a week, before accounting for fuel and vehicle maintenance costs. Around the time he started delivering for Amazon, Niggeling bought a farm with his son. The money he earns usually covers the mortgage on the property, a place where the family can fish and hunt together, which he hopes to leave to his grandchildren someday.
Niggeling has gotten at least half a dozen other people in on the hub program, including his daughter. He said it's especially beneficial for small-business owners whose industries have natural ebbs and flows, like his cousin David Fisch, who owns Fisch Funeral Homes in Remsen, Iowa.
"He might go a month without a body," Niggeling said of his cousin. But thanks to Amazon, even "when your business lags … every Sunday night, there's a deposit in there."
Not every small-business owner has that problem. Beth Weidner, who owns Weeds Greenhouse and Gardens in Chillicothe, Missouri, declined to participate in the hub program. "I don't have time to do deliveries for my own business," she said, "let alone add on their deliveries."
Weidner heard about the program through the local Chamber of Commerce, which said in a Facebook post that participants can make up to $45,000 a year. But Weidner was skeptical of Amazon's claims.
"They put a spin on it that it's going to help local business, but all it is is looking for delivery people for their business," she said. "It's going to benefit Amazon far more than it will benefit the local community."
Niggeling, though, said the program is helping him and his self-employed friends and neighbors, whom he estimates could earn a combined $320,000 from Amazon this year.
"We're taking that money away from UPS and away from FedEx, and it's going to us, the small-business man," he said.
Local journalism is essential.
Give directly to The Spokesman-Review's Northwest Passages community forums series -- which helps to offset the costs of several reporter and editor positions at the newspaper -- by using the easy options below. Gifts processed in this system are not tax deductible, but are predominately used to help meet the local financial requirements needed to receive national matching-grant funds.
Subscribe now to get breaking news alerts in your email inbox
Get breaking news delivered to your inbox as it happens.
---