SCC's new sources of natural fertilizer soon will be a main course for culinary students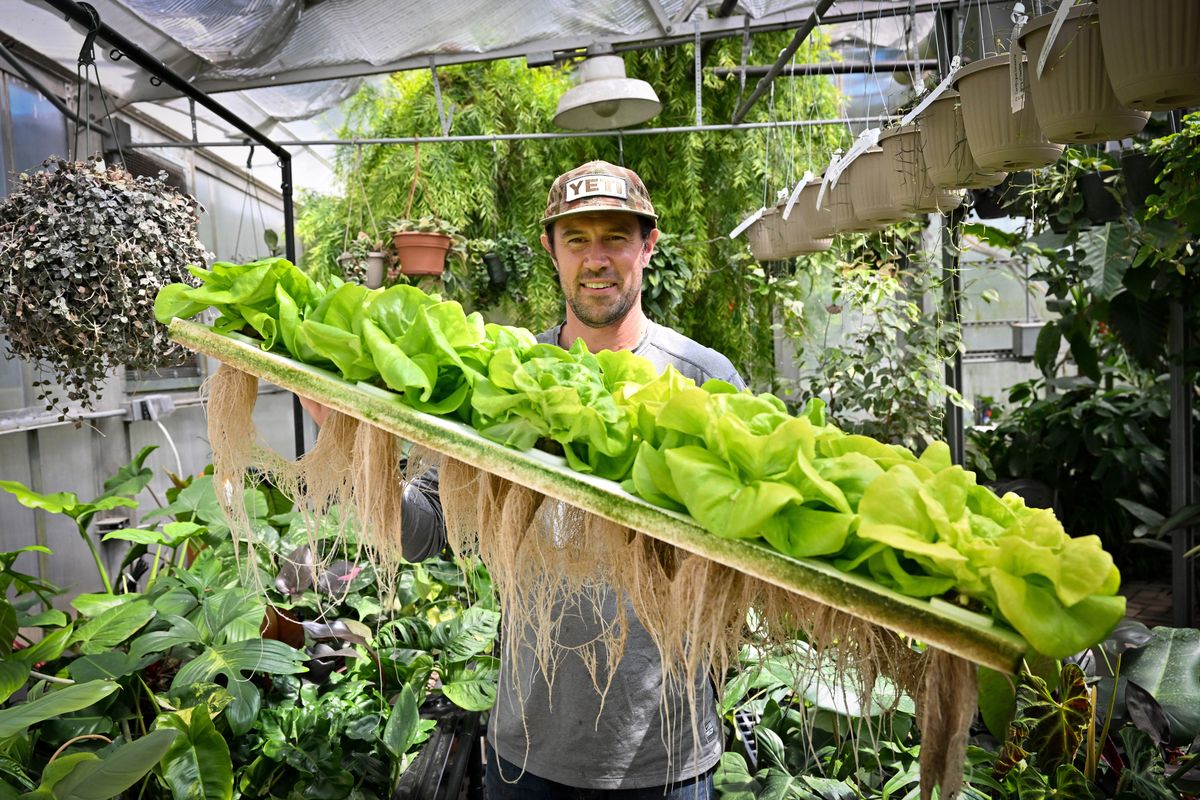 Before they land on dinner plates, fish raised at Spokane Community College will help grow the greens for a side salad.
A plant sale Saturday will include lettuce grown in a hydroponics system fertilized with fish waste as well as a wide variety of other flowers and house plants grown in the college's greenhouses.
The practice is known as aquaponics and greenhouse manager Tyler Beasley started experimenting with it earlier this year.
"The students do hydroponics as a first year lab exercise," he said. "I was always impressed by how easy it is."
He had the automated system custom designed and then bought 55 tiny blue tilapia fish. They've been growing ever since, and the poop they leave in the water is treated with a special bacteria to break it down into nitrate, which fertilizes the lettuce. Since then Beasley has learned how to deal with issues like root rot and calcium deficiency.
"There's already been a half a dozen learning opportunities," he said.
And the aquaponics program will also benefit at least one other program on the SCC campus. Blue tilapia are a common fish in restaurants, so as the fish get too large for the tank they will be given to the SCC culinary program and replaced with new, smaller fish to restart the cycle.
Once Beasley learns the best way to use the system, it will be integrated into the greenhouse and nursery management classes SCC offers. The college has been offering a degree in the field since 1970, and there are three greenhouses with 6,000 square feet of growing space on campus dedicated to growing a large number of plants to sell as the students learn about propagation, growth, pest control and more.
Lead instructor David Prins said aquaponics is a good fit with the program.
"I try to get the students growing in as many different ways as possible," he said. "I don't think there's any place in the country like this, really."
As part of the program, students don't just grow common plants and flowers. There are always a few rarely seen items like night blooming jasmine or sweet night phlox. "I don't think a lot of programs do this much," Beasley said. "We're throwing a bunch of cool crops in there."
In the spring there is a plant sale to sell house plants, Mother's Day baskets and flats of flower, herb and vegetable starts. In the winter, poinsettias are grown and sold.
"Everything grown here is sold here," Beasley said. "We do a lot in a small facility."
This year's spring plant sale will wrap up on Saturday from 9 a.m. to 5 p.m. in Building 10 on the north side of campus off Ermina Avenue. The students also operate The Greenery, a small shop that sells plants, trees, shrubs and hydroponically grown lettuce year-round from 10 a.m. to 2 p.m. Tuesday through Friday. "We have a lot of loyal customers," he said. "Some I see every week."
The plant sales make the greenhouse program self-sustaining, Beasley said. "All the proceeds from the plant sales go right into the greenhouse budget," he said. "This is my 13th year, and I've never had to ask for funding."
---