Rui Hachimura and Domantas Saboinis add to Gonzaga's best individual playoff performances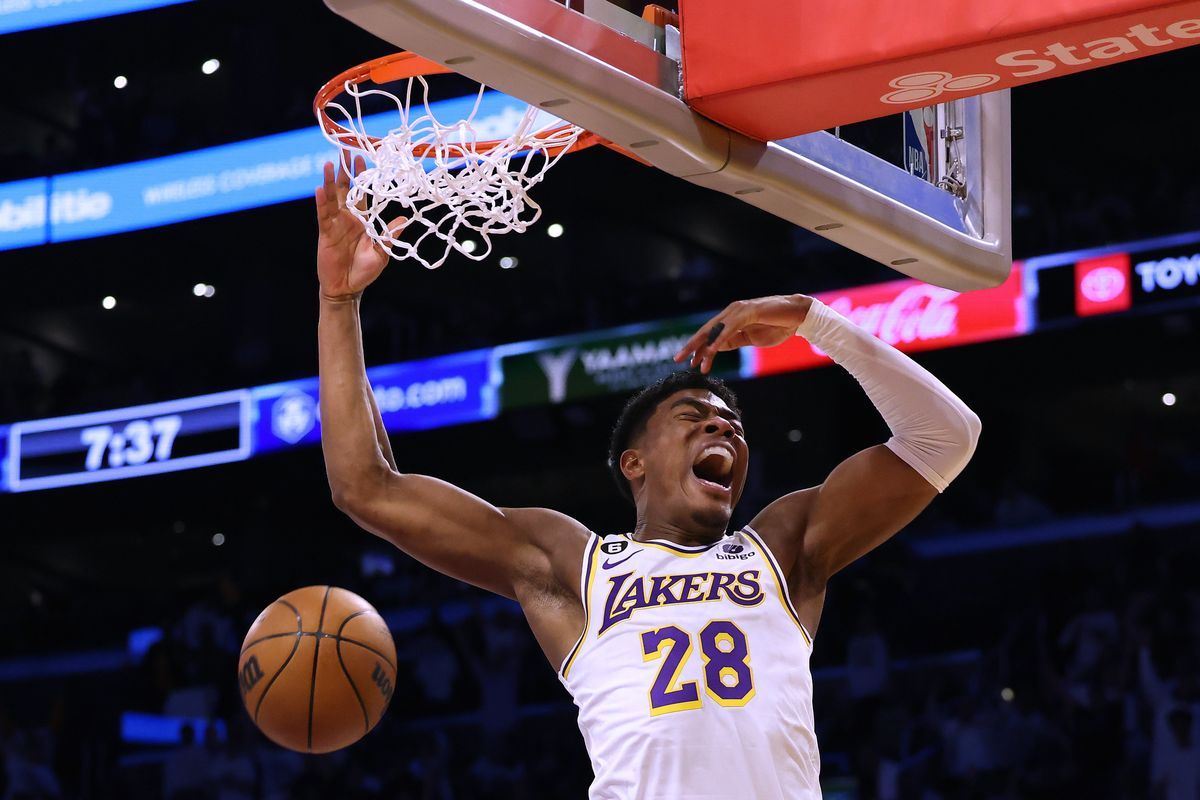 The Los Angeles Lakers acquired Rui Hachimura from the Washington Wizards in late January, two weeks before the trade deadline, as a way to bolster their roster while making a push for the playoffs.
Hachimura played a role in helping Los Angeles secure a play-in berth as the No. 7 overall seed in the West – the Lakers were 21-12 in regular-season games in which the former No. 9 overall draft pick appeared – and he's moved on to providing valuable minutes in the postseason, averaging 14.5 points and 4.7 rebounds during a first-round series win over the Memphis Grizzlies.
The former Gonzaga standout joined Magic Johnson as the only Lakers reserves to post consecutive 20-point games in the postseason and Hachimura's 29-point effort in Game 1 against Memphis matched Mychal Thompson's 35-year-old record for the most points scored by a bench player in the playoffs.
It also made Hachimura, in his fourth NBA season, the first former Zag since John Stockton to score at least 29 points in a playoff game.
In the wake of Hachimura making postseason history with the Lakers, we decided to take a look back at five of the best individual playoff performances by Gonzaga. Stockton, who appeared in 182 postseason games and produced more than 60 playoff double-doubles, probably warrants a list of his own, so ours is confined to the modern era (2007-present).
Rui Hachimura
Lakers vs. Grizzlies (Game 1, April 16): The Lakers pared down their rotation as a first-round series with the Grizzlies progressed, and Hachimura's role diminished as a result, but the Japanese forward set the tone in Game 1 by scoring a game-high 29 points to help Los Angeles steal a 128-112 road win at FedEx Forum. He made 11 of 14 shots from the field and set a career high by going 5 of 6 from the 3-point line. Hachimura fell one short of tying his career high – he's scored 30 points on four occasions – and pulled down six rebounds in 30 minutes on the floor. The 25-year-old followed that up with 20 points and five rebounds in a Game 2 loss.
Domantas Sabonis
Kings vs. Warriors (Game 2, April 17): There could have been a reunion of former Zags in the Western Conference semifinals, but Sabonis' Kings couldn't stave off the Golden State Warriors to link up with Hachimura's Lakers. Sabonis was inconsistent throughout the seven-game series, but Sacramento got a vintage performance from the Lithuanian big man in a thrilling Game 2 that will be remembered for Sabonis' fourth-quarter dust-up with Golden State's Draymond Green. Sabonis finished both 8 of 12 from the field and the free-throw line to finish with 24 points, nine rebounds and four assists, helping the Kings win 114-106 and race out to a 2-0 series lead. With approximately 7 minutes remaining in the game, Sabonis fell to the floor and pulled on Green's leg, prompting the Golden State forward to step on the Sacramento forward's chest. Green was assessed a flagrant 2 foul, ejected from the game and suspended for the ensuing Game 3 in San Francisco.
Kelly Olynyk
Celtics vs. Wizards (Game 7, May 15, 2017): The 32-year-old, who's played for five NBA organizations, has an impressive playoff background, appearing in 54 career postseason games – all with the Boston Celtics and Miami Heat. Olynyk, who's come off the bench in all but two games, has scored 26 points in the playoffs on two occasions, but we're highlighting his performance for Boston in Game 7 of the 2017 Eastern Conference semifinals against Washington. The 6-foot-11 center/forward scored 14 of his 26 points in the fourth quarter and had 11 of the team's 13 at one point to help the Celtics extend a four-point lead to double digits in Boston's 115-105 victory. Olynyk finished 10 of 14 from the field and added four rebounds to help the Celtics move on to the Eastern Conference Finals, where they lost in five games to LeBron James' Cleveland Cavaliers.
Brandon Clarke
Grizzlies vs. Timberwolves (Games 5 and 6, April 26 and 29, 2022): It was too hard to choose between Clarke's 21-point, 15-rebound double-double in Game 5 against Minnesota during the first round of the 2022 playoffs or his effort in a closeout win three days later – 17 points, 11 rebounds, five assists and three blocked shots – so we lumped them together. Clarke, who'd played less than total 10 minutes during the 2021 playoffs, emerged as one of the best players off Memphis' bench one year later, averaging 16.5 points and 9.0 rebounds in the Minnesota series. The 6-8 forward averaged 26 minutes off the bench through the first four games, but he played 33 in Game 5 and 36 in Game 6, managing playoff highs in points (21) and rebounds (15) in a 111-109 win to give Memphis a 3-2 series lead. Clarke delivered again in a 114-106 victory that clinched the series, scoring 17 points while going 7 of 8 from the free-throw line and blocking a playoff-high three shoots.
Zach Collins
Trail Blazers vs. Nuggets (Game 6, May 9, 2019): Collins set playoff highs in a variety of categories during Portland's 119-108 win over Denver in Game 5 to put the Trail Blazers on the verge of a berth in the Western Conference Finals. The former Gonzaga forward came off the bench to play a postseason-high 29 minutes and matched his playoff record by scoring 14 points on 4-of-8 shooting from the floor and 5-of-5 shooting from the free-throw line. Collins' five blocked shots were one short of his regular season-high and he was plus-15 for the game, posting the best plus/minus in 20 career playoff games. Collins logged 23 minutes – the second highest of his playoff career – while blocking four shots and pulling down five rebounds to help Portland close out Denver 100-96 in Game 7.
Honorable mention: Sabonis (Pacers vs. Cavaliers, Game 5, April 25, 2018, 22 points, five rebounds); Hachimura (Wizards vs. Sixers, Game 4, May 31, 2021, 20 points, 13 rebounds; Ronny Turiaf (Lakers vs. Suns, Game 4, May 2, 2007, 12 points, 10 rebounds.
---