Marketing > Sponsored
Returning to the ranch: Roy's stroke survival story
Sun., May 14, 2023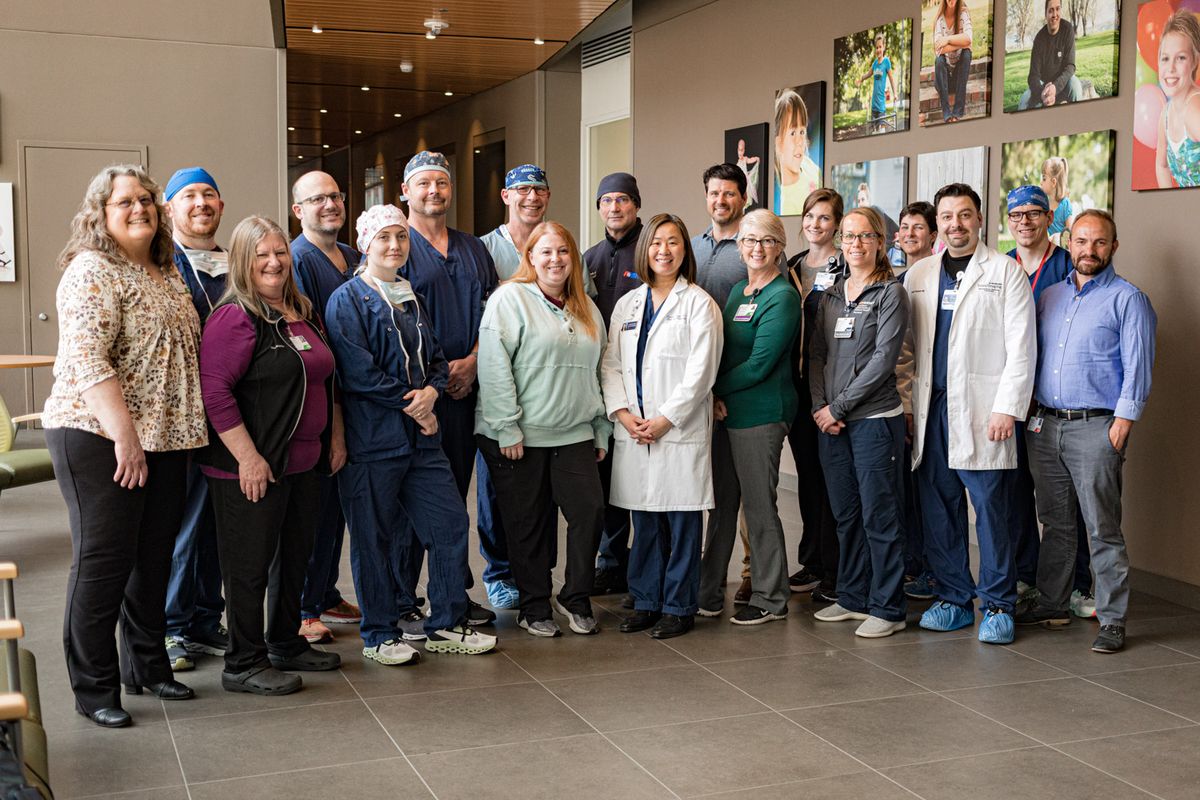 The Providence Neuroscience Institute's Acute Stroke Team includes experts from across the health care system, including the emergency department, interventional radiology, neurology, and more. (Courtesy Providence)
When 76-year-old rancher and former Marine Roy Hallmark had a stroke last summer, the series of events that quickly followed saved his brain function and his life.
The most surprising part of Roy's story, however, is that the person who made the emergency call wasn't supposed to be home that day.
No small miracle
It was Friday, July 15, 2022, and Roy had spent the morning doing fence work on the Priest Lake ranch where he lives with his wife, Valerie.
When Roy came in for lunch around noon, Valerie says he was perfectly normal. Ten to fifteen minutes later when Valerie went to check on him because she couldn't hear him working, Roy was on the ground. 
"When I heard his garbled and repetitive speech, I knew that something was wrong," says Valerie. She immediately called 911, despite Roy's protests and attempts to convince her he was fine—something she attributes to his "stubborn streak."
"I'm usually at work on Fridays, but for some reason I can't really explain I took the day off," says Valerie. Had Valerie not been home, Roy's story may have had a very different ending.
"We like to think of it as a miracle," says Roy.
World-class stroke care – no matter your location
Thanks to the quick reaction time of Priest Lake emergency response volunteers, Roy was in an ambulance and on his way to Newport Hospital & Health Services within 30 minutes of Valerie placing a call.
At the hospital, caregivers in Newport consulted with Providence neurologist Dr. Archit Bhatt using Telestroke video technology. Together, they determined Roy should receive a special "clot buster" medication, an important first step in restoring blood flow to the brain.
After that procedure and Roy's virtual examination, Roy was flown via Life Flight Network to Providence Sacred Heart Medical Center where more advanced care teams could continue the life-saving work that started in Newport.
Fortunately for Roy, Providence Sacred Heart Medical Center has the fastest arrival-to-treatment times in the region and one of the quickest times in the state of Washington, according to American Heart Association (AHA) data. Consistently reducing times between a stroke patient's arrival and treatment earned Providence Sacred Heart the Target: StrokeSM Elite Plus Honor Roll Award from the American Heart Association/American Stroke Association.
"Providence Sacred Heart Medical Center is a major stroke center serving patients from central and eastern Washington, northern Idaho, northeastern Oregon, and western Montana," says Dr. Louisa Lavy, the Providence neurologist who cared for Roy. "And we always have a Neurohospitalist in-house, so patients receive consultation with an expert in this field right away. That's just one of the things that makes us unique."
These features in stroke care are important for our community, as incidents of stroke are rising. Providence Sacred Heart Medical Center has received the American Heart Association/American Stroke Association's Get With the Guidelines® Stroke Gold Plus Quality Achievement Award. Providence Sacred Heart Medical Center's stroke protocol is so successful it's used as an example for other hospitals.  
A team approach
"People think strokes are slow," explains Dr. Lavy. In reality, they are sudden and maximal at onset."
Stroke care requires a coordinated, immediate response. "Code stroke" is an emergency protocol implemented at Providence Sacred Heart Medical Center and Providence Holy Family Hospital that provides all stroke patients with the care they need as quickly as possible. 
Once a code stroke is activated, the entire stroke team is alerted, says Dr. Lavy. "From communication with EMS to the neurologist, emergency department doctor, nursing staff, the stroke coordinator, lab, and the neuroradiologist—it's one team and we're all alerted and ready to help."
The cause of Roy's stroke was a large vessel blockage in the major artery on the right side of his brain. Inland Imaging Interventional Radiologist Dr. Jason Vergnani removed the clot using a minimally invasive procedure known as a thrombectomy, which restores blood flow to the brain.
"Stroke care is modern medicine at its best," says Dr. Vergnani. "We're like the Navy Seals of doctors. We get in and get out and save people's brains through a hole in an artery."
Providence Sacred Heart Medical Center is the only medical center in the region certified by Joint Commission as a Thrombectomy-Capable Stroke Center. The designation demonstrates Providence's commitment to excellence in the care of stroke patients.
"Anything people can do nation-wide we can do it here," says Vergnani. "People should be proud of Providence and all they do. So much time and effort go into creating a well-oiled machine."
Embracing a healthy – and humorous – outlook
Once Roy was released from Providence Sacred Heart Medical Center, his care continued at Providence St. Luke's Rehabilitation Medical Center. After three months receiving occupational and speech therapy at St. Luke's, Newport Hospital and other care services, Roy is speaking clearly and able to walk on his own.
Today, Roy has returned to ranching and hopes to be able to drive again.
"I'm able to do more chores than I would like to do," jokes Roy. "And each day seems to get a little better."
Valerie adds that Roy still beats her at Jeopardy. "That really makes me angry," she says while laughing. "I thought I would beat him after the stroke."
When asked about the care he received, Roy says the hospitals were excellent. As for Valerie, the uplifting attitudes are what she remembers most. "Everyone was so cheerful. They were outstanding."
Don't wait: Time equals brain
"Anyone having a stroke should get help right away," says Dr. Lavy. "Every minute counts to save brain cells and tissue. The faster the treatment, the less damage to the brain."
"When I know something is wrong with my husband, I take action," says Valerie. "If you recognize the symptoms, you take them in. I want him alive and well."
"If you can tell, I married up," says Roy.
Spot signs of stroke F.A.S.T.
According to the American Heart Association/American Stroke Association, stroke is the fifth leading cause of death and the leading cause of disability in the United States.
Use the letters in F.A.S.T. to spot signs of stroke. If you suspect someone is having a stroke, even if their symptoms have gone away, call 911 immediately so they can get to the hospital as quickly as possible.
F: Face Drooping: Does one side of the face droop or is it numb? Ask the person to smile. Is the person's smile uneven or lopsided? 
A: Arm Weakness: Is one arm weak or numb? Ask the person to raise both arms. Does one arm drift downward?
S: Speech: Is speech slurred? Is the person unable to speak or hard to understand? Ask the person to repeat a simple sentence.
T: Time: Time to call 9-1-1. If the person shows any of these symptoms, even if the symptoms go away, try to find out when the symptoms started, then call 9-1-1 and get them to the hospital immediately.
Learn more about Providence Neuroscience Institute's Stroke Program online.  
Local journalism is essential.
Give directly to The Spokesman-Review's Northwest Passages community forums series -- which helps to offset the costs of several reporter and editor positions at the newspaper -- by using the easy options below. Gifts processed in this system are not tax deductible, but are predominately used to help meet the local financial requirements needed to receive national matching-grant funds.
Subscribe now to get breaking news alerts in your email inbox
Get breaking news delivered to your inbox as it happens.
---