News > Crime/Public Safety
Inslee signs drug possession bill that pairs treatment with punishment into law
May 16, 2023 Updated Wed., May 17, 2023 at 7:24 a.m.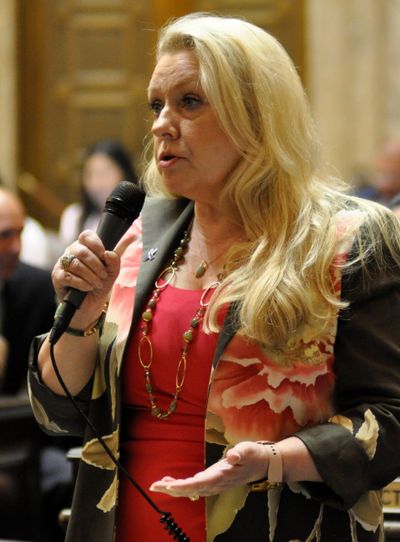 OLYMPIA – A compromise on major changes to the state's drug possession laws sailed through the Legislature in a matter of hours Tuesday after tying lawmakers in knots during their 105-day regular session.
The new law, which passed both the Senate and House with large bipartisan majorities, toughens the law on drug possession to a gross misdemeanor, although not as much as some critics wanted.
Introduced in the Senate shortly after 10 a.m., it received final approval by midafternoon and was signed by Gov. Jay Inslee by 4:15 p.m.
It emphasizes treatment over incarceration, along with some $44 million to help pay for more treatment facilities, the training for staff to operate them and extra defense attorneys to handle indigent defendants. Still, the treatment options were not as much as some critics say is needed to address state's growing numbers of addiction and overdose deaths.
"Nobody got everything that they wanted," House Speaker Laurie Jinkins, D-Tacoma, said after that chamber gave final approval to the bill on a vote of 83 to 13.
The Legislature was forced to review the state's drug possession laws after a 2021 state Supreme Court ruling said the existing law, which made possession of certain drugs in certain amounts a felony, was constitutionally defective because it didn't require proving a defendant "knowingly" possessed drugs.
That ruling was temporarily addressed that same year with a law that instructed police to recommend treatment for someone the first two times they were found to be possessing or using drugs in public. That process drew immediate criticism from law enforcement and prosecutors for a lack of accountability, and from communities with limited drug treatment facilities. Legislators came to Olympia in January with a clear mandate to fix the state's drug possession laws.
"We knew this was going to be the most difficult, the most consequential issue of the session," Senate Majority Leader Andy Billig said after that chamber approved the bill on a 43-6 vote. "No one bill is going to solve this issue, but this is a really good step in the right direction."
It proved too difficult for the regular session, with a measure to make drug possession a gross misdemeanor passing the Senate but not the House; an effort to make it a misdemeanor passed the House, but not the Senate. Both proposals added some level of drug intervention and treatment, but differed on when it was mandatory. A last-ditch compromise failed last month on the final day of the regular session.
What finally passed is a law that tries to balance treatment with criminal consequences. Drug possession and public use will be a gross misdemeanor, punishable by as many as 180 days in jail the first two convictions and 364 days in jail on the third and subsequent convictions. Along the way, a defendant can be offered the option of diversion into various treatment programs, although once formally charged, a local prosecutor will have to approve that diversion.
Prosecutors' discretion on drug possession cases that have been filed may have cost the proposal votes from some of the Legislature's more liberal or progressive members.
Rep. Gerry Pollet, D-Seattle, said that provision could result in more defendants going to jail who will be "Black, brown, Native American and poor, and prosecutors leveraging that threat (of jail time) into defendants pleading guilty on other crimes."
The Legislature should commit to putting strict guidelines on prosecutorial discretion next session, said Pollet, who voted no on the bill.
Some conservatives, like Sen. Mike Padden, R-Spokane Valley, argued the penalties weren't strong enough. Although the bill calls most drug possession and public drug use a gross misdemeanor, the 180-day penalty for the first two convictions is half the penalty for most gross misdemeanors, he noted, and the law should have considered returning the offense to a felony, which would provide more leverage to get drug users into treatment.
Rep. Jim Walsh, R-Aberdeen, said the Legislature should have simply taken the old law that was ruled unconstitutional and inserted the term "knowingly" in key places to satisfy the court.
Sen. Manka Dhingra, D-Redmond, who helped negotiate the final proposal, said it was time to emphasize treatment over punishment for drug addicts, and said the public generally supports that emphasis.
"We have asked our criminal justice system, for decades, to solve all our problems," Dhingra said. "The largest mental health institutions in our state are our prisons."
Drug users who commit other crimes to support their habit will face multiple charges and won't be eligible for a drug treatment option on those charges, she added.
"We're just talking about this for a single count of drug possession," she said. The other criminal activity is going to be treated as criminal."
Many legislators from both parties said they were voting for the proposal knowing that it wasn't perfect, but it represented a good start.
"Neither side is 100% happy," Rep. Jenny Graham, R-Spokane, said. "I vote for this today out of hope."
Part of that hope is that the Legislature will address other issues surrounding drug abuse in the coming years, with support for victims of drug crimes and the families of those injured or killed by people driving under the influence of drugs, she said. It also should turn its attention on some other root causes of substance abuse, such as the cartels and traffickers who bring drugs into the state.
In signing the bill, Inslee said the new law offers a statewide solution to the state's rising drug problem. It emphasizes treatment over punishment, but the threat of jail time is important because "some folks need a shove to get into treatment."
Although the bill has money for treatment, with some programs targeted for smaller communities and less populated counties, those programs don't exist right now, said Rep. Joe Schmick, R-Colfax, who voted against it.
Sheriffs in his southeast Washington counties told him recently the proposal was better than the current law, but they are concerned about the lack of accountability.
"We don't have a lot of services in the smaller counties. I don't see the workforce" to provide those services, Schmick said. But, he added: "I hope it works. I really do."
Inslee called it a common-sense drug policy, but during a news conference after signing the bill, he added: "If it doesn't work, we'll be back."
Local journalism is essential.
Give directly to The Spokesman-Review's Northwest Passages community forums series -- which helps to offset the costs of several reporter and editor positions at the newspaper -- by using the easy options below. Gifts processed in this system are not tax deductible, but are predominately used to help meet the local financial requirements needed to receive national matching-grant funds.
Subscribe now to get breaking news alerts in your email inbox
Get breaking news delivered to your inbox as it happens.
---