Black man's resisting arrest conviction overturned by Court of Appeals; judge says case is indicative of racism in Spokane County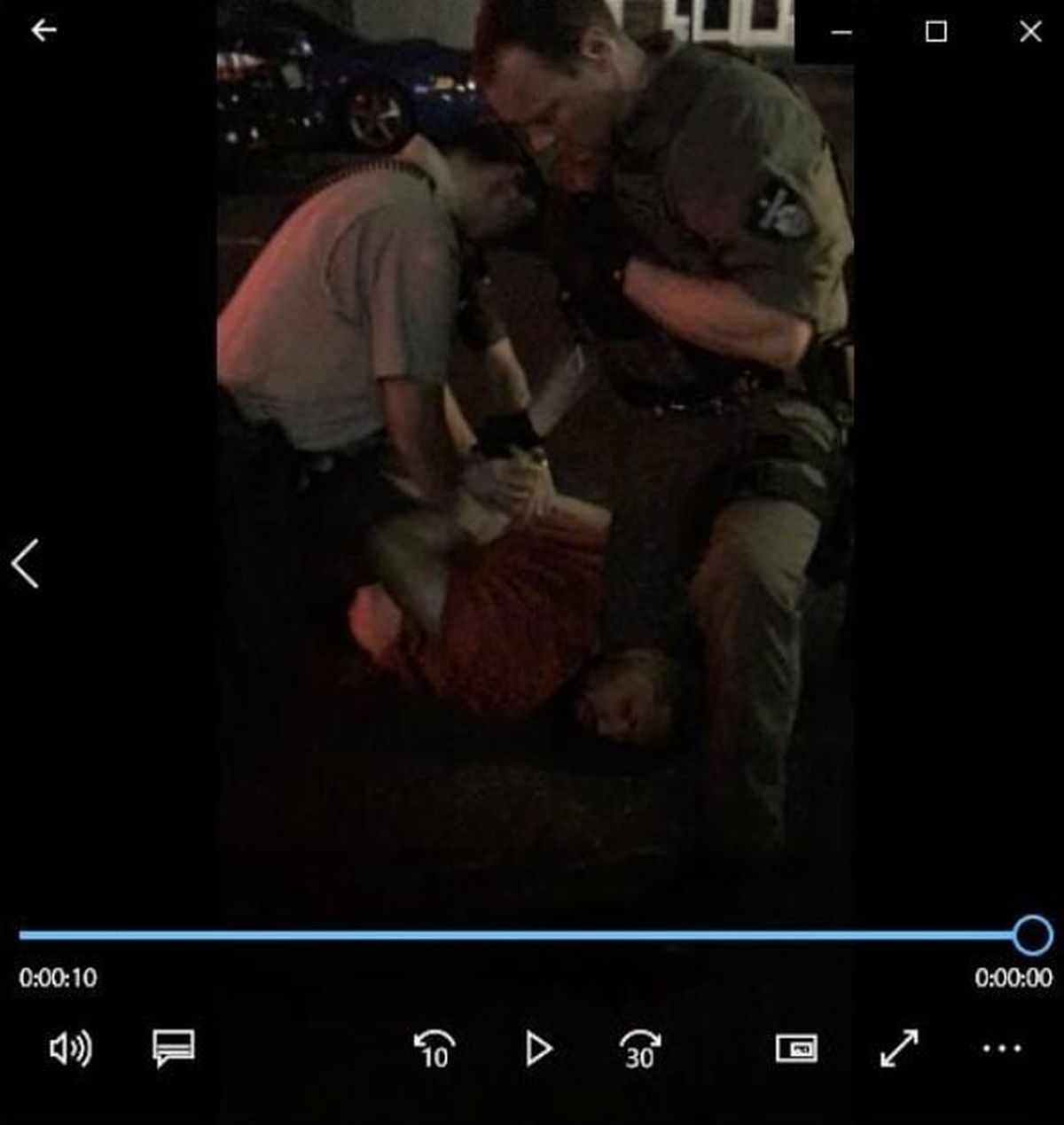 A panel of appellate judges threw out the conviction of a Black man for resisting arrest by white Spokane County Sheriff's deputies, with one calling for complete dismissal of the charges based on "racial bigotry."
In statements Thursday, both the current and former sheriffs of Spokane County, as well as the office of the prosecuting attorney, called the claims of racial bigotry inappropriate, inaccurate and disrespectful to law enforcement and women who are victims of assault.
The unpublished, 80-page opinion handed down by a three-judge panel of the Division III Court of Appeals vacates the conviction of Darnai L. Vaile, now 26.
In August 2019, Vaile was arrested after a woman called from Peking Palace in Spokane Valley saying Vaile kissed her without permission. Witness and law enforcement statements at trial conflicted about whether Vaile was threatening as he approached deputies to explain his side of the story. Spokane County Superior Court Judge Tony Hazel ruled that cellphone video captured by the kissed woman of Vaile's arrest could be played at trial without sound, though Vaile could talk about what he was experiencing at the time while on the stand.
That decision eliminated Vaile's ability to effectively argue he was complying with officer commands as he was handcuffed on the ground, after tossing a knife that was in his pocket, judges ruled. What Vaile intended is key to determining whether he was resisting arrest, judges wrote. In the recording, Vaile can be heard saying, "I'm not doing nothing. I'm putting my arm right here," according to court records.
The woman who was kissed can be heard defending Vaile during the arrest, saying, "You stop right now, you don't need to restrain him like that! He's OK! He's a gentle, kind person," according to court records. The jury also did not hear those statements.
Vaile was later charged not with anything related to the unwanted kiss, but with two counts of third-degree assault against deputies Clay Hilton and Michael Vicini, possession of a dangerous weapon (the knife) and resisting arrest. He was found guilty of two charges of resisting arrest, and sentenced to six months of probation, according to court records.
In a lengthy and passionate dissent, Appeals Court Judge George Fearing took aim at the Spokane County Sheriff's Office and the Spokane County Prosecutor's Office, including the elected prosecutor's past comments about his wife's racist postings on the internet, for what he called the systemic racism inherent in the case.
"Racial bigotry permeates the case beginning with (the kissed woman's) call to 911 and ending with the State attorney's summation to the jury," Fearing wrote. He also penned a dissent in a case in 2021 that was highly critical of racist covenants on properties throughout Spokane County.
Fearing called the arrival of more than a half-dozen patrol cars as "overkill" for the call, and noted the charging decision of resisting arrest without any charges for the conduct with the woman followed a pattern of disproportionately charging Black defendants with resisting arrest, as demonstrated in a six-year study conducted in North Carolina.
The other judges in the case, Judge Tracy Staab and Chief Judge Robert Lawrence-Berrey, wrote that while systemic racism exists, finding it in Vaile's case was not necessary to reverse his conviction.
"This is not to say that it did not exist in this case," they wrote. "But the separate opinion's conclusion of racism relies on information outside the record, facts that have not been found, and issues that have not been raised."
Lila Silverstein, an appellate public defender for the Washington Appellate Project who represented Vaile in his appeal, said she brought up the racial dynamics of the case in her argument.
"Mr. Vaile is a Black man, with three white officers on top of him," she said. "One of them literally had his knee on Mr. Vaile's neck, and he told them he was trying to comply with his commands."
In a lengthy statement released Thursday totaling more than 650 words, Sheriff John Nowels defended his office against the claims of racial bias and called Fearing's dissenting opinion "egregious and offensive to not only our deputies and the prosecutor's office but especially to women and every sexual assault victim in our community and nation."
Nowels wrote that "the dissenting opinion appears to be based on wokeism, judicial activism, and the dissenter's personal view run amuck and is not based on established law," using the phrase "woke" that is often employed by conservative political thinkers to criticize what they see as overreactions to calls for greater social justice.
"The Spokane County Prosecutor's Office and the Spokane County Sheriff's Office work closely together as we work to keep our community safe and serve the citizens of Spokane County," Nowels wrote. "We strongly believe in the equal application of the law for everyone involved."
In another statement Thursday, Spokane County Prosecutor Larry Haskell said he had to be restrained in his comments by Washington's Rules of Professional Conduct for the legal profession. But he said Fearing's opinion went beyond the scope of legal analysis expected of a judge.
"Neither the facts nor the caselaw support the position taken by the dissent," Haskell said in his statement, which was also lengthy. "The dissent admits there is no legal basis for the relief proposed by its author."
Former Spokane County Sheriff Ozzie Knezovich, who led the office in August 2019 and retired this past December, said Thursday he had not seen the decision, and reviewed it after it was provided via email. He called the opinion "outrageous" and said it was a misrepresentation of the Spokane community, which has prosecuted white supremacists and other extremists for plotted crimes.
"Do we have our share of boneheads? Yes, but we have continually stood against this stuff," Knezovich said.
The former sheriff pointed to a June 2022 decision from the Washington Supreme Court that found in favor of an Asian/Pacific Islander man in Pierce County who was asked to hand over his identification to a deputy, then later gave a false name. The court found he was unlawfully seized and that courts must consider a person's race and ethnicity when answering if a person has a belief they are being detained.
"It basically makes Washington a two-tiered system of contacts for citizens," Knezovich said.
Haskell, Knezovich and Nowels took offense to Fearing's comments about the woman who called 911 in the case. The judge compared their actions to the cultural idea of "Karens."
"Videos abound of Karens asking for assistance because of the innocuous presence of a Black man," Fearing wrote.
"This was a very disturbing and disgusting portrayal of the victim," Knezovich said.
"Minimizing the assault that occurred in this instance is simply inexplicable," Haskell wrote. "Demanding that actual physical harm be done is inconsistent with legal principles of simple assault."
Fearing said he had the authority to pen, in his terms, "a jeremiad" because of a directive from the Washington State Supreme Court in a June 2020 open letter, after the murder of George Floyd by a white officer in Minnesota.
"We call on every member of our legal community to reflect on this moment and ask ourselves how we may work together to eradicate racism," the Washington Supreme Court Justices wrote.
Fearing said his decision was in line with that request, though he noted there was "no Washington case law (supporting) dismissal solely for the conduct of the Spokane County sheriff deputies toward Darnai Vaile."
"Spokane's Black and other minority populations want and deserve from me and other judges, not pity, but recognition of their humanity, respect for their dignity, thoughtful reflection on their history, publication of their plight, and equal and fair treatment under the law," Fearing wrote.
He also anticipated the backlash from local law enforcement.
"Because of the absence of a unanimous court condemnation of the prosecution in this appeal, law enforcement officers and State attorneys will scoff at this dissent as an outlying, if not outlandish, view," Fearing wrote.
Silverstein applauded Fearing's decision to not only toss out the conviction, but also call for the charges to be dropped because of "race-based government misconduct."
"Judge Fearing had the courage and will to do the right thing," she said. "Hopefully other judges will follow."
Silverstein could not provide contact information for Vaile, and messages left at phone numbers contained in public records were not returned Thursday. Julia Napier, the sister of the woman who was kissed and who was later convicted of one count of assault on a law enforcement officer that night, declined comment when reached by phone. A request to speak with the woman kissed was not immediately returned Thursday.
In addition to the conduct of the deputies and reasoning of the judge, Fearing took aim at Haskell directly and criticized him for not taking a tougher stance against the racist postings of his wife, which he called "the elephant in the room." That included using the N-word to describe MSNBC host Joy Reid, who is Black, and using racial slurs for Chinese people, white people, Latinos, Jews and gay people, as well as referring to herself as a "proud white nationalist."
Haskell has apologized for his wife's comments, saying they do not reflect the views of his office, and later saying at a news conference that although he considered the comments posted online as racist, he did not believe his wife was racist. Fearing said that wasn't forceful enough to allay concerns that, should the case be retried, Vaile – as a Black man – would get a fair hearing.
"A public official's refusal to recognize someone with such vigorous, vast, vituperative, and venomous views to be racist defies reason and commonsense," Fearing wrote. "This denial impugns the integrity of the prosecutor's office."
Haskell's statement Thursday does not address the charges Fearing makes about his wife's comments. Knezovich defended his former colleague, saying Fearing's charges amounted to "politics from the bench."
"I know Larry Haskell. He doesn't have a racist bone in his body," Knezovich said.
Other litigators and defendants have attempted to argue that the rhetoric from Haskell's wife could infiltrate the office's judgment in trying cases. In June 2022, a judge denied a request to disqualify Haskell's office from handling the criminal resentencing of a Black man found guilty in a burglary case that involved firearms. In March, a Black man and former vice president of the local chapter of the NAACP asked that his domestic violence trial be moved out of the county in order to receive a fair trial. That request has yet to be decided.
Staab and Lawrence-Berrey voted to not publish the decision in the Washington Appellate Reports. Because of that, the opinion has no precedential value on other cases that may involve the same conduct, a decision that Fearing argued diminished "the broadcasting of an illustrative paradigm of racism infecting Washington's courts."
But Silverstein noted that any part of the opinion, including Fearing's withering dissent, can be used for "persuasive value" under Washington court rules by judges in all other parts of the state.
"I'm sure this case will be cited for its persuasive value," she said.
---