Dolly Parton blasts politicians without naming any. Call it 'Dollitics.'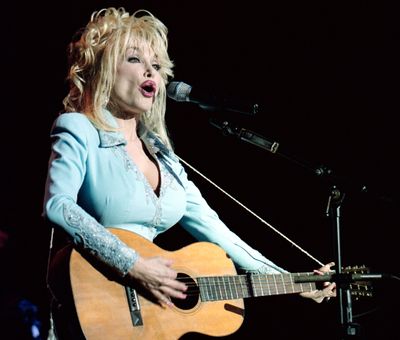 During last week's Academy of Country Music Awards, a crowd filled with cowboy hats roared as Dolly Parton's tent-like skirt detached to reveal a leather outfit. It was an edgy performance in Texas – made edgier by Parton's blasting of "greedy politicians past and present."
Like legions of musicians before her, Parton, 77, used a new song "World on Fire" as a mediumto voice her discontent with elected officials – a sentiment widespread among Americans, regardless of their party.
"Liar, liar, the world's on fire. Whatcha gonna do when it all burns down?" Parton muses in the rock-infused song, criticizing how politicians "wouldn't know the truth if it bit 'em" and have "lost sight of common decency, of wrong and right."
The singer, however, stopped short of naming politicians. During an interview that aired Monday, she told Today's Jacob Soboroff her song is about "all of 'em. Any of 'em. I don't think any of 'em are trying hard enough."
"I just really think often that they worry more about their party than they do about the people," Parton said. "None of them are working from the heart."
Parton's publicist declined to make the singer available for an interview.
Parton's comments and the song are "just classic Dolly," said Grace Lager, a communications professor at Eckerd College who taught a class on Parton. While blasting all politicians could play as both-sides-ism from other celebrities, Lager said, coming from Parton it represents authentic frustration.
"She doesn't reveal her personal politics in an overt way, whether that is backing a particular candidate or party," Lager said. "But what she does really successfully is backing ideologies that also fit within the Dolly Parton mythology of love, kindness, acceptance and doing the right thing by your fellow human beings."
Parton's career has endured for over five decades, in large part because of her ability to stay above the fray when it comes to controversy, Lager said. But it's not that Parton isn't outspoken or unflinching. Rather, it's the way in which she keeps some opinions close to the vest, while pushing out a broader message that anyone can incorporate into their worldview – and doing so in a manner that "seems very genuine and authentic to a diverse audience," Lager added.
That allows Parton to avoid alienating a mishmash of fans spanning old and young, gay and straight, conservative and liberal – and it might also contribute to her enduring and widespread influence, Lager said.
"She has the potential to reach more people this way because it raises awareness about a problem instead of getting so focused on pointing fingers and blaming one party or the other," Lager said. "It becomes an indictment of the system itself. And if you think about it, people are more receptive to each other when someone doesn't throw blame but says, 'Let's figure it out together, because we've both been hurt by this.'"
Parton doesn't need politics to be political, experts say. For decades, she's toed the line by appealing to a wide audience while supporting specific causes and turned that into her own brand of politics – or "Dollitics," if you will.
"She is beloved across so many demographic groups because she really transcends politics," said Lance Kinney, an advertising and public-relations professor at the University of Alabama. "And her magic lies on being a cipher onto which you can graft whatever political agenda you prefer."
The allure that rings from honky-tonks in the rural South to gay bars in large coastal cities has everything to do with the persona Parton has meticulously cultivated since the 1950s, Kinney said. On the one hand, there's the conservative-appealing story of Parton's origins – or how she managed to pull herself up by her bootstraps after growing up poor in the Smoky Mountains of eastern Tennessee. On the other, there's the glitz and glamour of her towering wigs and acrylic nails, and the feminist anthem she created with "9 to 5," an iconic song about workplace discrimination.
In recent years, Parton has turned the Imagination Library, her literacy-focused nonprofit, into a 2 million-book-a-month international operation and helped fund Moderna's coronavirus vaccine. She supports the LGBTQ+ community and endorses Black Lives Matter – breaking with "the guardrail in country music of not talking about racial injustice in the present," said Joel Schwindt, a music history assistant professor at Berklee College of Music.
"Dolly Parton, much like country music, is a paradox," he said. "But I think she can get away with it because of her authenticity and also because she's reached founders' status in country."
At the same time, Parton's kept herself out of politicking. For instance, she twice refused a Presidential Medal of Freedom from Donald Trump – and said she would decline the same gesture from the Biden administration. Though "9 to 5" was "the #MeToo anthem before there was a #MeToo movement," as Schwindt put it, Parton's manager told the Associated Press in 2019 that she hadn't approved of then-presidential candidate Elizabeth Warren using it in her campaign.
Parton herself has admitted she doesn't "do politics," saying in an episode of Jad Abumrad's "Dolly Parton's America" podcast: "I have as many fans that are Democrats as I do Republicans. And you don't want to hurt anybody. And it's not my place to be doing that anyway. I'm an entertainer."
More than an entertainer, though, Kinney said Parton is a savvy businesswoman who's been able to lead "from the heart in a way that will alienate no one."
The result of those "Dollitics" were evident after the Gatlinburg wildfires of 2016 – a blaze that devastated Parton's hometown area, leaving thousands without homes. The disaster prompted Parton to provide monthly stipends to families in need, organize fundraisers and successfully push for tourism to the area in the aftermath.
"When the fires broke, it was almost as though this was a role that she had been preparing for 50 years," Kinney said. "Nobody could have done what she did without having been Dolly Parton for all those years before."
Over nearly seven years, Parton's outreach after the fires has been the focus of a crisis communications lecture Kinney has delivered to professionals and students across the country. Each time, he said he leaves attendees with a question: "At your time of crisis, who will be your Dolly Parton?"
Now, she seems to be asking leaders in Washington the same thing in "World On Fire," telling politicians that they've "still got time to turn it all around."
---