A&E > Entertainment
From a business degree to a career in comedy, for Trey Kennedy that's no joke
Thu., May 18, 2023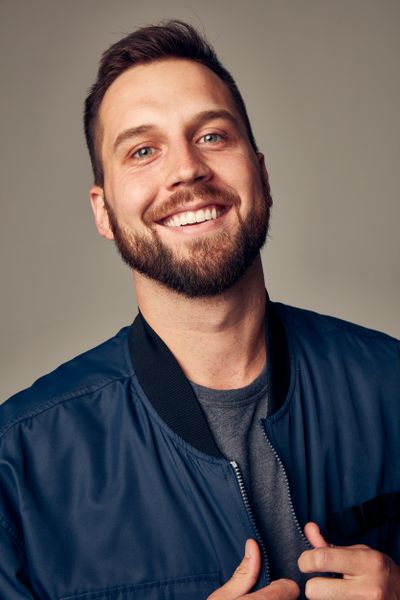 There's no business like show business.
Trey Kennedy had no idea what he would do after graduating from Oklahoma State University with an MBA in 2017. A career in finance, Kennedy's undergrad major at OSU, would have made sense. However, that path didn't interest Kennedy.
"I had one corporate internship after all those years in school," Kennedy said while calling from his Kansas City home. "After all that time studying business and finance, I still wasn't ready to enter the real world working in that field."
Videos were Kennedy's ace in the hole. The humorist-vocalist started filming comedy clips for fun in 2013. "I had some videos that blew up on Vine," Kennedy said. "I loved making those videos."
Vine went the way of MySpace, but Kennedy continued to make videos and, to his surprise, the Oklahoma native stumbled upon an unlikely career. His videos mocking moms and middle school kids have amassed millions of views on YouTube. The former has over 4.8 million views and the latter has more than 14 million views. After releasing a few more middle school videos, Kennedy produced a TV series, "Middle School Maddox," in which middle school angst is spoofed.
"I ended up in the right business after studying business all of those years," Kennedy said. "I ended up doing what I'm passionate about. I love everything about what I do. It was surreal discovering that I have a million followers and could support doing what I love. Performing on the road sure beats sitting down in a meeting breaking down an Excel spreadsheet."
Kennedy, 30, has left the corporate world in the dust. Kennedy has 3.5 million followers on TikTok, 240 million views on YouTube and over 4.7 million Facebook followers. As a result Kennedy, who will perform Friday at the Fox, is on a tour of sold-out theaters.
"This is all beyond my wildest dreams," Kennedy said. "I could have never imagined this happening"
Part of the reason Kennedy is taken aback is due to how he grew up. Kennedy was a shy kid, who wasn't exposed to much comedy beyond experiencing a few middle-of-the-road sitcoms.
"If you look at my story on paper, I should be in an office somewhere," Kennedy said. "But everything changed for me because of these videos and now I'm on tour."
Kennedy, who is a married father with a 3-month-old son, will deliver stand-up and play videos as well. "I get a lot more personal on this tour," Kennedy said. "I'm more vulnerable. It's about how I've grown up. I'll talk about family life. I obviously wasn't in this place the last time I played Spokane."
Not long after live performance was permitted, Kennedy performed in June 2021 at a sold-out Spokane Comedy Club.
"I'll never forget that since I was just getting my feet under me as a live performer and Spokane showed up and showed out at one of the very first performances I had after COVID locked us down," Kennedy said "And now Spokane has done it again. It's so cool now that I'm playing a theater there that it's another sold-out show. It's amazing."
It seems as if Kennedy's extensive business education went for naught. But Kennedy disagrees and so does fellow comic Jay Pharoah. Pharoah, who was a member of the "Saturday Night Live" cast from 2010 to 2016, graduated from Virginia Commonwealth University with a business degree. Pharoah believes entertainers should be financially savvy.
"I know comics usually aren't business-minded but you should know about how deals go down," Pharoah said while calling from Los. Angeles. "That way you come out of a situation with a lot more money. When you go into entertainment. it's not all about entertainment, bruh. There are things you should know, and one thing you should be down with is financial literacy and that's why I went to VCU."
Kennedy concurs with Pharoah. "I totally agree with what Jay says," Kennedy said. "There is this stigma that entertainers have no business sense at all. It doesn't have to be that way. My father ran his own business. The way I look at it is that I'm running a business. When you're a comic, you are an entrepreneur. I have the perfect blend of what to do on a stage, in front of a camera and how to handle the business end of things. I don't regret going to school for all of those years. That helped shape me. I'm glad I know something about business. There's nothing funny in this business about getting screwed on the financial side of things."
Local journalism is essential.
Give directly to The Spokesman-Review's Northwest Passages community forums series -- which helps to offset the costs of several reporter and editor positions at the newspaper -- by using the easy options below. Gifts processed in this system are not tax deductible, but are predominately used to help meet the local financial requirements needed to receive national matching-grant funds.
Subscribe to the Spokane7 email newsletter
Get the day's top entertainment headlines delivered to your inbox every morning.
---