A&E > Entertainment
John Cafferty and the Beaver Brown Band will finally return to Spokane
May 18, 2023 Updated Thu., May 18, 2023 at 1:05 p.m.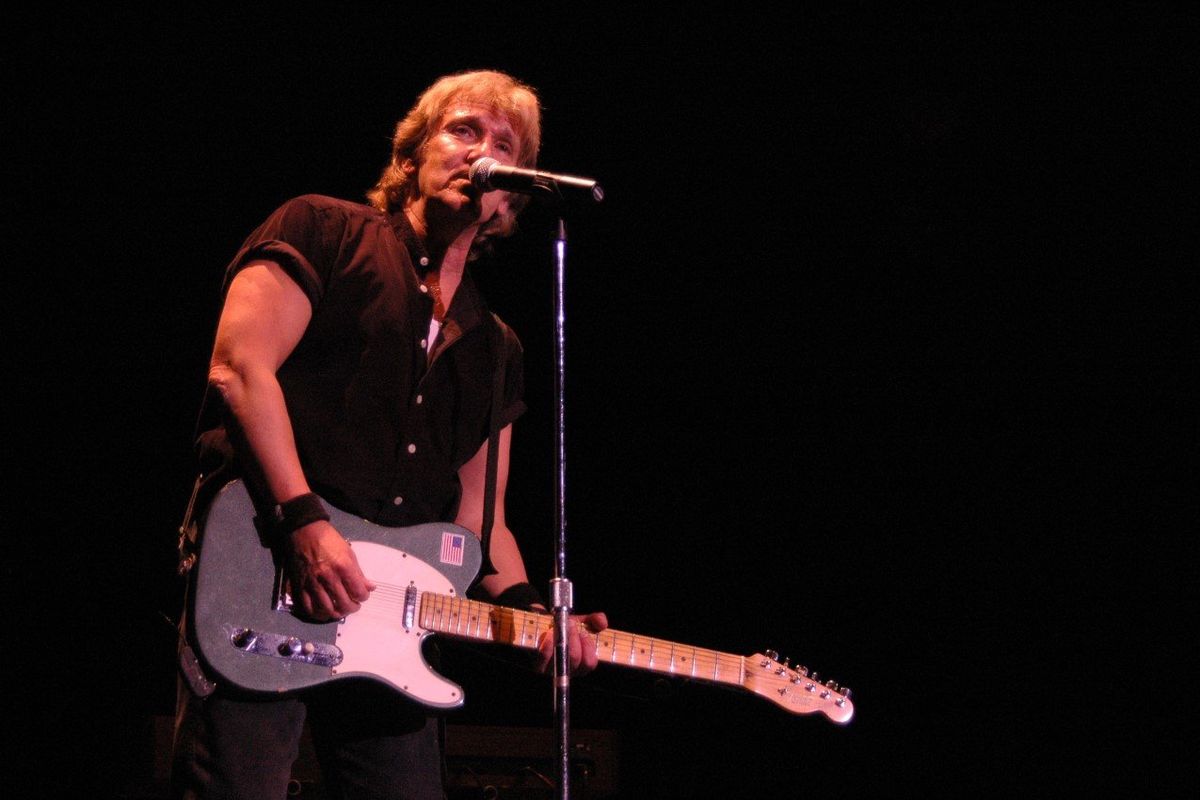 John Cafferty will lead the Beaver Brown Band in a gig Sunday at Northern Quest. (Courtesy photo)
John Cafferty and the Beaver Brown Band will preview its forthcoming single, "A Day in the Sun," when the veteran group performs Sunday at Northern Quest Resort & Casino. The Providence, Rhode Island based band knows what it's like to have that day in the sun.
Producer Kenny Vance (Phoebe Snow, Tracey Ullman), who was the first musical director of "Saturday Night Live," tabbed Cafferty and the Beaver Brown Band to score the soundtrack about a legendary bar band, Eddie and the Cruisers, 40 years ago. The "Eddie and the Cruisers" film stiffed at the box office but the soundtrack sold more than 3 million copies after the movie became a TV hit courtesy of HBO.
The initial single, the raucous "On the Dark Side" landed in the Billboard Top 10 and was the No. 1 tune on the Album Rocks Chart for five weeks. The ballad "Tender Years" reached the Top 40.
"We never saw it (success) coming," Cafferty said while calling from Boston. "When the movie didn't do well, we just forged ahead with our next album. We were working on "(1985's) "Tough All Over" and we got a call that the soundtrack to 'Eddie and the Cruisers' was selling tens of thousands of copies every week. It all happened when the movie landed on cable. The album shot up the charts and all of a sudden we're doing videos and I'm lip-syncing 'Dark Side.' "
Cable television gave Cafferty and his band another boost courtesy of MTV play. "I didn't know much about MTV since I didn't have cable back then," Cafferty said. "It was cool being on MTV but the biggest deal for us was performing on 'American Bandstand,' since that was our era. It was so cool to meet Dick Clark since he was a legend and he loved our story."
Cafferty, 72, and the Beaver Brown Band's story is that of a group that slugged it out in bars up and down the East Coast for a decade. "We didn't have much success during that first ten years but it was OK," Cafferty said. "When you form a band, there's no guarantee you're going to play Boston Garden. The only guarantee is that you'll be able to play music and that has to be enough."
Performing at bars and theaters for a half-century has sated Cafferty and his longtime bandmates, guitarist Gary "Guitar" Gramolini and saxophonist Michael "Tunes" Antunes, who formed the band in Providence in 1972.
"There's been nothing that we would rather do than make music and perform," Cafferty said. "By the time we did make it, we were in our 30s and we really appreciated it. By then we were really good at our craft from playing out each night for a solid decade. We still love to play and we love to write songs."
Cafferty and the Beaver Brown Band, which also includes bassist Dean Cassell, keyboardist Steve Burke and drummer Jackie Santos, will release a new album by the end of the year.
"We're still inspired to make music," Cafferty said. "We'll release a single every month this summer. The music is still in us. We can't wait to get out to the other side of the country to reconnect with everybody out there. It's been so long since we've been out there, I can't remember the last time we were in Spokane."
There's good reason for Cafferty's memory lapse. The last time Cafferty and the Beaver Brown Band played Spokane, Ronald Reagan was in the early days of his second term as president of the United States and "Back to the Future" was a new release. Cafferty and the Beaver Brown Band performed at the Spokane Coliseum in August 1985, when they opened for Bryan Adams on the "Reckless" tour.
"It's crazy that it's been that long," Cafferty said.
But old habits die hard. Cafferty's band tours up and down the East Coast each year. The band has popped up on soundtracks, such as "Rocky IV," "There's Something About Mary," and "Dumb and Dumber To," throughout its career.
"I love that we've been in the Farrelly brother movies like 'There's Something About Mary' and 'Dumb and Dumber' but the Farrellys are so great to us," Cafferty said. "They're from Rhode Island just like we are. A couple years ago we were playing a show in Rhode Island and Peter Farrelly said he was coming out and he asked if he could bring a friend to the show and I said, 'Sure.' He brought Bill Murray to our show. That was so cool. Bill and Peter were there on the side of the stage. Sylvester Stallone is a fan too. He called us up and asked if we could play a show with his brother Frank (Stallone). That was such a cool experience.
"We've had so many great memories and we're making more of them. We're not done yet. But this all came from us taking a chance by starting this band. We stuck with it through the tough times. Those tough times gave us inspiration for songs and we're still standing and we're proud of that."
Local journalism is essential.
Give directly to The Spokesman-Review's Northwest Passages community forums series -- which helps to offset the costs of several reporter and editor positions at the newspaper -- by using the easy options below. Gifts processed in this system are not tax deductible, but are predominately used to help meet the local financial requirements needed to receive national matching-grant funds.
Subscribe to the Spokane7 email newsletter
Get the day's top entertainment headlines delivered to your inbox every morning.
---