Camp Hope security guard saves man from RV fire at camp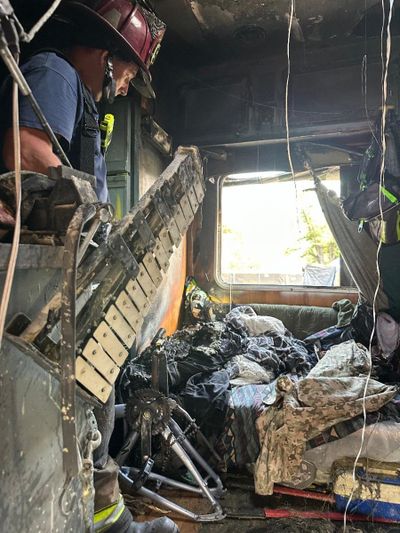 A Camp Hope security guard rescued a man in a RV that caught fire Friday night at the homeless encampment off Interstate 90 in East Central Spokane.
Firefighters responded shortly before 7 p.m. and were forced to cut the fencing of the camp to gain access to the fire, according to a Spokane Fire Department news release. The fire was extinguished in eight minutes despite "heavy clutter and obstacles," the department said.
A man was asleep inside the RV when the fire started. A security guard noticed heavy smoke from the RV and opened the door to rescue the man.
The man and the guard reported seeing heavy fire above the man's head, and the flames rolled toward the back of the trailer when they crawled out.
"The occupant only had seconds before a flashover of the space occurred, and most likely, both would have been killed," the release said.
An overloaded circuit powered by a small generator caused the blaze. The RV and the contents inside were destroyed.
No one was injured, and the American Red Cross was contacted to assist the RV occupants.
---