A Grip on Sports: It's not often the weekend's best story isn't about the winner of something major, but that's the way it is today A GRIP ON SPORTS • We feel obligated. Feel as if we have a duty to chat about Brooks Koepka's win in the PGA Championship. But a 46-year-old guy from Southern California, a person with no chance to win the tournament, actually stole the show in Rochester, New York on Sunday.
•••••••
• No one outside of Orange County had probably heard of Michael Block until this weekend. Maybe not even many there, unless they had a connection to golf in the southern part of the county that not only hosts Disneyland but the Angels as well.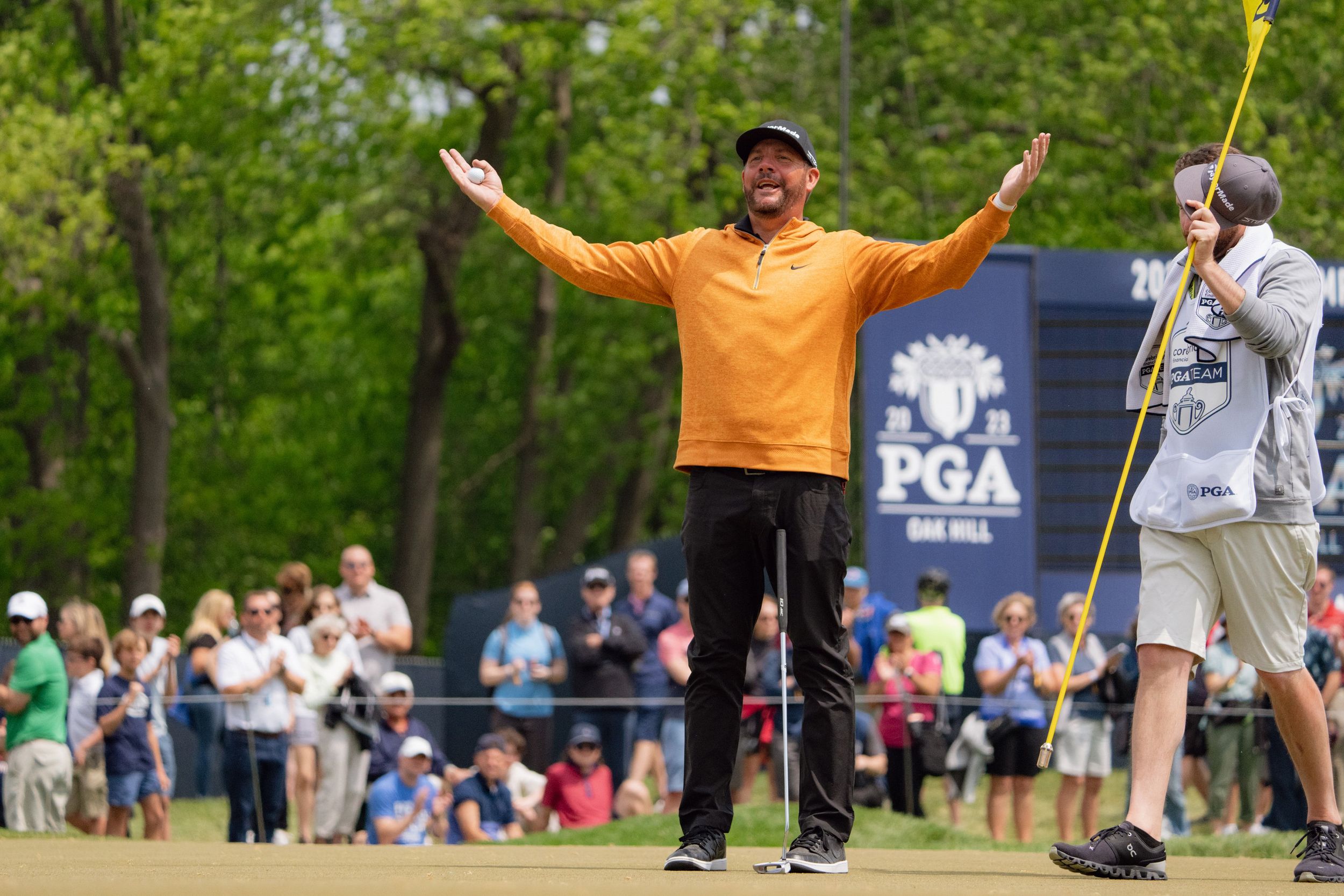 And it seemed, at times yesterday, angels were helping Block as he navigated the fabled Oak Hill course. It had to be some sort of divine intervention.
The PGA isn't alone among the majors in allowing non-touring pros to qualify. The U.S. and British Opens are just that, open to better golfers through a qualifying process that is as grueling as it is non-fruitful. When was the last time someone who didn't play the game on a tour actually challenged for a title?
We have a decent memory and we can't remember anyone.
Until this week. When a public course pro caught a wave and rode it into Jim Nantz's memories. Our memories as well, if we're being honest.
Over the years we have encountered many PGA of America members, from the older fellow who taught us the game at Pasadena's Brookside Golf Club to Bob Scott, who always had a kind word to say before we gouged up MeadowWood. And many others in between.
But in all that time, we never thought any of those pros we encountered would ever be competing on golf's biggest stage for one of the game's four biggest prizes. And by competing, we mean actually on the leaderboard.
We've always marveled at the folks who qualified for the PGA Championship, even as the tournament winnowed the number of spots available over the years. There are only 20 these days and few if any of those who make it to the big stage survive to the weekend.
But here was Block, a lifelong teacher of the game who runs the shop at Arroyo Trabuco Golf Club, a pretty non-descript course in the suburbs, playing in one of the final groups Sunday. With Rory McIlroy, no less.
Could he win? Not really. His drives were too short. His practice habits – he said he hits a couple buckets of balls a week – not nearly stringent enough. His experience in such events? Non-existent.
And yet, here he was, stepping up to the par-3 15th hole at 2-over par. Then he jarred his shot from 151 yards. A legend was born. Of course, as anyone over 45 understands, Block really didn't see the ball go in. McIlroy had to tell him. But he enjoyed it, nonetheless. And he enjoyed what happened on the par-4 18th even more.
Needing a par to finish in the top 15, ensuring a spot in next year's tournament, Block missed the fairway and then sent his second shot into the gallery left of the hole. Short-sided himself. A tough up-and-down.
All he did was hit a wedge within 6 feet. And then rolled in the putt.
Don't get the idea Block hasn't played tournaments before. Like most club pros, he plays for money when he can. But not at this level. With this many people watching, ready to eat up every bite of his story. Turned out it was a perfect Sunday dinner.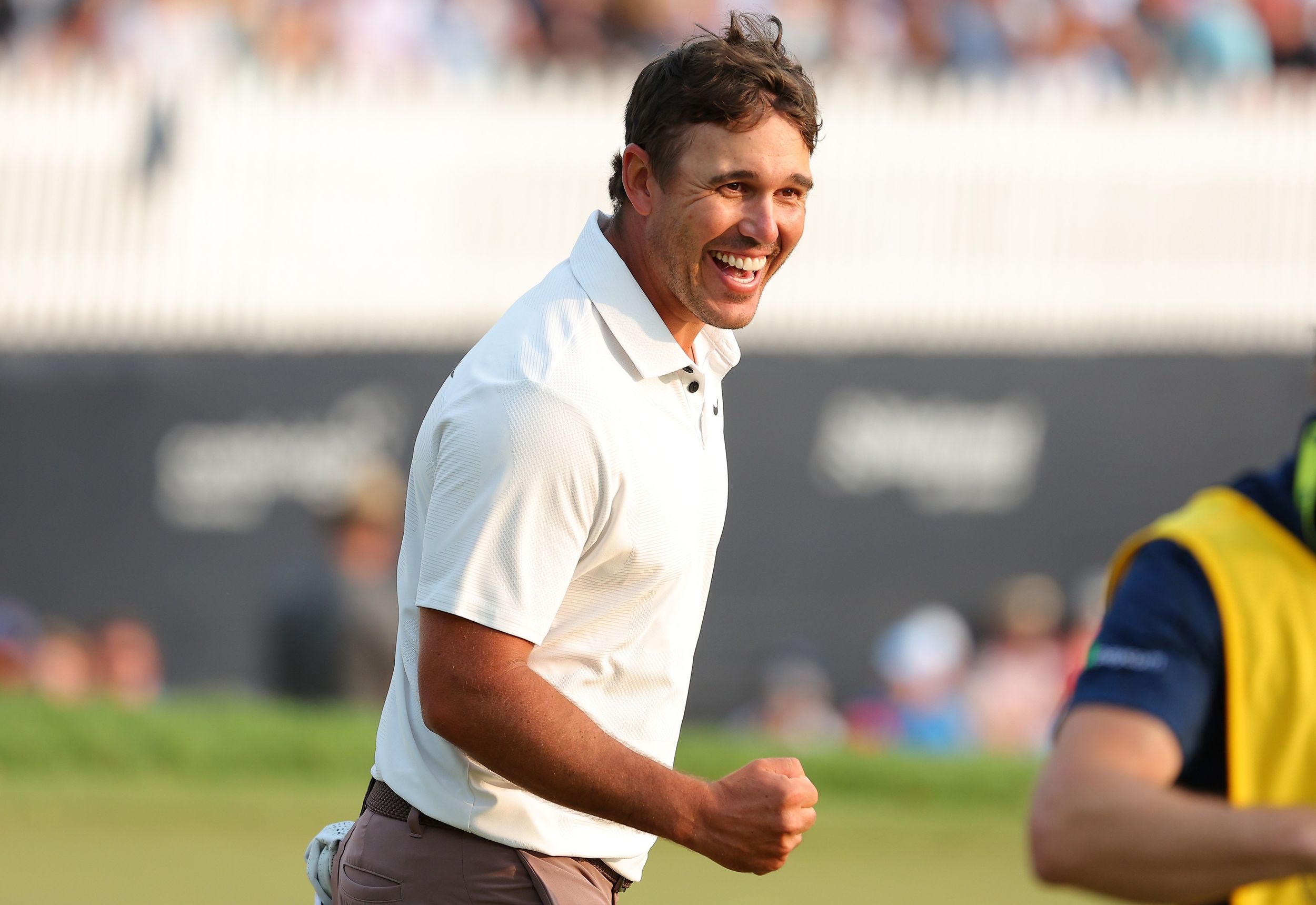 • Block's performance distracted everyone from the realization a person who abandoned the PGA Tour, Koepka, was about to win the PGA Championship.
Sure, the tour and the tournament are not connected in any way except public perception. But that is probably the most important way of all. Koepka was struggling on the PGA Tour, not sure his injuries would allow him to add on to his four major titles, and took the Saudi Arabian-backed LIV Tour's money. It was a surprise to many. A betrayal to others. But it worked for him.
With less pressure, Koepka got healthy. Got back to his old ways. Led the Masters before fading. Now he has five major wins, including three PGA titles.
His defection? It was hardly mentioned Sunday. Block-ed out, if you will.
•••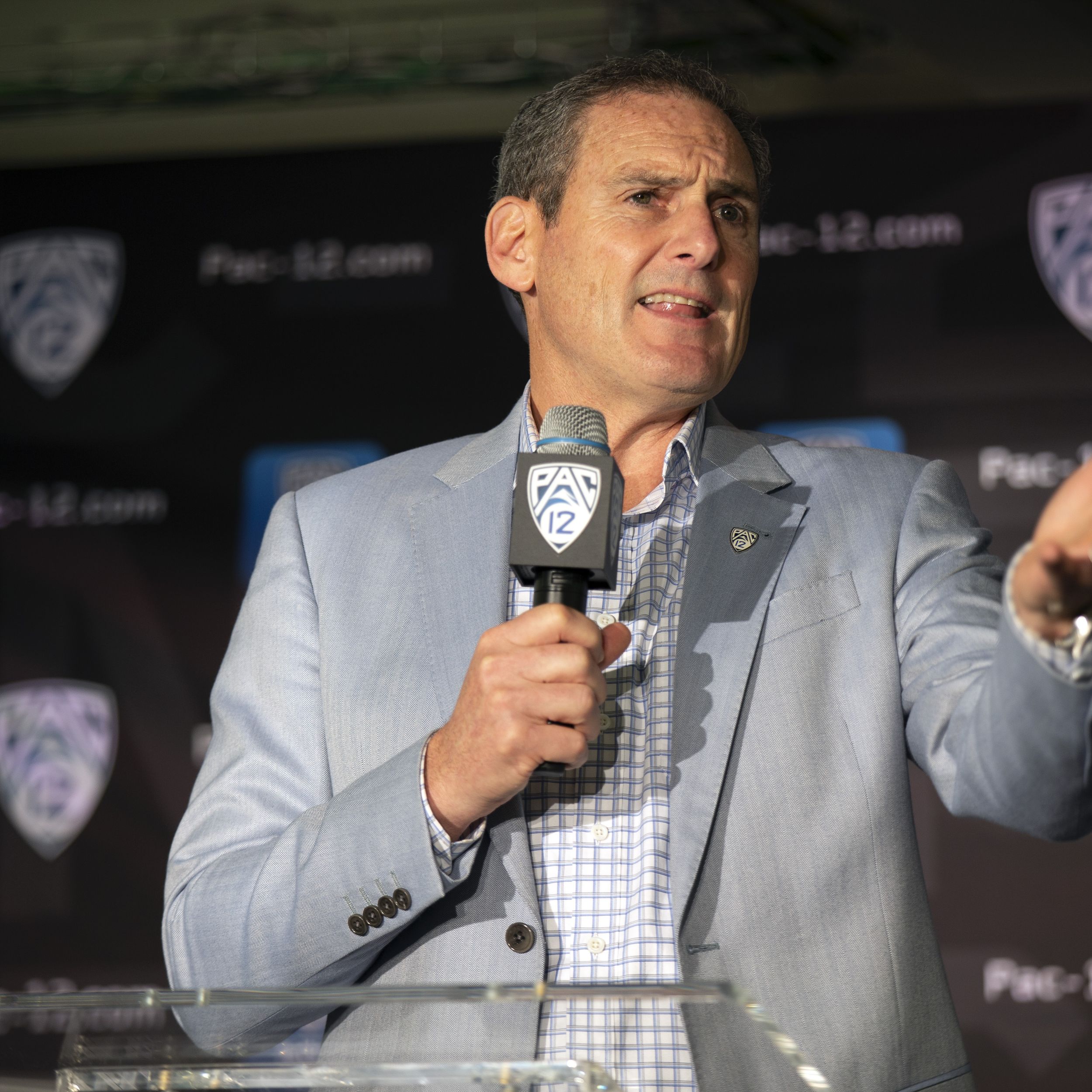 WSU: If you couldn't read Jon Wilner's column about Larry Scott's Pac-12 compensation when we linked it yesterday, we're sure you can this morning. It ran in the S-R. As we said yesterday, it might make you queasy. … Elsewhere around the Pac-12 and the nation, we followed along, fascinated, Sunday, as Washington hosted McNeese State in a softball regional. All the 7th-seeded Huskies had to do was win one of two games to move on. Except they couldn't score. Lost the opener. And then trailed 6-0 headed into the final inning of the nightcap. And yet they will host a Super Regional, having rallied for seven runs and an unprecedented 7-6 victory. … In other Super Regionals involving Pac-12 schools, Utah will surprisingly host San Diego State, Oregon travels to Oklahoma State and Stanford hosts Duke. California fell to No. 1 Oklahoma in Norman. … The Pac-12 baseball tournament is this week in Scottsdale, with the most-fun first-round matchup pitting Arizona State and Arizona. … The NBA decisions of college stars have to be made by May 31. … Utah turns out a lot of NFL-ready tight ends.
Gonzaga: The WCC baseball tournament is this week as well.
Indians: The four-game winning streak ended Sunday in Everett, with a 4-3 loss to the AquaSox. Dave Nichols has the story. Spokane is still on the right side of .500 and among the Northwest League leaders. The Indians return home for a series against Vancouver which will include two makeup contests lost to rain in the first week of the season. With those added in, the teams will play eight games – doubleheaders Tuesday and Saturday – in six days.
Mariners: The longest road trip of the season ended 4-5 after the M's offense once again took the day off. George Kirby wasn't sharp but still yielded just three runs to Atlanta in a 3-2 loss. … Jose Caballero continued to hold on to his lineup spot with another fast – three stolen bases – and furious – his first career home run – day.
•••       
• It's not often we have overlapping events on our calendar, but that's the happenstance early this week. Isn't retirement a time for slowing down? Guess we're not doing it right. Until later …
---