News > Nation
Airlines and FAA try to head off summer travel meltdowns
May 22, 2023 Updated Mon., May 22, 2023 at 8:11 p.m.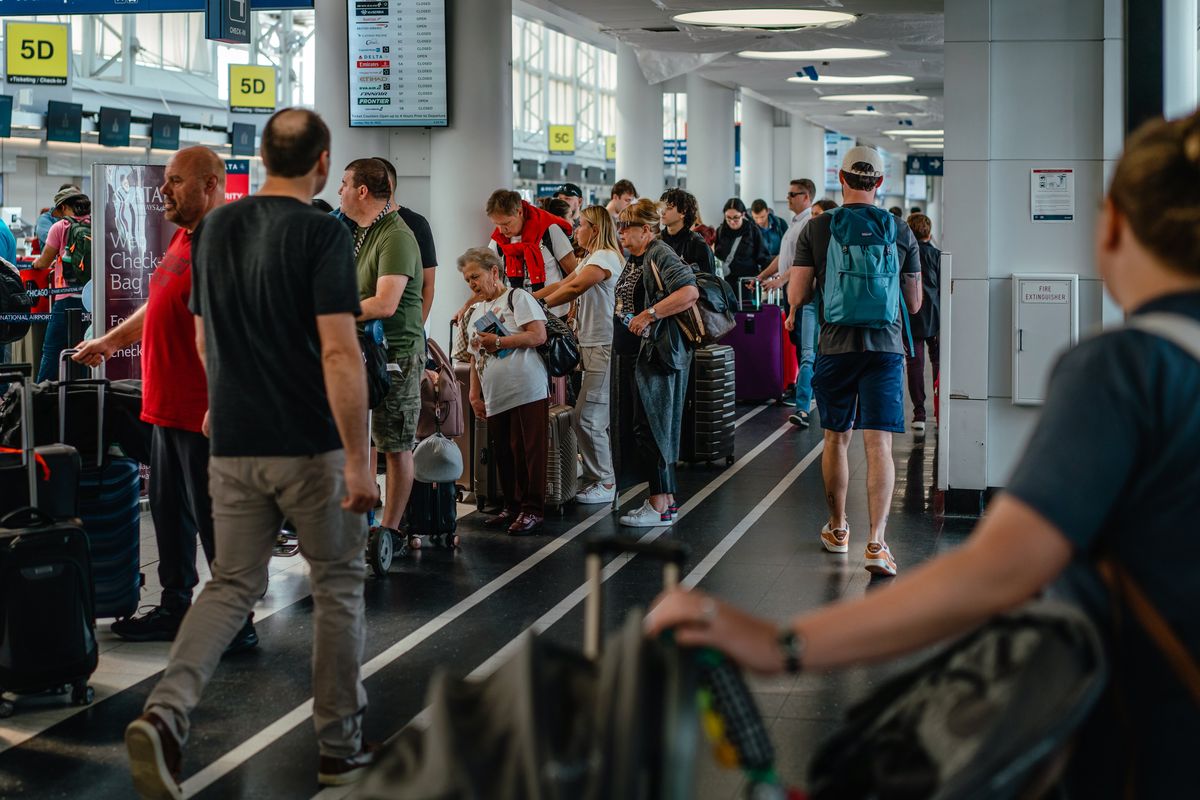 Travelers line up to check in for their flights at Chicago O'Hare International Airport on May 16. Dozens of major airports are also expected to see double-digit growth in traffic this summer. (New York Times)
The number of Americans who will fly this summer could eclipse the pre-pandemic high from 2019. That would be great news for airlines, but it could also cause a backlash against the industry if it fails to keep up with demand and delays or cancels thousands of flights.
The recovery from the pandemic has been punctuated by several major travel meltdowns, stranding millions of travelers and angering lawmakers and regulators. In recent months, the Transportation Department has proposed requiring greater transparency around airline fees and requiring companies to more fully compensate people whose flights are delayed or canceled.
A major misstep could increase political pressure on lawmakers and regulators to take a harder line against airlines and the Federal Aviation Administration, which directs air traffic and has also had notable failures in recent years.
Industry executives and FAA officials say they have made changes after recent disruptions and meltdowns that should make air travel less chaotic and more pleasant this summer than in recent years.
Why have airlines struggled so much?Nearly every major airline and the air traffic control system has suffered a meltdown at some point during the recovery from the pandemic.
Early on, when coronavirus vaccinations were still being developed and tested and restrictions prevented people from traveling, carriers encouraged thousands of employees to take buyouts or retire early even though the federal government had provided airlines with billions of dollars to pay employee salaries. When air travel quickly rebounded, airlines, like every other business, struggled to hire and train employees, including pilots, flight attendants and baggage handlers.
Even when companies got a hold on hiring, airlines remained particularly susceptible to disruptions. During the holidays leading into 2022, a resurgent coronavirus sickened huge numbers of crew members, compounding problems caused by bad weather, and resulting in thousands of flight cancellations nationwide.
Another problem: The aviation system uses technology and ways of doing business that were developed years or decades ago and are showing their age. Around Christmas last year, Southwest Airlines struggled to overcome bad storms because of insufficient equipment and inadequate crew scheduling software and practices, stranding millions of travelers. Weeks later, the FAA briefly stopped all flights from taking off nationwide after a contractor deleted a file in a dated pilot alerting system.
The industry has put in place changes to minimize disruptions, including hiring more staff, reducing the number of flights and adding more resilience to their networks. It appears to be helping: Through early May, weather has by far been the leading cause of flight delays, and cancellations have been limited, compared with 2019.
What will the summer look like?So far this year, air travel has returned to pre-pandemic levels, with more than 2.1 million people passing through airport checkpoints daily, as many as during the same period in 2019, according to Transportation Security Administration data. Airport traffic has already broken pandemic records on several days this May, according to the TSA.
But traffic could soon exceed even those 2019 volumes. Memorial Day is the start of the summer travel season and is expected to be the third-busiest in more than two decades, with 5.4% more people planning to fly than in the same weekend before the pandemic, according to the AAA travel club.
What is the FAA doing?To keep flights running smoothly this summer, the FAA is relaxing rules at some busy airports.
Those rules require airlines to use or lose takeoff and landing slots that they've been assigned. But by easing that requirement from mid-May to mid-September, the FAA hopes to encourage carriers to fly fewer, larger planes without fear of losing their spots. The policy applies to the three major airports serving New York City, as well as Ronald Reagan Washington National Airport.
What are airlines doing?Some airlines say they've prepared for summer by planning to use bigger planes, hiring more staff and more closely watching for early signs of disruptions.
At the FAA's request, several major airlines have agreed to fly less, but with bigger planes, at some busy airports. United, for example, said it planned to have 30 fewer daily departures out of its Newark, New Jersey, hub than in the summer of 2019. But because it's using larger planes, the airline said it would offer 5% more seats in the New York area.
The industry has also aggressively recruited and trained new employees. As of March, passenger airlines employed the equivalent of nearly 487,000 full-time employees, the most since October 2001, according to an analysis of federal data by Airlines for America, the industry group.
Local journalism is essential.
Give directly to The Spokesman-Review's Northwest Passages community forums series -- which helps to offset the costs of several reporter and editor positions at the newspaper -- by using the easy options below. Gifts processed in this system are not tax deductible, but are predominately used to help meet the local financial requirements needed to receive national matching-grant funds.
Subscribe now to get breaking news alerts in your email inbox
Get breaking news delivered to your inbox as it happens.
---