He's back: Bobby Wagner returns, with a new appreciation for Seattle, Seahawks begin OTAs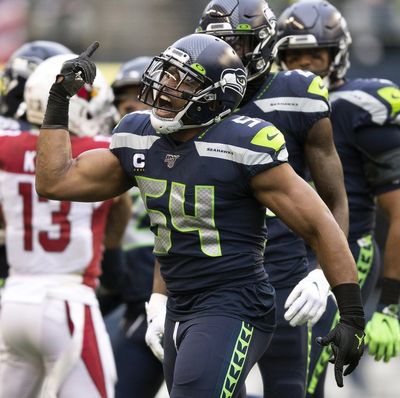 RENTON, Wash. – Bobby Wagner has been in the NFL going on a dozen years. There aren't many questions he hasn't been asked. There are almost no situations he hasn't already experienced
Yet this week is a first.
This is the first time the 32-year-old, six-time All-Pro linebacker is returning to the Seahawks after playing for another NFL team. This is the first time since his rookie year, 2012, he's been the new guy in the middle of Seattle's defense.
Monday was his first practice with the Seahawks in 16 months. The only professional team he'd known released him in the spring of 2022 for one season to the Los Angeles Rams to save $16 million against last year's salary cap.
He's no longer wearing 45. That's the jarring-looking jersey number he wore with the Rams last season.
He's back in 54. Back to where the native of Southern California calls "home."
"Seattle was always home," Wagner said.
He was asked following practice Monday: What was his biggest takeaway from his year away from the Seahawks?
"Um … that's a great question. I don't know if I've been asked that before," Wagner said.
"So this is real-time, thinking about this right now: The biggest thing is appreciation. Appreciation how good things are. You see how things are when you are winning, You see how things are when you are not winning.
"Valuing people, and relationships. Because you can think you will be around these people for a long time, and then it can be over just like that.
"I think the biggest thing, too, is, no matter how many years you've been in the league this is still a business. So one day, the business is always going to come into play at some point, and you've always got to be prepared for it.
"I've always just tried to handle business the right way, so whenever I get out of here they know I am a person who knows how to handle business. Good and bad."
Business is booming again for Wagner on the Seahawks' defense.
Throughout the two hours on the field Monday, first inside on the team's indoor field then outside along Lake Washington on a cool, cloudy afternoon, Wagner tutored Devin Bush. The former Pittsburgh Steeler signed with Seattle in March about a week before Wagner signed his one-year deal worth up to $7 million to return to the Seahawks.
Wagner and Bush are the new inside linebackers in coach Pete Carroll's 3-4 scheme for 2023. That's while Jordyn Brooks, who moved from outside to inside linebacker to replace Wagner as the defense's signal-caller last season, continues to be away from the team.
As Carroll had said they would, Brooks and safety Jamal Adams are absent from these OTAs the next three weeks. They remain in Texas rehabilitating: Brooks from surgery to repair his anterior cruciate ligament in his knee he injured in January, and Adams from a torn quadriceps tendon and knee he injured in the 2022 opener in September.
At one point during a 7-on-7 drill Monday, Wagner lined up outside wide left to cover rookie running back Kenny McIntosh. The seventh-round draft choice from Georgia was 12 years old when Wagner began his NFL career as Seattle's second-round pick in 2012.
On the next play, Wagner ran outside to cover the swing route of another rookie. Running back Zach Charbonnet, the Seahawks' second-round pick this year from UCLA, was 11 when Wagner first started covering NFL receivers.
"Man, it was awesome just to see Bobby in our uniform again, not in that ugly 45, you know," Seahawks quarterback Geno Smith said.
"It was great to see him across the line of scrimmage again. I'd gotten used to that, and last year was different.
"It's great to have him back. Such a tremendous leader. Obviously, a legendary Seahawk, and someone that we hold dear."
Wagner didn't sell the home he kept in the Seattle suburbs over his first 10 NFL seasons starring for the Seahawks. So he isn't starting over off the field, either.
He turns 33 next month. He said he's changed his offseason workout regimen somewhat this winter into spring, to prepare for his 12th NFL season.
"More basketball and more yoga," he said.
"I feel good. I feel good," he said.
But he knows it's only May. He knows walk-through practices in helmets and shorts without challenging the offense or playing the ball, per NFL OTA rules, may not mean much toward how he performs in his second Seattle go-round and whether the Seahawks defense improves in 2023, as it must.
When his 12th training camp, 11th with Seattle, begins in late July, that's when the man who is the only remaining Seahawk from the 2013 Super Bowl-champion team will begin learning how new his old team is.
"This time is really for offense," Wagner said. "We are just in the way."
---