100 years ago in Eastern Washington: A missing optometrist's body was found in the Columbia River, but there were still many questions in his death
Wed., May 24, 2023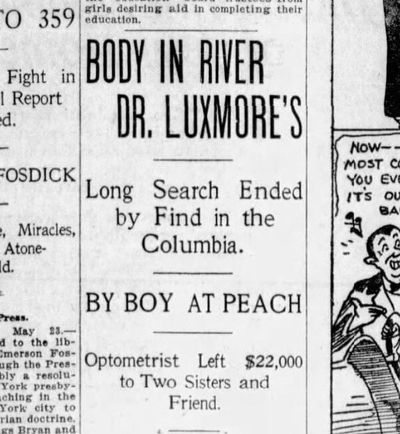 The mysterious disappearance of Spokane optometrist J.P. Luxmore, 50, was solved when a boy discovered the man's body floating in the Columbia River near the town of Peach.
Luxmore had last been seen alive a month earlier. His car had been found abandoned along the river. Friends reported that he had been in poor health recently. He had suffered a nervous breakdown a year earlier and had been confined in a sanatorium for nine months. He "suffered from mental lapses and would wander around in a dazed condition."
His body was identified by means of a money order and check found in his clothing.
From the assault beat: Ray Fry, 25, a North Central High School janitor, had just exited a streetcar when a thug pressed a gun in his back and ordered him to put up his hands.
"Startled, I half turned, starting to raise my hands," Fry said. "As I did so, there was a terrific report and a burning and tearing pain in my side. He never even gave me a chance to do as he ordered, just shot and turned and fled down the street in the darkness."
Fry, badly wounded, staggered into the streets.
"How I got across the street alone, I don't know, but I managed to make it," Fry said. "I had to crawl on my hands and knees up the porch steps and just had strength to reach the doorbell. If the folks hadn't wakened at the first ring, I guess I would have bled to death there."
He fainted on the porch, but emergency responders revived him and took him to Sacred Heart Hospital, where he was able to tell his tale. Doctors reported him in a "very weakened condition" and feared the bullet may have pierced a kidney.
Local journalism is essential.
Give directly to The Spokesman-Review's Northwest Passages community forums series -- which helps to offset the costs of several reporter and editor positions at the newspaper -- by using the easy options below. Gifts processed in this system are not tax deductible, but are predominately used to help meet the local financial requirements needed to receive national matching-grant funds.
Subscribe now to get breaking news alerts in your email inbox
Get breaking news delivered to your inbox as it happens.
---