Sports > Outdoors
Off the Grid: Dispatches from Tuscany
May 24, 2023 Updated Wed., May 24, 2023 at 6:39 p.m.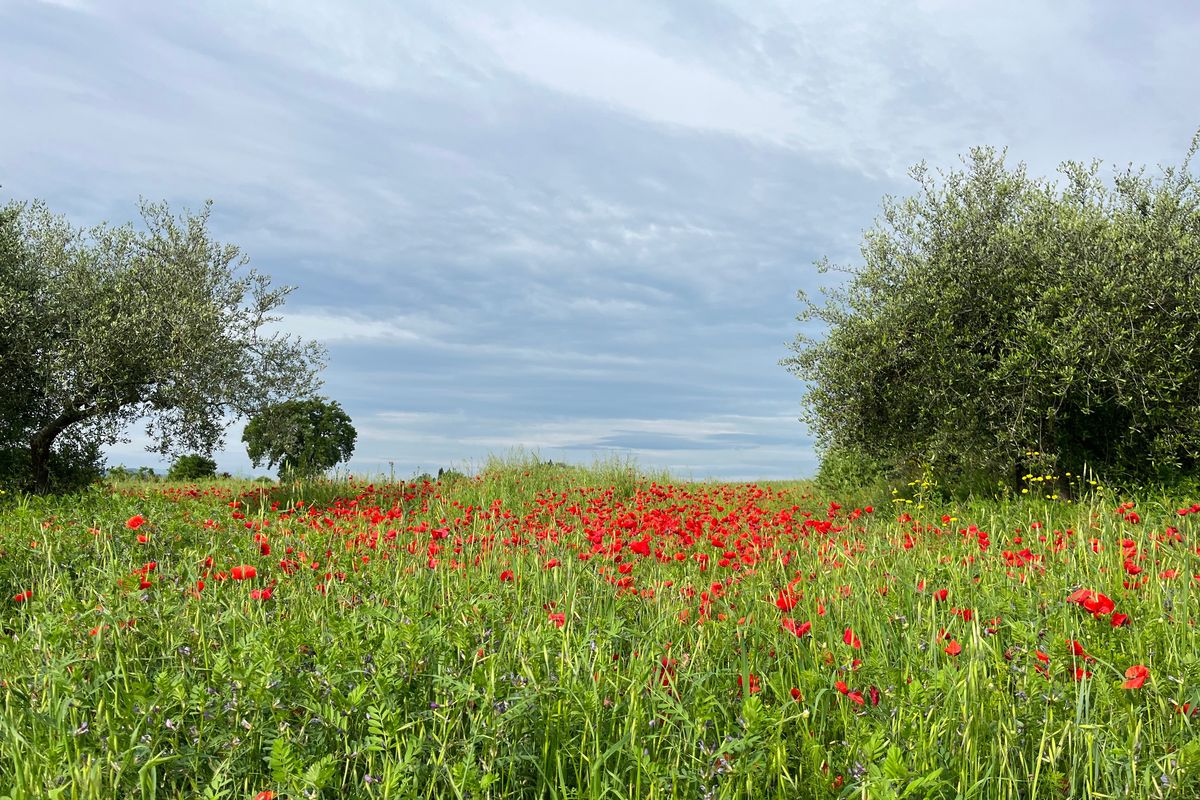 Heavy spring rains have left the ground soft and the poppies abundant in the Tuscany region of Italy. (Ammi Midstokke/For The Spokesman-Review)Buy a print of this photo
From time to time, we ought to leave our neighborhoods if only to open our eyes briefly to the other.
Regardless of how mundane it may be, the song of a different bird delivers a kind of wonder to the listener.
It's a curiosity we lose in our day-to-day living, too preoccupied to see the world unfolding or seasons changing around us.
Beneath the terracotta-tiled roof of the terrace at a vineyard in the heart of Tuscany, I am pleased with myself for noticing the delightful song of these foreign birds.
I tell myself this is why I need to travel, because it is these broader experiences that bring sophistication to one's palette and that are a necessary ingredient to being an authentic writer. Which is what I'm in Italy to prove, of course.
I lean into the morning sun to peer around a tree and catch a glimpse of the exotic fauna.
It's a pair of pigeons. Which goes to show I know as much about birds as I know about writing. These pigeons, I'm sure, speak Italian and their family dinners are more raucous than our s.
It is not just the birds, but the singsong conversation I'm listening to.
The farmers, silver-haired and sun-browned, had returned from the mangled and luscious olive groves and were sitting in the shade beneath a shed roof, watching the unusual traffic of women in flowing dresses.
Women who go to Italy to write must do so in long dresses that ripple in the breeze, or so I have determined with my floral-stuffed suitcase.
I have no idea what they are saying because my Italian is limited to the names of four artists and 20 dishes, but it sounds wonderful and I am struck with the beauty of language even without understanding.
Sometimes our need to understand distracts us from the blatant loveliness of a thing. Sometimes it illuminates the miracle.
In search of loveliness and illumination, I left the ancient stone compound and the shade of cypress trees to explore the rolling hills of this fabled land. Tuscany is not overpromised or overhyped.
It is overrun, for certain, by white-shoed tourists who talk about gelato with a poetic glaze in their eyes.
I had done that already in my youth and so I came with different intent this time. I needed to open my soul and I needed something more gentle than my usual spirit-exposing shenanigans. I needed … a retreat.
Retreats are like rehab for people who don't drink.
This one in particular is for women who like linen, validation and writing prompts.
Also, it was located in a place with unreliable maps and few trespassing laws. It was perfect for me.
The tourists are in the villages this time of year, not the fields, which is where I aim to get lost in a false hope that to see the landscape like a local might add some unique veracity to my brand of tourism.
Thus far, I am no different than anyone else who plunders the culture, food, horizon and bastardizes it in my own kitchen with tiny jars of dried truffles.
Is my homemade pesto cultural appropriation?
I wonder, as I trot down a narrow road realizing that, at 45, my left and right remain dyslexic and wherever I thought I was running to is probably what I am running from and my only hope is to make it back before they send those farmer men after me.
It is breathtaking in the sense that I have to stop and remind myself to breathe because these rolling fields of wheat and poppies are what I think heaven might be like if it exists.
In fact, my coffee was so good this morning, I ought to have been suspicious. (We all know I've eradicated far too many varmints to make it through the pearly gates without some sort of penance first.)
I want to stay in this moment of morning forever, where farms are surrounded by rows of cypress and the roads are alarmingly narrow and people eat their breakfast with the front door open.
I recall my writer friend's rant about the chips we build into washing machines now to singsong us (less like birds, more like chirping mothers) back to change the laundry.
"Why are we wasting chips on this?" she asks. "We don't need musical reminders to return to our laundry."
We have, she suggests, replaced the promise of convenience with ill-conceived nuisance and preoccupation of the unessential.
And now there will be a chip shortage and one country will dominate other countries and the loser of that quiet battle will have to remember that they put laundry in the machine this morning.
In an instant, Italy is not beautiful because I am worried about how many of my appliances have chips and chirp.
These are precisely the conundrums I don't want to think about when I'm traveling to write, but I'm certain it's happened because I replaced my flowing linen dress with running shorts. I should have known better.
I push it out of my mind and watch my feet again. The rocks here are hues of red marble. Even the pebbles are romantic.
The mud in Tuscany is not the mud in the Pacific Northwest.
The lizards are the same but different. What I love most on this soaked morning of field bushwhack is that the plants are tame and the wildlife safe and no farmer is going to shoot me for walking along the edge of his field.
Their chickens were justifiably distraught and clucked in chicken Italian as I trudged by apologetically promising not to steal their eggs.
I reach out my hand and run it across the sea of wheat with its fine fans of fiber stretching upward.
The whole field moves with a magical rustling in soft green waves. I can see the wind as it blows down one slope and up another.
I don't know if I've seen the wind before. Or rather, if I noticed that is what I am seeing.
As the steam of last night's rain rises from the fields in silver wisps, I think of how these fertile lands are like our beloved Palouse, our pigeons make the same bubbly conversation with each other, our farmers share morning stories, and our lives are just as miraculous and wondrous and magical.
We just have to pause to witness it happening around us. And if we're really quiet, we might hear it happening within us, too.
I can't be certain, but I think my heart beats a little louder each time I listen to it.
Ammi Midstokke can be reached at ammimarie@gmail.com
Local journalism is essential.
Give directly to The Spokesman-Review's Northwest Passages community forums series -- which helps to offset the costs of several reporter and editor positions at the newspaper -- by using the easy options below. Gifts processed in this system are not tax deductible, but are predominately used to help meet the local financial requirements needed to receive national matching-grant funds.
Subscribe to the sports newsletter
Get the day's top sports headlines and breaking news delivered to your inbox by subscribing here.
---