News > Education
Spokane Public Schools considers idea to continue honoring Joe Albi, even if a stadium isn't named after him
Wed., May 24, 2023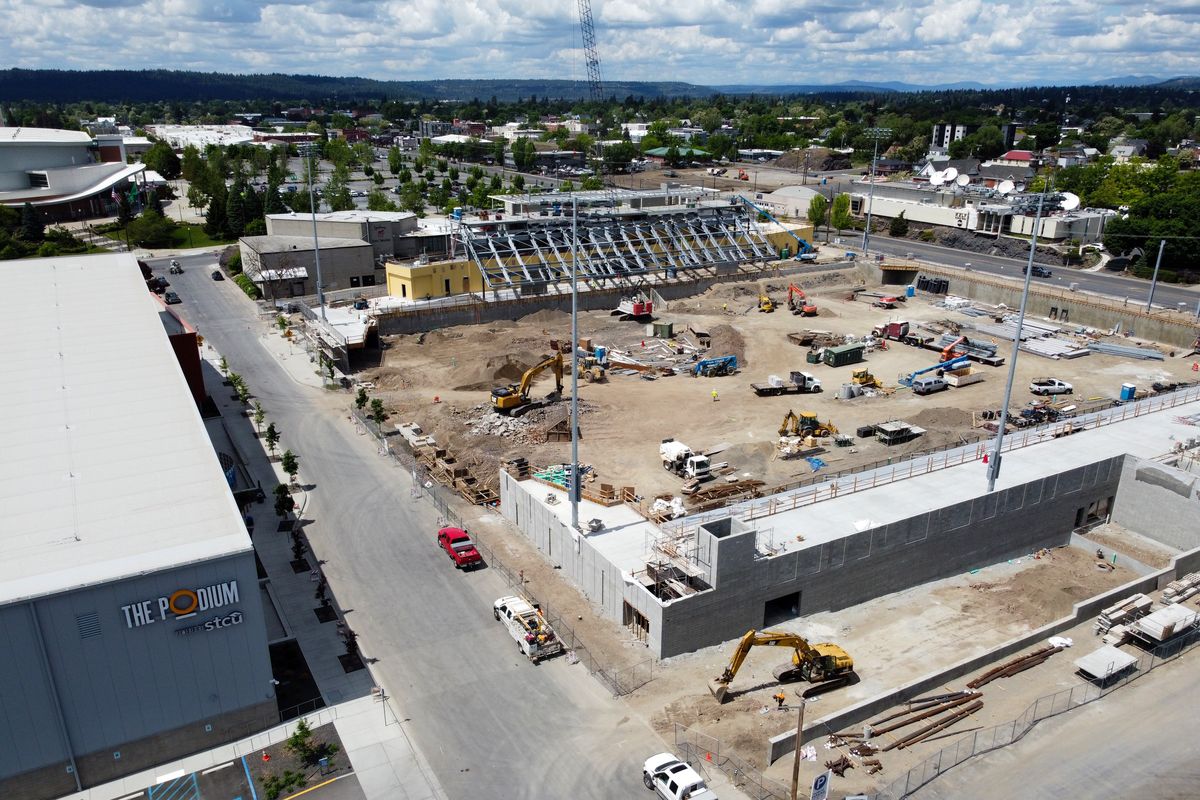 As the new downtown sports arena, right, takes shape across the street from the Podium sports complex, left, the street between the two, Dean Avenue, may be renamed to honor a legendary sports fan, Joe Albi. Photographed Tuesday. (Jesse Tinsley/THE SPOKESMAN-REVIEW)Buy a print of this photo
His namesake is gone, but Joe Albi's legacy will inspire Spokane youth for generations to come at the new downtown stadium.
On Wednesday night, the Spokane Public Schools board is expected to pass a resolution requesting that the City of Spokane rename a portion of West Dean Avenue to "Joe Albi Way."
In addition, the district has included in the new starium a plaza – also to be named after the attorney and sports buff – that will feature a display plaque and the statue of "Joe Fan" that was in the old stadium.
"We wanted to continue the legacy by honoring Joe Albi for all his contributions to youth in Spokane," said Shawn Jordan, chief operations officer for Spokane Public Schools.
Located between Boone and Dean avenues east of the Spokane Veterans Memorial Arena, the stadium is scheduled to open in late September for Greater Spokane League soccer and football contests.
In addition, the Spokane Public Facilities District will use the stadium for professional sports, concerts and other entertainment events when not in use by the school district.
Names for the new stadium and its field have yet to be determined. Representatives from the facilities district and the school district are scheduled to meet Friday to discuss alternatives to proposals that were rebuffed in two recent school board meetings.
Regarding the proposed street name change, the school district's request pertains to a three-block section of Dean Avenue between Washington and Howard streets.
The resolution is part of the consent agenda for Wednesday's board meeting, which begins at 7 p.m. The public is allowed to comment.
The current draft of the display plaque recognizes Joe Albi's accomplishments and history, as follows: "The son of Italian immigrants and a lifelong Spokane resident, Joseph Aloysius Albi was more than a local businessman – he was a trial attorney, philanthropist, civic booster, diplomat, and sports supporter. The Spokane Daily Chronicle called him 'a man with a million ideas, every one of which was designed to help some deserving youngsters and to promote…his favorite city.' "
Albi founded the Athletic Round Table in 1920 and served as its president until his death 42 years later. During that time, he raised and distributed more than $2 million dollars for the Spokane sports community.
Albi's legacy includes Esmeralda Golf Course; Spokane Coliseum; the inaugural U.S. Women's Open golf tournament; numerous PGA Tour events, including the 1944 PGA Championship; and the stadium that bore his name in northwest Spokane, originally called Spokane Memorial Stadium. It hosted many high-profile teams and events in its long history, including the Green Bay Packers, Elvis Presley and Billy Graham.
Renamed in honor of Albi just weeks before his death, it was demolished in 2022.
The Spokane Public Facilities District, which owns and operates the Arena, the Podium and other large facility venues in Spokane, will maintain and operate the new stadium, saving the school district significant costs.
Local journalism is essential.
Give directly to The Spokesman-Review's Northwest Passages community forums series -- which helps to offset the costs of several reporter and editor positions at the newspaper -- by using the easy options below. Gifts processed in this system are not tax deductible, but are predominately used to help meet the local financial requirements needed to receive national matching-grant funds.
Subscribe now to get breaking news alerts in your email inbox
Get breaking news delivered to your inbox as it happens.
---