A&E > Entertainment
'About My Father': Sweet family comedy, seasoned with bland yuks
May 25, 2023 Updated Fri., May 26, 2023 at 12:04 p.m.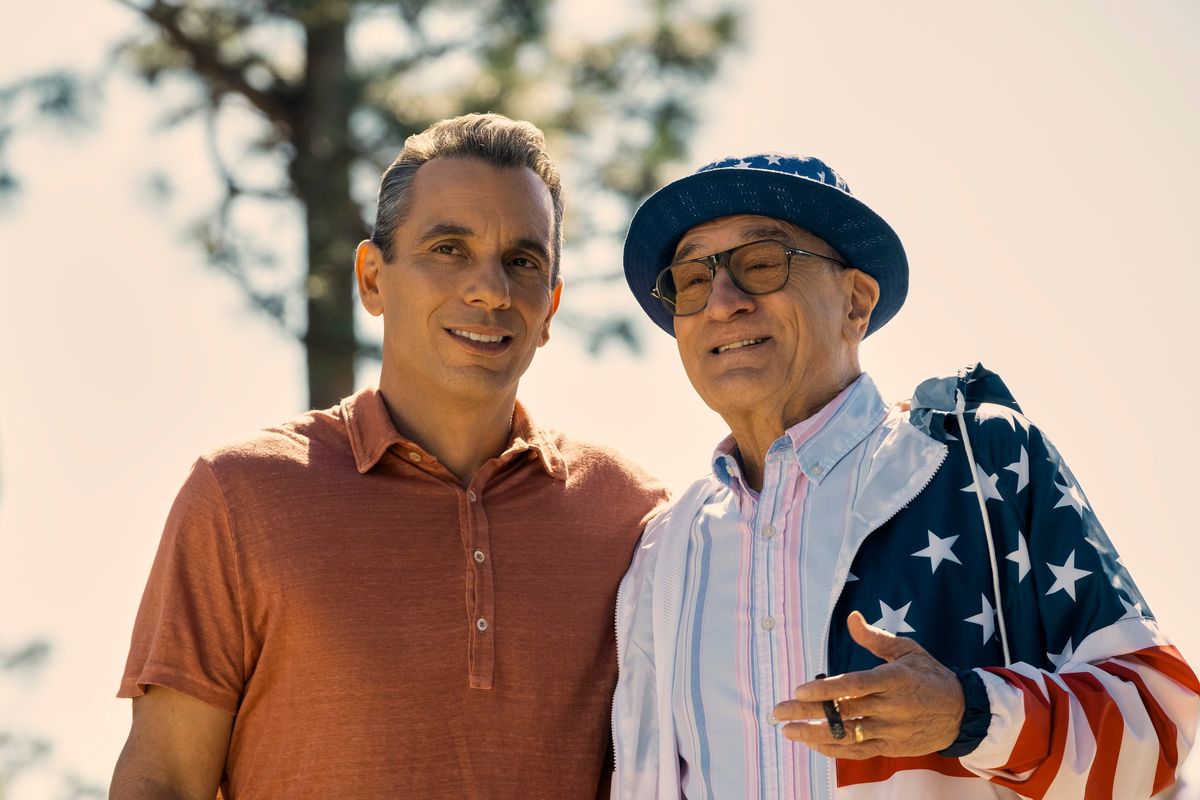 Sebastian Maniscalco, left, and Robert De Niro in "About My Father." (Dan Anderson/Lionsgate)
Comedian and actor Sebastian Maniscalco (recently seen in Ray Romano's directorial debut, the family-themed dramedy "Somewhere in Queens," as the brother of Romano's character) has referred to the subject of his own Sicilian-immigrant father as a "gold mine" for his stand-up act, which can be pretty funny. With Maniscalco's feature writing debut – the genial family comedy "About My Father" – the performer returns to that mother lode, playing a version of himself, also named Sebastian Maniscalco, with Robert De Niro as his Sicilian-immigrant father, Salvo.
If he doesn't come up with comedy gold, exactly, it's not for lack of trying.
This a sweet, mostly cute story about the importance of the people we're related to, peppered with some fairly broad and not especially hilarious yuks. Set during a Fourth of July weekend, at the Virginia mansion where Sebastian's girlfriend Ellie (Leslie Bibb) spent childhood summers with her patrician family, whose roots go back to the Mayflower, "Father" is a fish-out-of-water tale in which the Chicago-based Sebastian is meeting Ellie's wealthy family for the first time, with Salvo in tow.
Cue the culture clash – which never fully sets in. Would you settle for a few silly mishaps instead?
Right off the bat, Sebastian has a panic attack, or airsickness, or something, in the helicopter that Ellie's ne'er-do-well brother Lucky (Anders Holm) has brought to the airport to pick them up in. Then, while Sebastian is jet-boating off the family yacht, his Versace swim trunks fall down in front of everyone. Later, while trying to thank his hosts (Kim Cattrall and David Rasche) for their hospitality, Salvo whips up a quick pasta dish using the family's pet peacock as protein. (No spoiler alerts here: These last two are both featured prominently in the trailer. Presumably, they're the best gags in the film.)
To be honest, it feels like Maniscalco is wielding the pickax a little too heavily to come up with nuggets for a story that is at its best when it just kicks back and observes the little oddities of life. Lucky is a walking cliché, for instance: Dressed in a caricature of nautical prep chic, he insists on calling Sebastian "Sea Bass," like a distant cousin of Alex Moffat's Guy Who Just Bought a Boat character on "Saturday Night Live."
The other brother, Doug (Brett Dier), is more interesting and unexpected: a New Age-y weirdo who plays sound bowls and doesn't hesitate to point out, when the family treats Sebastian and Salvo to lunch at the club, that the building was built by enslaved people. More Doug, and less of Sebastian's ding-dong, might have been an improvement here.
But Doug is there to score another point that "Father" makes, ultimately with elegance and sincerity, although it's not an especially original one. ("Somewhere in Queens" made it better, in fact.) It is a truism, however, and heartfelt: Family can be embarrassing. And yet family is not just one of the most important things in life – it's everything.
Local journalism is essential.
Give directly to The Spokesman-Review's Northwest Passages community forums series -- which helps to offset the costs of several reporter and editor positions at the newspaper -- by using the easy options below. Gifts processed in this system are not tax deductible, but are predominately used to help meet the local financial requirements needed to receive national matching-grant funds.
Subscribe to the Spokane7 email newsletter
Get the day's top entertainment headlines delivered to your inbox every morning.
---