Sports > High school sports
State 4A/3A/2A track and field: Central Valley's Brandon Thomas wins ambulatory shot put championship
May 25, 2023 Updated Fri., May 26, 2023 at 10:45 a.m.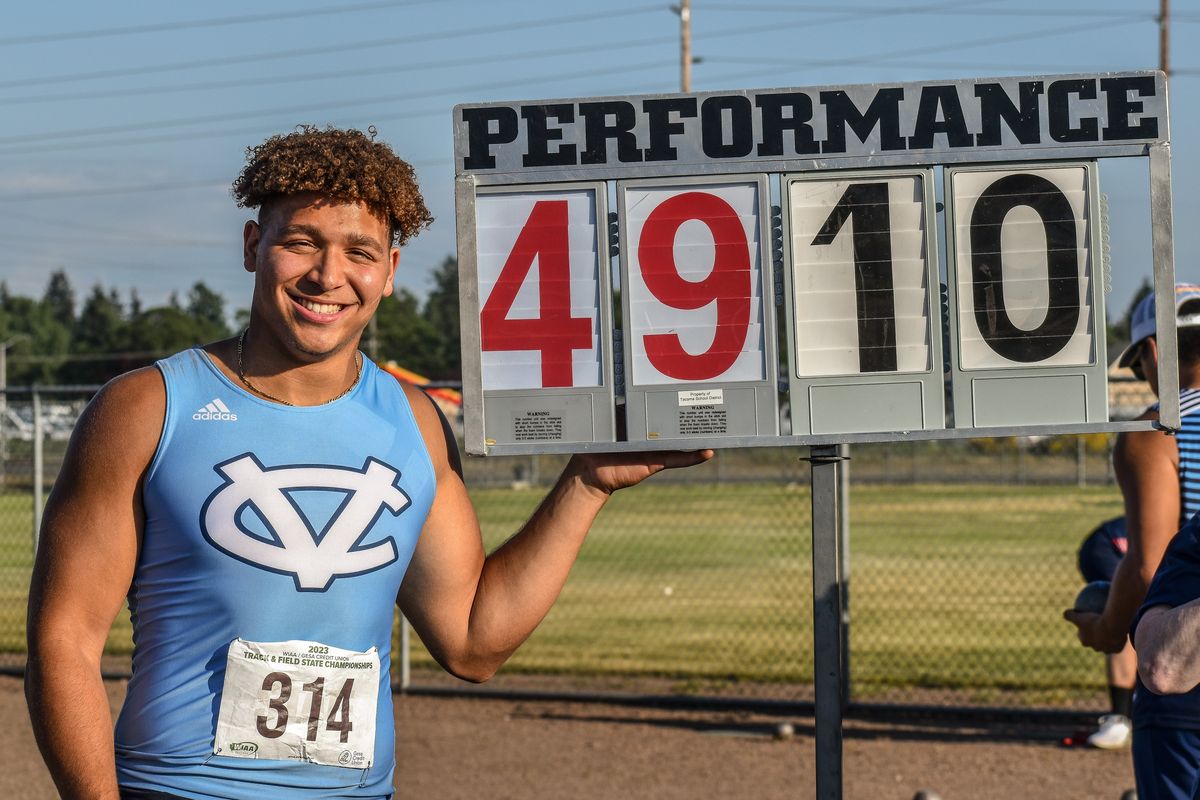 Central Valley's Brandon Thomas poses with his state-record mark in the ambulatory shot put at the State 4A championships at Mount Tahoma High School on Thursday. (Keenan Gray/FOR THE SPOKESMAN-REVIEW)Buy a print of this photo
TACOMA – Brandon Thomas knew what needed to be done to win another ambulatory shot put state title. He simply conquered it.
The Central Valley senior delivered in big fashion on the first day of competition at the Washington State 4A/3A/2A track and field championships at Mount Tahoma High School in Tacoma on Thursday, winning his second consecutive state title in a meet-record throw of 49 feet, 10¼ inches.
"I beat my state record by a lot," Thomas said, who threw 42-4½ in last year's state meet. "I'm just happy to be here."
On Thomas' final attempt , the shot came out of his hand perfectly and just grazed the edge of the 50-foot line.
After measurements, he was 2 inches shy of 50 feet. He hugged coaches, friends and family afterward.
"My support has been with me the entire way," Thomas said. "They carry me through all the hard times, through all the good times, and the bad. My coaches are a big reason why I've made so much progress. I'm just so happy I get to do this."
West Valley's Jayden Barta had a day on the 2A side, winning the boys long jump with a lifetime-best 22-9¼.
Entering the finals in second place behind Lynden's Troy Petz by one-quarter inch, Barta took his first lead of the day on his first jump at 22-5. Petz regained the lead on his next jump with a mark of 22-5¾, but Barta took back the lead with his winning effort.
"It was definitely nerve-racking," Barta said. "When (Petz's) first jump came, it was 22-3, and I was like, ' OK, he hasn't jumped huge yet'. I just had to keep following him in a way. I kind of felt that's what I did a good job in."
Mead's Charlotte Cullen ran a lifetime best in the 3A girls 1,600-meter race, running 4 minutes, 53.67 seconds to finish runner-up to Auburn Riverside's Julia Couch (4:52.04).
Cullen sat back for three laps behind Bellevue's Kalea Hill before taking over the lead with under 300 meters to go. As she rounded the bend heading into the final straightaway, Riverside's Couch outkicked Cullen over the final 50 meters .
"I was like, 'I could win this thing,' and then I saw Julia go by and was like, 'Dang, that's fast,' " Cullen said. "I was pumping and trying so hard. I was running my personal best and I'm happy with it."
Cullen's teammate, Raegan Borg, ran a personal-best 5:01.52 to finish sixth.
Mt. Spokane's Parker Westermann was one of three sophomores in the top four of the 3A boys 1,600, running a personal-best 4:10.31 to place fourth .
Lewis and Clark's Evan Bruce placed third in the 4A boys 1,600 in a personal-best 4:15. Central Valley's Nicole Bissell also placed third in the 4A girls 1,600, running a personal-best 4:57.24.
West Valley's Roxanne Fredericksen finished seventh in the 2A girls 1,600 with a personal-best 5:13.14.
University's Addy MacArthur placed second in her first of two events this weekend, throwing 40-5¾ in the 3A girls shot put. Central Valley's Rodney Minette threw 55-11¾ in the boys 4A shot put to place second.
Clarkston's Sage LoneBear threw 146-4 to finish fifth in the 2A boys discus.
Shadle Park's Kyleigh Archer placed fifth in the 2A girls long jump at 16-0.
Mead's Evan Berg threw 173-4 in 3A boys javelin, earning fourth place. Central Kitsap's Roderick Schenk broke the state meet record at 219-1.
Central Valley's Brandon Gutzwiler cleared 6-0 to place eighth in the 4A boys high jump.
In preliminary events, North Central's Cameron Dewey dipped below his personal-best time in the 3A boys 110 hurdles, running 14.48 to finish first in his heat and advance to Friday's finals.
East Valley's Makenzy Gillespie advanced in the 2A girls 100 hurdles after finishing first in her heat in a lifetime-best 15.52. She'll have the fastest time heading into the final heat.
Rogers' Jay Len Sparks ran a personal-best 14.95 in 2A boys 110 hurdles, finishing third in his heat and fourth overall to move into the finals.
Mt. Spokane boys 4x400 relay team will be the top qualifier heading into Saturday's 3A final, running 3:19.40.
Mead finished first in the 3A girls section to move on to the finals in 3:59.96.
Central Valley girls took fourth in the 4A 4x400 relay, securing a spot in the finals at 4:01.55.
The Pullman boys and girls 4x400 teams advanced to the 2A finals. The boys ran 3:28.72 to finish fourth and the girls 4:10.96 for fifth. West Valley's girls finished seventh in 4:11.25 to advance in 2A.
The Gonzaga Prep, Ridgeline and Rogers girls 4x200 relay teams each finished fifth in their respective races to move on to Saturday's final. G-Prep ran 1:43.91 in 4A, Ridgeline 1:44.94 in 3A and Rogers 1:48.06 in 2A .
Local journalism is essential.
Give directly to The Spokesman-Review's Northwest Passages community forums series -- which helps to offset the costs of several reporter and editor positions at the newspaper -- by using the easy options below. Gifts processed in this system are not tax deductible, but are predominately used to help meet the local financial requirements needed to receive national matching-grant funds.
Subscribe to the sports newsletter
Get the day's top sports headlines and breaking news delivered to your inbox by subscribing here.
---