100 years ago in Eastern Washington: A fire at a match factory may or may not have been started by, well, a match
Fri., May 26, 2023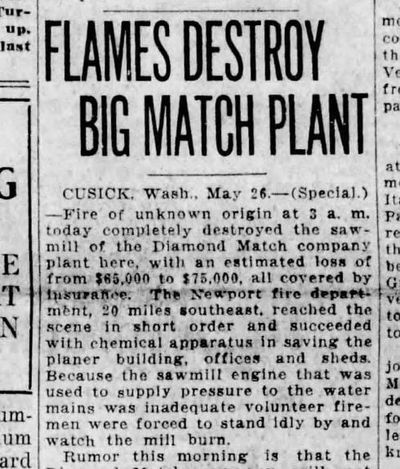 A massive fire destroyed the Diamond Match Co. sawmill in Cusick.
The fire started at 3 a.m., and Newport Fire Department arrived as soon as possible, but it was too late to save the sawmill. The sawmill's water mains proved to be inadequate, so firefighters were "forced to stand idly by and watch the mill burn."
They did, however, manage to save several other buildings, including the planer building and the offices, thanks to favorable winds.
The rumor in Cusick the next morning was that Diamond Match will rebuild the mill and probably add to the capacity.
The cause of the fire was unknown, so nobody knew if it was started by … a match.
From the oil beat: Construction work began on a 1,000-barrel oil refinery in Hillyard.
The Hurah-Sinclair Refining Co. – based in Spokane but financed by "Eastern and California capital" – broke ground at a spot adjoining the Great Northern right-of-way just north of Hillyard.
The company planned to ship crude oil in from Montana oilfields and then market the refined products in Spokane. This was considered a savvy business move, since freight rates on crude oil were more favorable than rates on refined oil.
Local oil men said this was the first step in making Spokane a refinery center.
Also on this day
(From onthisday.com)
1896: Last Tsar of Russia, Nicholas II, crowned.
1972: President Richard Nixon and Soviet leader Leonid Brezhnev sign SALT accord.
Local journalism is essential.
Give directly to The Spokesman-Review's Northwest Passages community forums series -- which helps to offset the costs of several reporter and editor positions at the newspaper -- by using the easy options below. Gifts processed in this system are not tax deductible, but are predominately used to help meet the local financial requirements needed to receive national matching-grant funds.
Subscribe now to get breaking news alerts in your email inbox
Get breaking news delivered to your inbox as it happens.
---