As Michael Block becomes a golf hero, his home club is soaking it in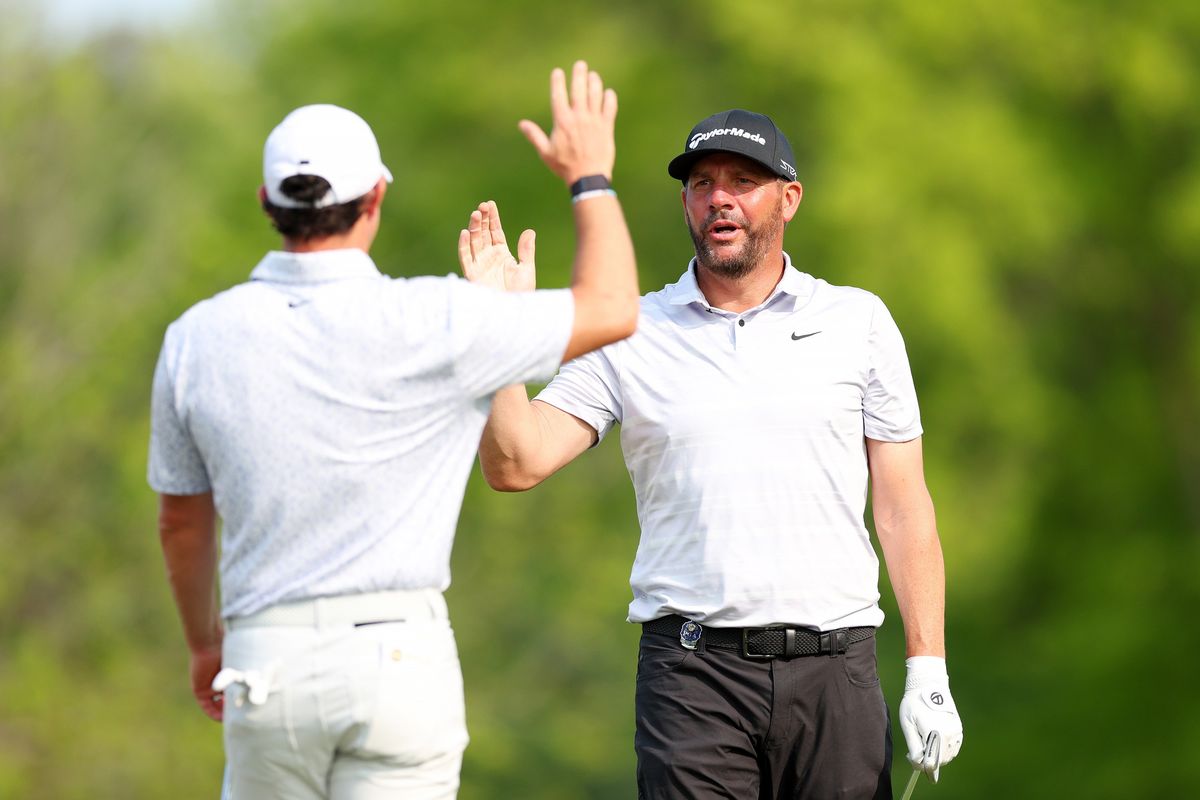 MISSION VIEJO, Calif. – Sport, the world's greatest connector of humans, has struck again lately out in the world and just off the venerable Interstate 5. It has taken a busy golf club and ratcheted up the bustle. It has clogged the parking lot, jazzed up the restaurant chitchat and frazzled up the phone lines, with some of the incoming calls suddenly international. It has taken a Sunday in May in a restaurant bar and made it indelible. It has caused "different vibes just coming to work," as said a voice from a crucial vantage point.
The voice belongs, after all, to the bartender.
He's the bartender whose name came up Sunday in a PGA Championship news conference 2,200 miles away in Rochester, New York. He's that indispensable bartender who sees a face and knows a drink order straightaway. He's Armando Vilchez, the Peruvian American who has worked for 16 years in O'Neill's restaurant at this Arroyo Trabuco club, and who goes back all that time with Michael Block, the 46-year-old who stirred something in souls far and wide when he posted the third-best finish by any of the PGA teaching pros who play the PGA Championship as an annual ritual, and notched his tie for 15th while treating fans on the Oak Hill course to a lavish distribution of high-fives and fist-bumps.
"This," Vilchez said by phone, for it was his day off during a reporter's visit, "is the greatest experience I've ever had working at the golf courses. I've worked for golf courses for 26 years."
"Armando serves a fantastic cocktail," Block had said in Rochester while describing this Southern California club where he's head pro, after his 70-70-70-71 (1 over par) included his wowing, dunking, cup-ripping hole-in-one on No. 15. It's deeper than a cocktail, of course, for Block clearly counts as a man beloved. If there's manufactured fondness out there in some places for some people, those places don't include this place and this person.
"Such a great person, such a nice human being," Vilchez said.
"The best," said Madison Butler, a PGA pro who teaches here, and who made a career leap going independent last year partly because she knew being around Block would help.
"I mean, he is the best," said Blake Hayes, the assistant pro who sometimes handles either the golf shop or Block's black Labrador retriever, Messi, or both.
"That's who he is," Vilchez said of Block's effusive, sometimes emotional, interviews. "He's 100% natural. He's like one of us."
"And that's why it's so wild that this has happened," Butler said. "It's wild because you guys are seeing what we're seeing every day. … He's not just doing this for the cameras."
How many club pros, once they've wriggled into PGA Tour events as Block did last winter in San Diego and the California desert, stir a club bartender to follow him around for 36 holes in support?
"He came so close to making the cut" at Torrey Pines this past February, Vilchez said, and his miss – by three shots – made it 15 straight missed cuts amid the sprinkling of 24 PGA Tour events he'd played across 16 years. "I said, 'Michael, one of these days, man … ' "
Arroyo Trabuco, as Hayes points out, boasts an untroubled setting for a place in Orange County barely a mile off the freeway that runs from San Diego clear to Seattle (and beyond). It's behind Saddleback College and up against the hills. It has frequent deer and the occasional rattlesnake.
A banner for Michael Block shouts at anyone walking up at late afternoon on a Tuesday, but it's got nothing to do with what just happened. It congratulates him as the 2022 Rolex PGA Player of the Year, itself a national nod. A shop shelf above the shirts holds four golf bags with "MICHAEL BLOCK" on them, reaped from the wealth of tournaments he has played at various levels, and suddenly upgraded as curiosities.
The restaurant rollicks a tad more than you might think. The Napa Salad for $20 soars even if the striped sea bass for $44 might have soared even more. The electronic board behind the bar lists 12 draft beers beginning with Liquid Gravity Orange Cream Machine.
A hopeful weekend beckons, because Block, husband of one and father of two teenage sons who flat-out can play themselves, has made a detour from Rochester to Mission Viejo. He's gone to the Colonial in Fort Worth on a sponsor's exemption that came out of both sponsors and nowhere. "If I sit down and think about it too much," Block told reporters on Tuesday in Fort Worth, "I'm not sure I could swing the club on Thursday."
They were watching at O'Neill's on Thursday, but to have been there last Sunday would have been to yammer for a good long time about having been there then.
"Wall to wall," Hayes said. "People back to back. You could not move. It was just very electric. Especially after he hit the hole-in-one. … It took everyone a couple seconds to realize it, because it just went" – dove – "in the hole." Then: "People jumping up and down, hugging each other, high-fives all around."
Vilchez wasn't there, actually, until he was.
"My son turned 21 that day," he said. "I took it off. In the middle of the day, I took my son out to buy some beverages for his birthday. I have two older boys, too (26 and 25). I said, 'Let's go to Arroyo.' "
So: "When I drove in, there were no spots to park." Five minutes later came the hole-in-one.
"He hits the ball, and the ball goes up in the sky," Vilchez said. "It's gone. It's like magic. It disappeared. And I go, 'What?' I hear people cheering. … Oh my god. It was like winning the World Cup.
"To me, it was very emotional. I go, 'Wow, dreams come true.' No words to describe how I really feel. And my kids, how they experienced this, they said, 'Oh Dad. Dad, you know these people.' Yes, I work here 16 years. I can tell you what each person wants to drink."
On TV, Block enchanted people. Now they call from abroad with media requests or with unprecedented requests: "Can I buy some Arroyo Trabuco apparel online?" (Not yet, but they're getting to it.)
"When he's out there playing and doing so well," Hayes said, "people out in the crowd think, 'He's one of us.' "
Then Hayes and Butler, standing in the golf shop, make another point: Block might be a guy so bamboozled at playing alongside Justin Rose on a major Saturday that he can't look at Rose's face for the first three holes, but he's also seasoned in a different way: "He's a regular guy, yes," Butler said, "but he's been representing the PGA of America for many years" – at many events, like his bounty of Southern California titles, or his 59 at Arroyo Trabuco or his 58 at Coto de Caza.
He knew how to play his game and not somebody else's, Hayes emphasized, a vital distinction when among a group of somebody elses people yearn to imitate. He long since knew the ground once the clouds beckoned and the text came from Michael Jordan, whom he does not know (unlike friend Albert Pujols or habitual playing partners Patrick Cantlay and Beau Hossler, whom he does).
He still knew that ground on Thursday when, over in Fort Worth, he hit it again, double-bogeying Nos. 15, 16 and 18 to close out a reality of an 81, then saying, "It's one of those days of golf," then consoling himself with thoughts he'd be home by Saturday because, for one thing, sport has struck again, and this homecoming is going to be really something.
---