Elevator pitch: 11-year-old cancer patient donates bench to Sacred Heart so other patients can rest waiting for elevator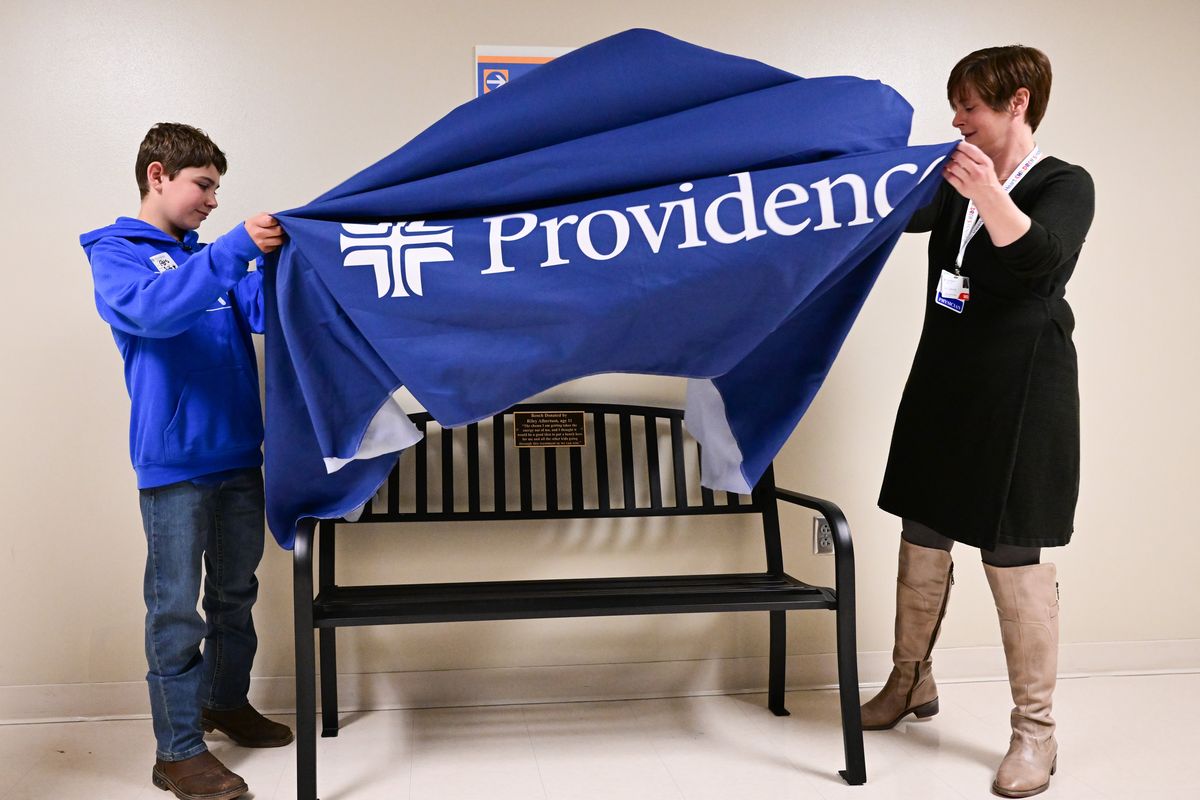 Waiting for an elevator to ding can be annoying for some and exhausting for those battling cancer.
Chemotherapy treatment drained 11-year-old Riley Albertson's energy, making the sometimes minuteslong wait outside a Providence Sacred Heart Children's Hospital elevator a challenge.
So, the young philanthropist did something about it.
Albertson, whose leukemia is in remission, donated a portion of the money he earned from selling his steer through 4-H to Providence Inland Northwest Foundation, so it could purchase a bench for other fatigued children going through cancer treatment to rest while waiting for the elevator. Providence and Albertson unveiled the black metal bench Friday.
"The entire time, I was thinking somebody needs to put a bench here," Albertson said at the unveiling.
A plaque on the bench includes a quote from Albertson. It reads: "The chemo I am getting takes the energy out of me, and I thought it would be a good idea to put a bench here for me and all the other kids going through this treatment so we can rest."
The elevator is frequently used by patients and staff, resulting in the long wait times.
Albertson sent an email to Providence last fall inquiring about using his steer money for the bench, said Colleen Fox, chief philanthropy officer at Providence Inland Northwest Foundation. The bench cost $800, which was fully funded by Albertson. Providence added the plaque to honor Albertson.
Fox said Providence was happy to make Albertson's "vision come to life."
"It's such a joy and an honor to work with kids like Riley, who just have that spirit of generosity and compassion for others and who, despite having gone through such a challenging time themselves, is already thinking about how he can give back," Fox said.
Albertson was diagnosed with Precursor B-cell acute lymphoblastic leukemia in February 2022 after Albertson experienced fevers, body aches, bloody noses and other symptoms of the cancer, said Nick Albertson, Riley's father.
Tasha Albertson, Riley's mother, said their son has been in remission since March 2022, but the father said he must continue treatment for about another year to prevent the cancer from returning.
Nick Albertson said it's been a "long, bumpy road," and the first nine months were the "most grueling." The family, who lives in Sandpoint, rented a house in Spokane the first nine months because of the frequent clinic visits.
"It tears your life down at first because it's a big shock," Nick Albertson said of the diagnosis.
Carrie Laborde, Riley's pediatric oncologist, said leukemia is the most common cancer for children under 15.
Riley responded very well to treatment, she said, but he has also had several complications along the way. She said he had trouble walking, nausea and lost his hair. He appeared to walk fine and had all his hair Friday.
Riley is now in the "maintenance phase" in which he takes chemotherapy orally and visits the clinic once a month for an exam and blood work.
"He's been remarkable," Laborde said.
"For him to do this, doesn't surprise me at all," she said of Riley's bench donation.
---